Police want water cannon to fill 'operational gap' despite 'limited use' in riots
They are seen as a less dangerous option to dog teams or riot police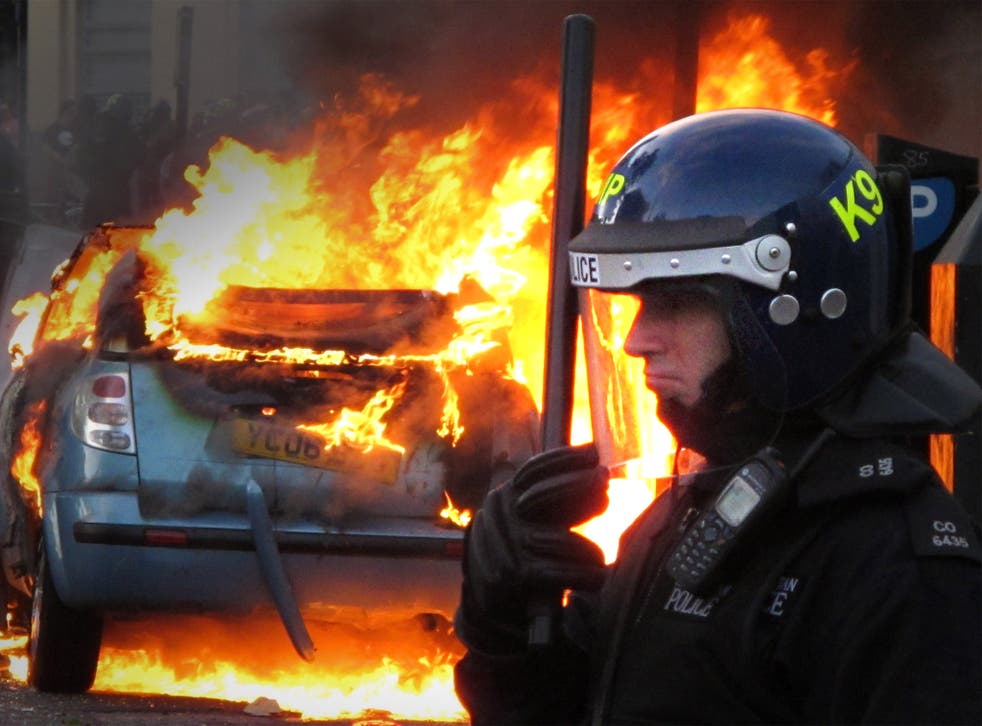 Police are urging the Home Secretary, Theresa May, to introduce water cannon despite the tactic being of limited use in fast-moving protests such as the 2011 riots, according to a report by senior officers.
Water cannon should be introduced to fill an "operational gap" and provide a less dangerous option to dog teams or riot police, said the report by David Shaw, the Chief Constable of West Mercia.
The report accepted that "water cannon have limited use in relation to 'agile' disorder such as the dynamic looting that was witnessed in August 2011". But it said it was an extremely effective tactic to keep rival groups of protesters apart and to reduce injuries.
The report is part of evidence being used to consider a request by the Metropolitan Police to buy three second-hand German water cannon as a stop-gap while longer-term schemes are considered.
The force's own report into the 2011 riots said that water cannon – which cost up to £1m apiece – would be "valuable in a few rare situations".
The riots sparked a row between police and the government about how officers responded to violence after the shooting of Mark Duggan in Tottenham. The use of water cannon emerged as one of the most contentious potential solutions.
The briefing paper from the Association of Chief Police Officers said that the tactic would probably have been considered during demonstrations in the capital such as the Gaza protest against the Israeli embassy in 2008-9 and "potentially" the 2010 student protests when locations were targeted.
Mrs May will have to approve the use of water cannon before they can be bought by forces and an approach is expected soon.
England, Wales and Scotland are among the few places in Europe that do not have the tactic available. Only the Police Service of Northern Ireland has used water cannon.
The briefing document accepted that water cannon "are capable of causing serious injury or even death" . It said there had been no recorded injuries associated with their use in Northern Ireland and that they presented a lower risk of injury than baton rounds.
The water used is heated to 5C to "prevent the onset of medical conditions associated with the shock of being exposed to cold water".
Jenny Jones, the deputy chair of the Police and Crime Committee at the London Assembly, said: "This confirms two things: first, water cannon would be a pointless expense in situations like the riots; second, that the police see them as a necessary weapon to deal with large political protest.
"Both are strong arguments against the purchase. This is an indiscriminate weapon that risks injuring innocent bystanders, causing panic and can make an already bad situation worse."