Privately run prison that led violent robber escape criticised for 'deplorable' overcrowding
Independent report warns HMP Dovegate continues to suffer from staff shortages and outbreaks of violence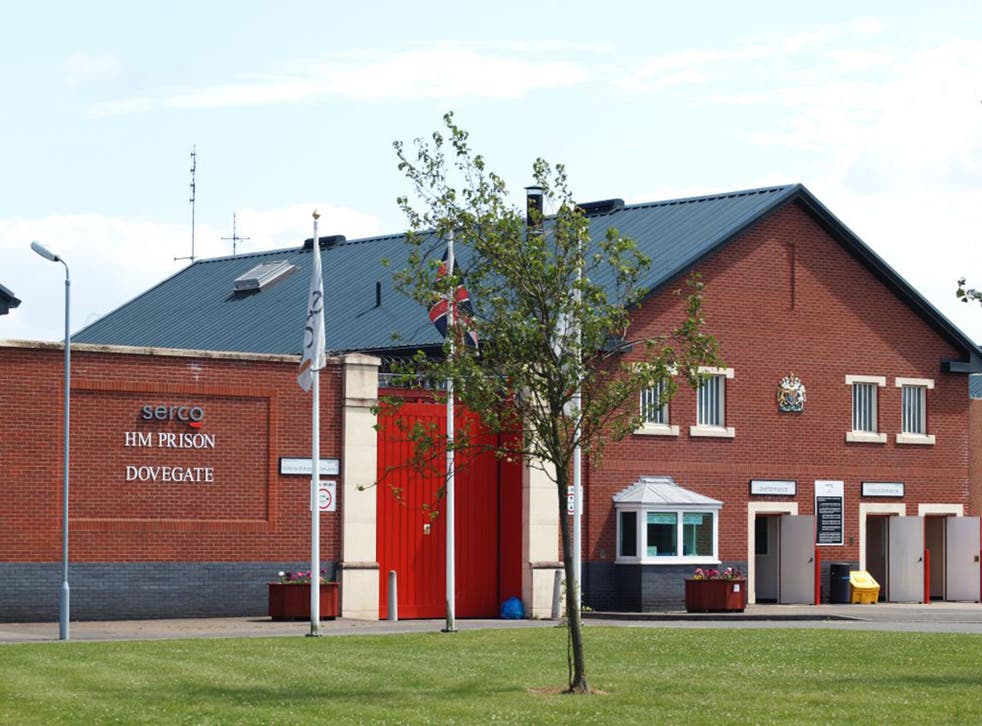 A privately run prison that allowed a violent robber to walk out unchallenged last year continues to suffer from staff shortages, outbreaks of violence and "deplorable" levels of overcrowding, an independent report has warned.
Space in HMP Dovegate is so tight that single cells for vulnerable prisoners have been filled with extra beds, according to an Independent Monitoring Board (IMB) report on the jail, which is run by outsourcing giant Serco for the Ministry of Justice.
The Independent revealed last May how convicted robber Haroon Ahmed was accidentally escorted out of the high-security jail after jokingly asking a prison officer during visiting hours: "Is it OK for me to go home?" The 26-year-old was eventually rearrested after a manhunt.
Describing his escape as a "catastrophic failure of basic security procedure", the report said Ahmed – who had been in jail since 2008 for robbing a garage armed with a knife – had simply exited the prison's visits hall and escaped through the main gatehouse.
The report also raised concerns about levels of violence within the prison, with 38 prisoner-on-staff assaults and 106 prisoner-on-prisoner assaults in the first nine months of last year. There were also 45 fights and 136 weapons discovered, it added.
As at many other UK prisons, staff at Dovegate were also struggling to stop inmates accessing psychoactive substances, or legal highs, the report said, which had led to "widespread debt and associated bullying" on the wings. The drugs may also have sparked a violent incident last March involving six inmates, which resulted in a specialist team having to be sent in to restore order, it added.
The IMB said the prison often operated at its maximum capacity of 933 inmates and that the National Offender Management Service had failed to acknowledge that limited space was available for sex offenders, meaning many were put on normal wings, raising the chances of violence.
Frances Crook, chief executive of the Howard League for Penal Reform, said: "It is surprising that a private prison is suffering from the overcrowding that is endemic in the public sector, because until now the private companies running jails have been largely protected from it.
"This report provides more evidence that the prison system as a whole is under intolerable pressure. Dovegate is supposed to be a prison with facilities designed to help prisoners prepare for life after release. Instead it is used to warehouse Category B prisoners with nowhere else to go."
Despite its numerous concerns about the prison, the IMB said it had also been "impressed" by the dedication of staff who it said were responsible for a large population of inmates, some of whom were "extremely challenging".
Michael Guy, Serco's contract director at HMP Dovegate, said: "I am pleased that the board has recognised the hard work and dedication of the staff in looking after and caring for a complex prison population, some of whom are very difficult to manage.
"This report recognises both the considerable changes there have been at Dovegate over the past year and the challenges faced in all prisons of tackling the problem of psychoactive substances, overcrowding and safety. We are working hard to address these issues."
Register for free to continue reading
Registration is a free and easy way to support our truly independent journalism
By registering, you will also enjoy limited access to Premium articles, exclusive newsletters, commenting, and virtual events with our leading journalists
Already have an account? sign in