Public lacks confidence in Tory leaders following disturbances
Poll shows two-thirds of population oppose Cameron's plans to cut police numbers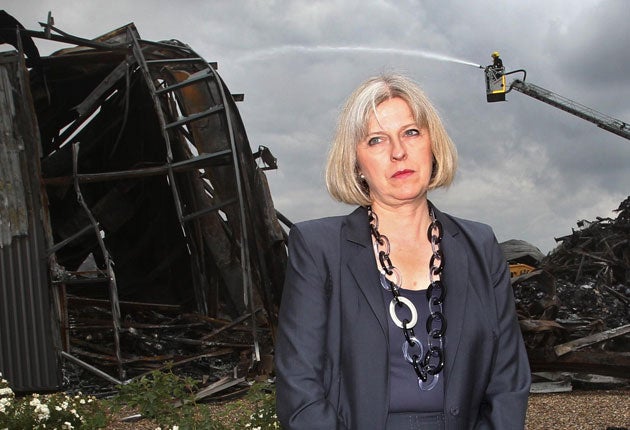 More than half the public have lost confidence in David Cameron's leadership in the aftermath of this week's rioting in cities across England, a poll for The Independent reveals today.
Click HERE to upload graphic: 'Riot Poll: The Results' (124.84kB)
The survey by ComRes also found that more than two-thirds of the public are opposed to his plans to cut police numbers as part of budget reductions. Half of those questioned now have less confidence in London's ability safely to host the Olympic Games next year.
The political damage done to the Prime Minister by the riots will concern backbench Tories who fear that the disturbances have harmed the party's law-and-order credentials. But No 10 believes it needs to stand firm in the face of criticism about police cutbacks or be left open to continued "special pleading" from across the public sector in the face of news events.
The poll for The Independent is the first comprehensive gauge of public reaction to the riots. It found that as many people blame the Government's austerity drive as the cause of the rioting as those who blame police tactics. Fifty-four per cent of the public believe Mr Cameron has failed to provide the necessary political leadership early enough, while less than half the country now has confidence in his leadership as Prime Minister. Half of those questioned also now have less confidence in London's ability to safely host the Olympics next year.
An overwhelming proportion of the public also want tougher punishments imposed on those found responsible. Almost 80 per cent said those guilty of taking part in the riots or looting should face an automatic jail sentence no matter how small their involvement.
A separate poll for The Independent of business leaders in London reveals the damage done to the reputation of the London Mayor Boris Johnson among a key group of his supporters. Twenty-nine per cent say they have a less favourable view of the Mayor as a result of the riots while just 1 per cent have an improved perception.
Sources close to Mr Johnson said they were aware that his initial response to the riots had damaged him politically. They are planning a series of event in the coming weeks to try to emphasise the positive side to London and the Mayor's role.
"We want people to think of London as the city of the Royal Wedding and of the early delivery of the Olympics," they said. "We've now got £50m to rebuild those areas affected by the rioting and Boris will be at the forefront of that."
But, worryingly, just 16 per cent of the 150 business leaders questioned said they believed the police had the resources to protect them from further civil disturbances – while 9 per cent said they would reduce investment in London because of the riots. Half said the Government was not providing the right political leadership for the police.
ComRes conducted an online survey of 2008 GB adults between the 10th and 11th August 2011. Data were weighted to be demographically representative of all GB adults. ComRes is a member of the British Polling Council and abide by its rules. For full data tables please visit www.comres.co.uk