Racist hate crimes increase five-fold in week after Brexit vote
Police chiefs hint the current figures may be the tip of the iceberg as hate crime is 'significantly under reported'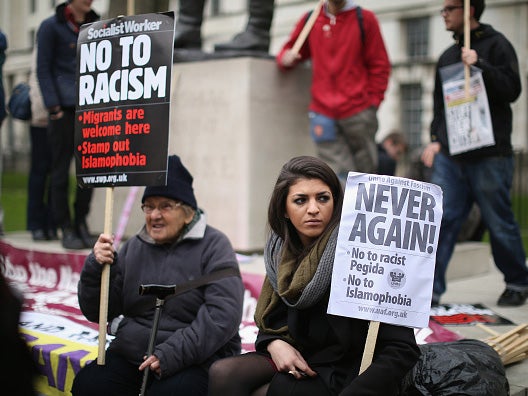 The number of reported hate crimes has soared to five times the usual level following the Brexit vote, police have said.
The National Police Chiefs' Council (NPCC) revealed 331 hate crime incidents had been reported to an national online portal, True Vision, since the EU referendum, compared to the weekly average of 63.
Sara Thornton, the NPCC chairwoman, said: "It is important to remember that this is only one reporting mechanism and extensive focus on this issue in the last few days will have influenced these numbers by making hate crime and the site more visible and encouraging people to report.
"We also cannot determine how many of the reports are linked to the referendum.
"In a number of forces, migrants are reporting verbal abuse, negative social media commentary including xenophobic language, anti-migrant leafleting and, in very limited numbers, physical assaults."
The former Thames Valley Police chief constable said hate crime was "significantly under reported" despite more people reporting such crimes than ever before.
She advised people afraid to leave to their homes that the police were "there to deal with this kind of abuse".
"So our message to them is don't give way to bullies and don't suffer in silence," she added.
North Yorkshire Police has appealed for a Swedish mother to come forward following reports she was racially abused in the street.
A friend of the woman told the York Press newspaper: "On a warm summer Saturday in Fulford, a young mother with her two children was told to '**** off back to your own country'."
Brexit reactions – in pictures
Show all 10
Earlier this week West Midlands Police said levels of recorded hate crime had remained stable, while Scotland Yard said there had been no reported increase in hate crime or incidents in London.
On Wednesday David Cameron announced that extra cash for security measures will be available, while a new action plan on the issue will be published.
Sadiq Khan: 'Not project fear - project hate'
And London Mayor Sadiq Khan said: "I take seriously my responsibility to defend London's fantastic mix of diversity and tolerance.
"So it's really important we stand guard against any rise in hate crimes or abuse by those who might use last week's referendum as cover to seek to divide us.
"I've asked our police to be extra vigilant for any rise in cases of hate crime, and I'm calling on all Londoners to pull together and rally behind this great city."