Remembrance Day: Border Force seizes £150,000 of fake poppy merchandise imported from China
Keyrings, scarves and badges branded with 'Lest we Forget' and use trademarked poppy symbols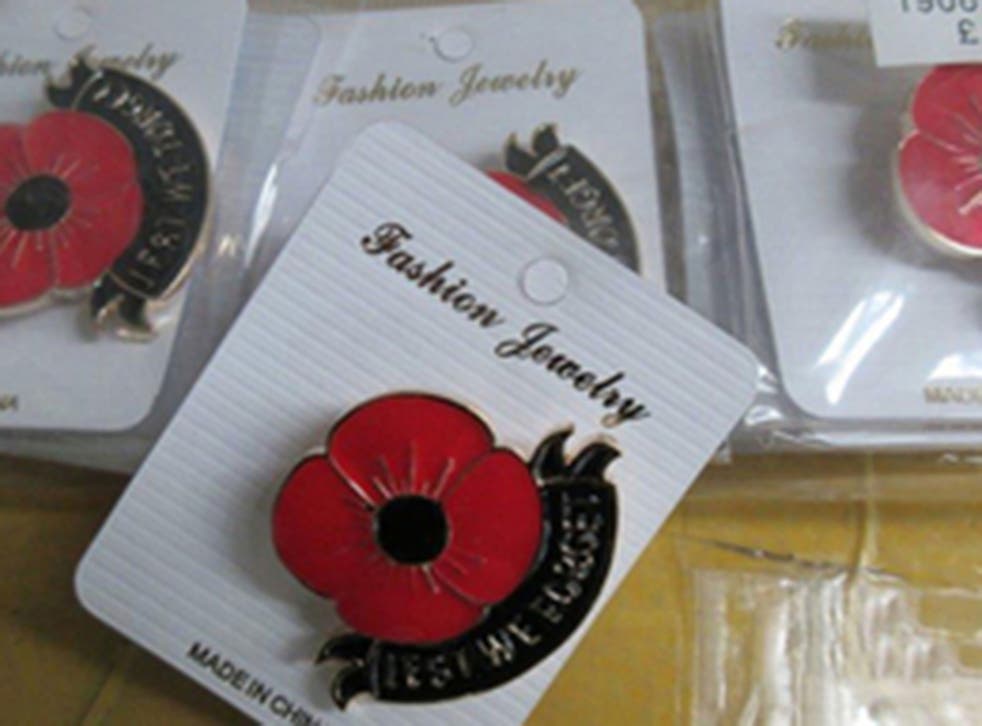 Thousands of fake poppy-branded key rings, scarves and items of jewellery have been seized before they could be sold for profit in the period around Remembrance Day.
Border Force officers intercepted the shipment, destined for Manchester, when it arrived from China at Tilbury Docks on Wednesday.
Mark Kennedy, acting deputy director of the Border Force, said: "Had these fake goods entered the market, they could have cheated thousands of pounds from unsuspecting members of the public and diverted vital funds away from the Royal British Legion."
The merchandise was worth around £150,000 and included items branded with the phrase "Lest we Forget", as well as infringing the Royal British Legion's copyright on the two-petal poppy symbol.
The shipment contained 1,212 scarves, 5,400 badges, 1,200 key rings and 600 four petal brooches that infringed a separate copyright held by the Earl Haig Fund Scotland which trades as Poppyscotland.
In a joint statement, the Royal British Legion and Poppyscotland said the trademarks must be protected "so that the public can be sure that their donations are going directly to a registered charity".
"By donating for a poppy through our official channels, or corporate partners, the public can rest assured that their money will go towards supporting our Armed Forces community," a spokesperson added.
In pictures: Remembrance Sunday

Show all 15
Both charities support serving members of the armed forces, veterans and their families, taking part in annual tributes around Armistice Day.
This year marks the centenaries of women's service in regular forces, the Battle of Passchendaele, the creation of the Commonwealth War Graves Commission and the hundredth birthday of 'forces' sweetheart' Dame Vera Lynn.
It will also commemorate the 75th anniversary of the Battle of El Alamein and the creation of the RAF Regiment.
The Queen, Duke of Edinburgh, the Prince of Wales, the Duchess of Cornwall and the Duchess of Cambridge were among the royals due to attend the Royal Festival of Remembrance in London on Saturday, amid commemorations across the country.
On Sunday the Queen will watch from a balcony along with the Duke of Edinburgh as Charles lays a wreath on her behalf at the Cenotaph – the first time she has not carried out the duty herself.
Mr Kennedy said officers would continue working at ports, airports and mail sorting centres to identify counterfeit goods in a crackdown on the online-linked crime.
Once items are seized, the Border Force establishes whether they are fake and then destroys them, with rights holders deciding whether to privately prosecute the importers.
Anyone who has been sold counterfeit goods or knows someone who is selling them is asked to contact Action Fraud on 0300 123 2040.