Rolf Harris denies string of sexual assaults against four girls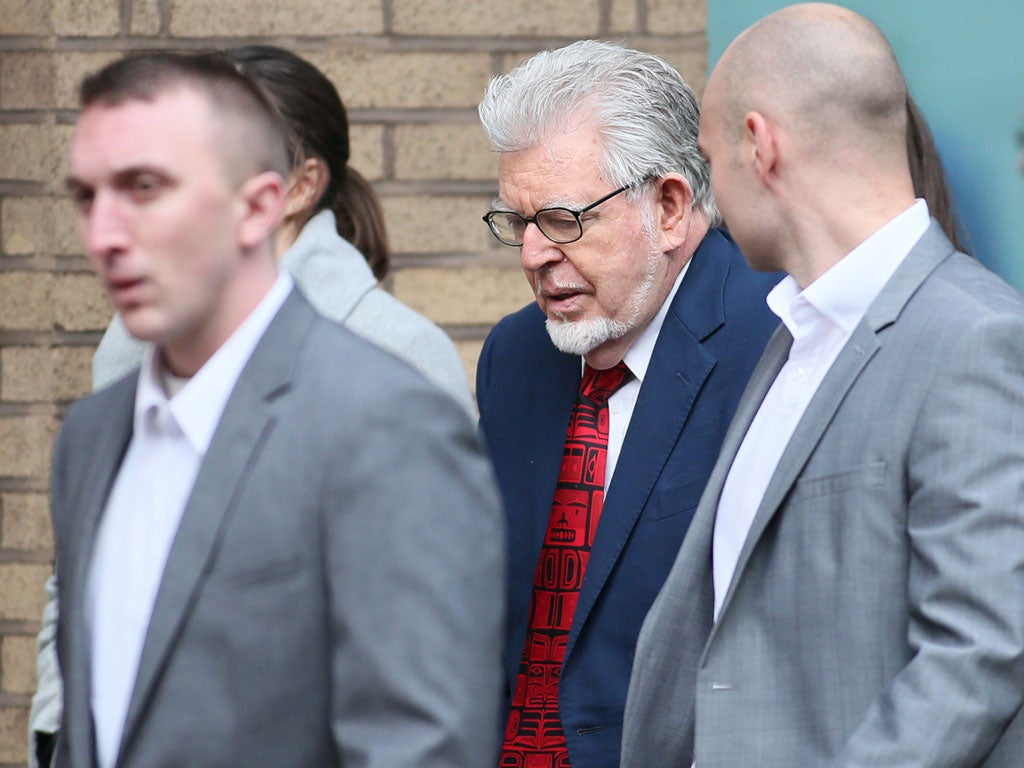 Rolf Harris, the royal artist and television entertainer, has denied sexually assaulting four girls - the youngest aged seven - in a string of alleged attacks said to have spanned nearly two decades.
The 83-year-old pleaded not guilty at Southwark Crown to 12 charges that dated back to the late 1960s including seven claimed indecent assaults against the same teenager when she was aged 15 and 19.
The charges include allegations that Mr Harris performed oral sex or touched the breasts, leg, buttocks and vagina of the girls.
Mr Harris, wearing a dark blue suit and red tie, pleaded not guilty in a clear voice as each of the charges were put to him.
His appearance at Southwark Crown Court came in the same court building as the trial of another high-profile BBC star, Dave Lee Travis, who was appearing three floors below on unrelated allegations.
Mr Harris, who arrived at court wheeling his wife Alwen in a wheelchair, sat in the glass-dock watched by other members of his family including his daughter Bindi and supporters in the public gallery.
He exchanged smiles and gestures, at one point putting his hand on his heart after fans gave him the thumbs up just a few yards from where he was sitting.
Harris is accused of six offences of indecent assault against a girl aged 15 in 1980-81 and a another alleged assault four years later when she was 19.
He faces a further three indecent assault charges against a second girl aged 14 in 1986, while he is also accused of indecently assaulting a girl aged seven or eight in 1968-9 and one aged 14 in 1975-76.
Mr Harris is yet to be arraigned on four other counts of making indecent images, the court heard.
Mr Harris, who painted a portrait of the Queen in 2005 and performed at her Diamond Jubilee concert in 2012, has been a family favourite for decades.
He hosted his own BBC1 programme, The Rolf Harris Show, in 1967 before moving on to children's television in the 1980s and then to Animal Hospital, which he hosted from 1994 to 2004.
Mr Harris was awarded an MBE in 1968, an OBE in 1977 and a CBE in 2006, and was made Officer of the Order of Australia in the Queen's Birthday Honours list in 2012.
He has now been bailed, with a trial scheduled for 30 April. He has been told that he cannot contact any prosecution witnesses or spend time with anyone under the age of 18 unless he's accompanied by someone over 21.
The veteran performer - who made his name with Tie Me Kangaroo Down Sport followed up by the number one hit Two Little Boys - made no comment to waiting reporters as he left the courtroom.
He, his family and security guards left the building in front of crowds of photographers and was driven away in a Volkswagen people carrier after the 70-minute hearing.
Mr Harris, who moved to Britain more than 50 years ago, is the highest profile celebrity arrested under Operation Yewtree, the inquiry triggered by the scandalous revelation that Jimmy Savile had been able to abuse hundreds of children over decades despite numerous concerns raised about his behaviour. The charges faced by Mr Harris are not linked to Jimmy Savile, police said.