Rotherham child sex ring: Six found guilty of sexually exploiting teenage girls
Some of the 15 women who were abused by the gang watched the verdicts from the public gallery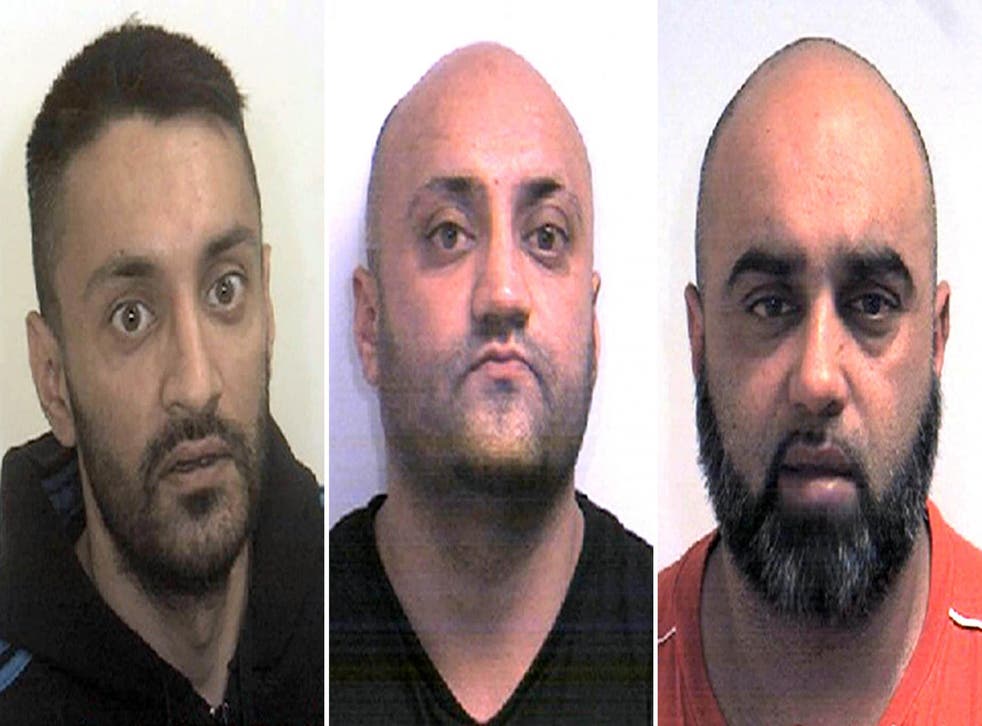 A gang of four men and two women have been convicted of sexually exploiting teenage girls in Rotherham.
Some of the 15 women who were abused by the gang watched from the public gallery as the verdicts were delivered at Sheffield Crown Court.
The convictions were described as a "milestone" for the victims of the gang, which was formed by a drug-dealing and gun-toting family that a court heard "owned" the town and "operated with impunity".
The ruling was also hailed by the authorities as evidence that the victims of sexual abuse by gangs in Rotherham will no longer be ignored.
Arshid Hussain and his brother Basharat were found guilty of multiple rapes and indecent assaults of teenagers.
Their brother, Bannaras Hussain, 36, has admitted 10 different charges including rape, indecent assault and assault occasioning actual bodily harm at the beginning of the trial.
The three brothers were known as Mad Ash, Bash and Bono.
Their uncle, Qurban Ali, was found guilty of one charge, conspiracy to rape.
Karen MacGregor, 58, and Shelley Davies, 40, were found guilty of conspiracy to procure prostitutes and false imprisonment.
Brothers Majid Bostan, 37 and Sajid Bostan, 38, were cleared of all charges at Sheffield Crown Court.
One woman, now 36, explained to the jury how she was abused from the age of 11 with Arshid passing her on to his brother and friends, often as "payment" for debts.
Prosecutors said she was "beaten, had a cigarette stubbed out on her chest, tied up and raped ... from a very young age, often by numerous men, one after another, at the say so of Arshid Hussain".
They added: "Her recollection is that the violence became a regular thing when she lived at the children's home and, seemingly, no-one was interested in whether she returned in a bloodied state."
The girl said she was locked in Karen MacGregor's house for weeks and forced to have sex with a succession of men.
A Muslim commentator has warned British Pakistanis against "burying our heads in the sand" about the problem of grooming gangs.
Mohammed Shafiq, chief executive of the Ramadhan Foundation, said: "Until British Pakistanis accept that this is a problem for our community we will not be able to eradicate this evil. This is not a white conspiracy dreamt up by the far right, or victimisation of the Pakistani community, as some claim. This is a concerted effort by a minority of Pakistani men who have groomed, abused and raped young white girls."
Acting Detective Chief Inspector Martin Tait, from South Yorkshire Police, called the verdicts a "crucial milestone for those victims and survivors who endured years of violence and horrific sexual abuse at the hands of these vile individuals".
He said: "They have shown incredible bravery reliving vicious traumatic events for the courts."
In August 2014, a report into sexual exploitation in Rotherham by Professor Aleixs Jay found "utterly appalling" examples of "children who had been doused in petrol and threatened with being set alight, threatened with guns, made to witness brutally-violent rapes and threatened they would be next if they told anyone."
Professor Jay's report found that at least 1,400 children had been raped, trafficked and groomed in the South Yorkshire town over a 16-year period.
It said "collective failures" by police, social workers and others in authority had enabled it to continue for more than 15 years.
In 2010, five men - Umar Razaq, Razwan Razaq, Zafran Ramzan, Adil Hussain, Mohsin Khan - were found guilty of a string of sex offences against girls aged between 12 and 16.
Reaction: A victim's story
A victim of the Rotherham gang has told how she was groomed by Arshid Hussain after meeting him at a party when she was 14 in the late 1990s. He preyed on the teenager and began waiting for her outside school. Soon he was having sex with her, despite knowing her age, and even though he was 10 years older.
The woman told how he very quickly became controlling and isolated her from family and friends. He became very violent and would not let her do anything without his permission.
"There were times when I thought he was going to kill me," she said.
The woman, who cannot be identified, said after the case that going through the investigation had been an "emotional rollercoaster".
She said she hoped her experiences would give others the resolve to step forward and put more child abusers behind bars. "It has been 16 years we have waited for this," she said. "It hasn't sunk in yet. This can give me some closure. For me, my life starts now. It has been such a mess. I can finally move on.
"The investigation started two-and-a-half years ago and it has been one of the hardest things I have had to do, but it is so worth it."