Rotherham rapist Bannaras Hussain 'abused girl in police station car park' but was let go
 'She's just sucking my c***, mate,' he allegedly told a police officer, who then drove away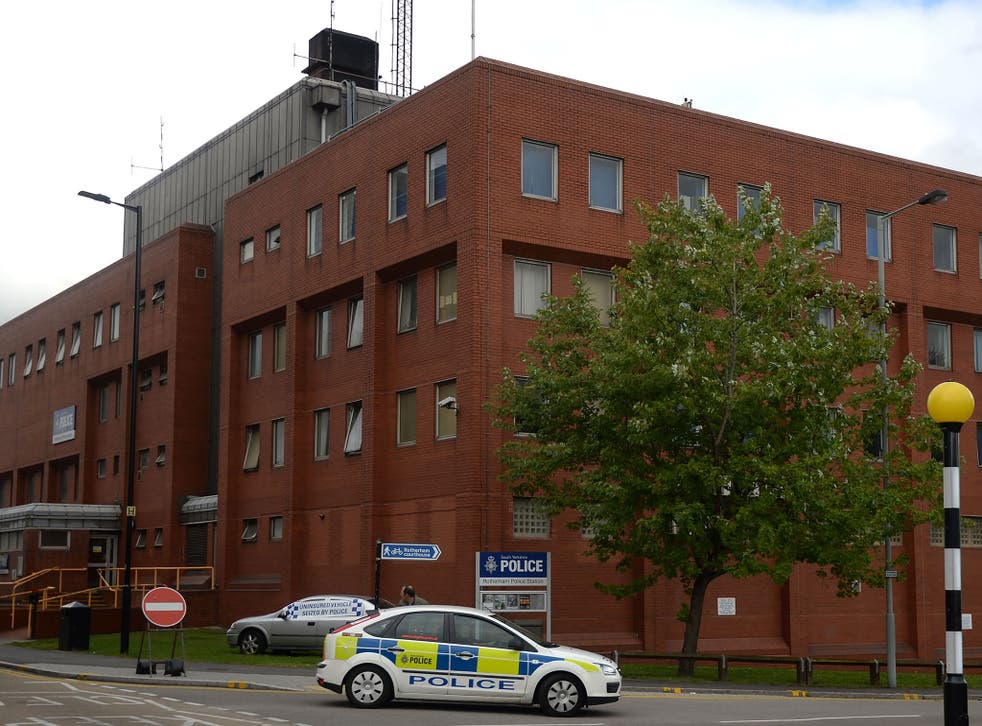 A member of the grooming gang jailed for raping and prostituting teenage girls in Rotherham was caught with one of his victims in a police station car park but let go, it has emerged.
Bannaras Hussain, 36, was jailed for 19 years on Friday after pleading guilty to 10 charges including rape, indecent assault, procuring a woman to become a prostitute and actual bodily harm.
Michelle Colborne QC, speaking for the prosecution, told Sheffield Crown Court he abused seven victims over 11 years.
Police on Rotherham conviction
She described how Hussain abused one victim in a car park next to Rotherham Police Station.
"(The girl) performed oral sex on Bannaras Hussain," Ms Colborne said.
"When, shortly afterwards, a police car pulled up alongside them and asked what was going on, Bannaras Hussain shouted 'she's just sucking my c*ck, mate'. The police car drove off."
Ms Colborne said the sister of one victim described the woman as a "broken human being", while another girl called the Hussain brothers "a pack of animals", claiming they urinated on her.
The lawyer listed eating disorders, self-harm, agoraphobia, self-loathing and abortions as among the lasting impact of the abuse, which left them feeling "dirty, ashamed and guilty".
Many of the victims have had relationship problems throughout their lives and have found themselves subjected to domestic violence, she said.
Hussain was one of six members of a Rotherham grooming gang sentenced to a combined 103 years in prison on Friday.
His brother, and the ringleader, Arshid Hussain was imprisoned for 35 years, brother Basharat Hussain, 39, was handed 25 years and their uncle, Qurban Ali, 53, was jailed for 10 years. Karen MacGregor, a 58-year-old accomplice, was jailed for 13 years while Shelley Davis, 40, was given an 18-month suspended sentence.
As Judge Sarah Wright handed down the punishments, she paid tribute to the "immense courage" of the women who came forward.
"The harm you have caused is of unimaginable proportions," she told the defendants.
UK news in pictures

Show all 50
The grooming took place in houses, garages, churchyards, public spaces and parks across Rotherham, with victims often forced to perform sex acts, often on several men at a time, or to store guns and drugs for the gang.
Some were as young as 11 but South Yorkshire Police and Rotherham Council regarded them not as victims but girls who had made a lifestyle choice, according to an unpublished Home Office report from 2002.
A report carried out by Professor Alexis Jay in 2014 found that at least 1,400 children were subjected to sexual abuse in the town between 1997 and 2013, documenting a plethora of failings that prompted a raft of resignations and further inquiries.
The review found that "at an operational level, the police gave no priority to child sexual abuse, regarding many child victims with contempt and failing to act on their abuse as a crime".
Rotherham Council has since set up a dedicated child exploitation scheme, while South Yorkshire Police have launched an independent review and Victims, Survivors and Families panel.
Additional reporting by PA
Register for free to continue reading
Registration is a free and easy way to support our truly independent journalism
By registering, you will also enjoy limited access to Premium articles, exclusive newsletters, commenting, and virtual events with our leading journalists
Already have an account? sign in