Royal Family latest to be stung by bee raiders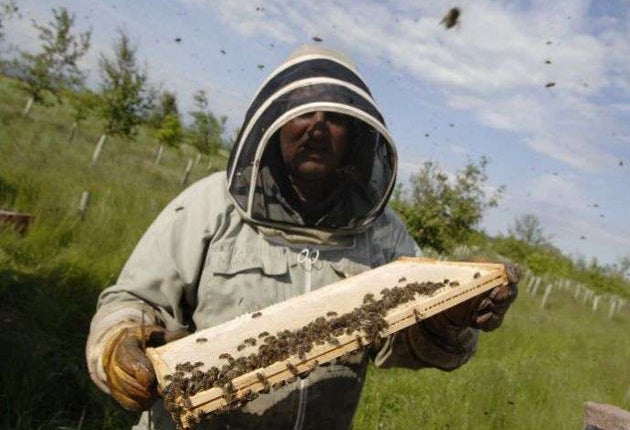 In normal criminal circles it wouldn't create much of a buzz, but in the world of beekeeping the theft of eight hives in Scotland represents the latest and most high profile sting on an industry beset by thefts and disease.
Half-a-million honey bees were taken from the royal beekeeper as they waited to be transferred later this summer to Balmoral, where they would have set about creating sweet spread for the Queen's bread.
Murray McGregor, who produces honey for Prince Charles's Duchy estate, said he believed the £5,000 hives had been stolen last month, most likely for profit and possibly to order.
It follows a series of thefts as the value of hives soars due to a catastrophic collapse in the bee population. But Mr Murray, who has bees at 70 different locations, said it was impossible to guard all his hives.
Whoever had taken the Langstroth hives from Learilaw Farm near Broxburn, West Lothian, must have known what they were doing, he said. "It is either another beekeeper or someone stealing to order for a beekeeper with instructions from them on how to do it," he said. "We have only had hives stolen on one other occasion in the last 20 years. The chances of seeing these bees again are extremely slim."
Lothian and Borders Police said their investigation was centered within the beekeeping community.
The value of beehives has soared in the past year following an outbreak of colony collapse disorder, the emergence of the dreaded varroa "destructor" mite and lethal viruses which are estimated to have claimed two-thirds of the bees in London alone last winter. The situation has been made worse by back-to-back wet summers which depleted the population as queens struggled to mate.
Before the effects of disease began to be noticed, a second-hand hive capable of producing 50lb of honey a year would sell for £30. Now it can fetch over £200. In one case up to 18 hives went missing in the Telford & Wrekin area of Shropshire. A dozen were stolen from a site near Whitby, much prized because of the North York Moors heather honey produced in the region. There have been several cases in the West Country and in the New Forest and Norfolk.