Royal Marine Sgt Alexander Blackman jailed for life for the murder of Afghan insurgent
The execution by the once anonymous soldier was filmed by a camera mounted on the helmet of another Marine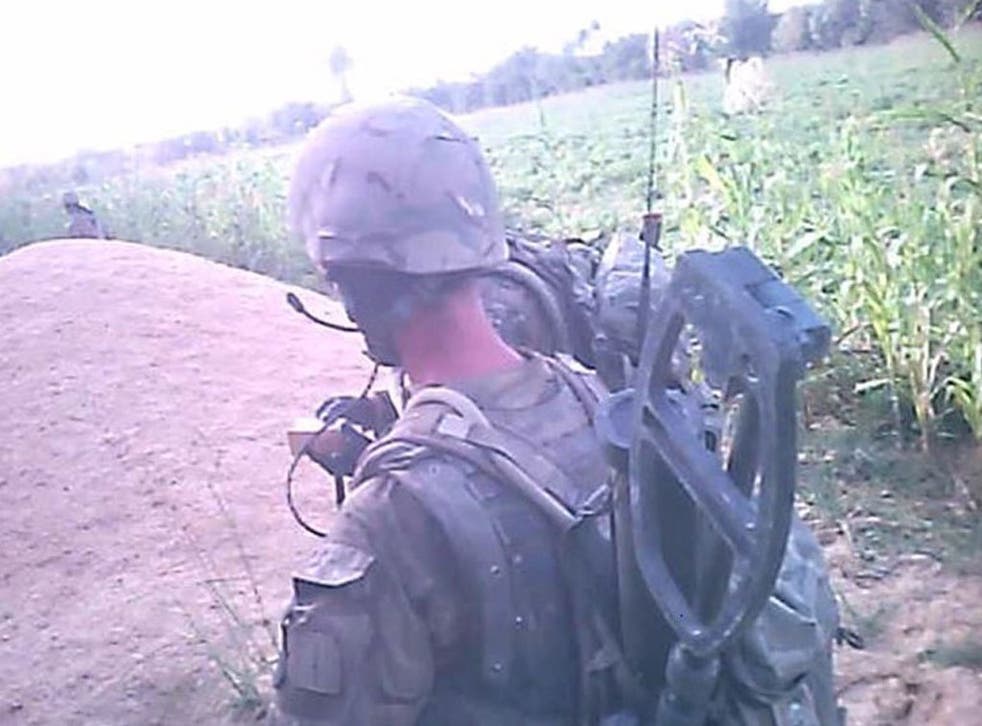 A Royal Marine commando filmed killing an injured Taliban captive received a life sentence today and was warned he would serve at least 10 years in prison.
Sergeant Alexander Blackman, 39, was told he had disgraced the name of the British armed forces by murdering the Afghan fighter and had put other soldiers' lives at risk by his actions.
Blackman was convicted last month at a court martial board of murdering the man and was also dismissed in disgrace from the marines after 15 years' previously unblemished service.
The killing in Helmand Province in September 2011 was only discovered after it was filmed by a camera mounted on the helmet of a fellow marine.
Blackman shot the injured captive in the chest at close range with a 9mm pistol before quoting a phrase from Hamlet as the Afghan died before him.
He told the insurgent: "Shuffle off this mortal coil, you c***. It's nothing you wouldn't do to us."
Blackman, whose identity was revealed two days ago, then turned to two comrades and said: "Obviously this doesn't go anywhere, fellas. I just broke the Geneva Convention."
The witnesses, known only as Marine B and Marine C, were cleared of murder by the court martial.
The sentence was passed down by a seven-man court martial board and Judge Advocate General Jeff Blackett.
Blackman stood to attention to receive his sentence as the judge told him: "This was not an action taken in the heat of battle or immediately after you had been engaged in a firefight.
"Nor were you under any immediate threat. The video footage shows you were in complete control of yourself, standing around for several minutes and not apparently worried that you might be at risk of attack by other insurgents.
"You treated that Afghan man with contempt and murdered him in cold blood. By doing so you have betrayed your corps and all British service personnel who have served in Afghanistan and you have tarnished their reputation.
"In one moment you undermined much of the good work done day in day out by British forces and potentially increased the risk of revenge attacks against your fellow service personnel."
Blackman was then marched out to begin his sentence, which will be served in a civilian prison.
At the court martial he had denied murder, admitting he fired his gun out of anger but insisting the captive was already dead. He blamed a "stupid, lack of self-control" for shooting at the insurgent and "foolish bravado" for quoting Shakespeare at the dying man.
Blackman had completed tours of Iraq, Afghanistan and Northern Ireland during 15 years' service in the Royal Marines.
He was considered a safe pair of hands by his superiors and credited with building good relations with the local population in Afghanistan. He was being considered for promotion to colour sergeant before the incriminating video came to light.
The Lord Chief Justice, Lord Thomas, this week overruled pleas from his legal team for his identity to remain secret in order to protect his family.
His solicitor said he was "devastated" by the sentence and wanted to apologise for any damage to the Royal Marines from his actions.
The Ministry of Defence said it had followed an independent legal process. It said: "We respect the authority and decision of the court and it would be inappropriate of us to comment on the sentence."
Register for free to continue reading
Registration is a free and easy way to support our truly independent journalism
By registering, you will also enjoy limited access to Premium articles, exclusive newsletters, commenting, and virtual events with our leading journalists
Already have an account? sign in