Russell Square stabbing attack 'not terror related', say police after interviewing Norwegian suspect
Investigators say mental illness was believed to be 'significant factor'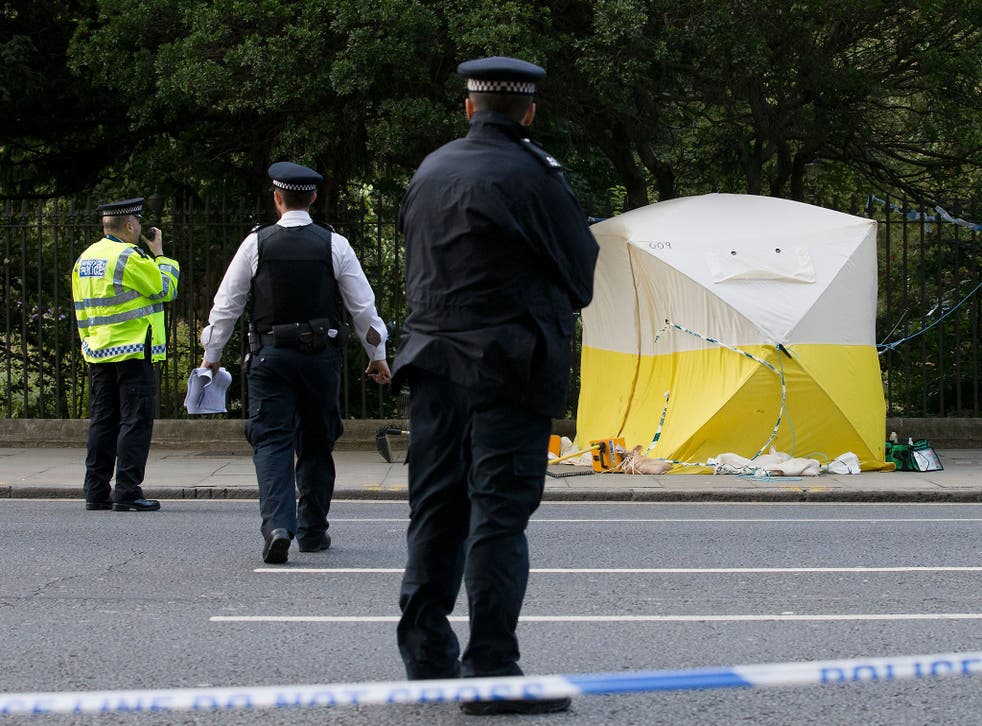 A Norwegian man was being held in custody on Thursday on suspicion of murdering an American woman in a "random" stabbing rampage in central London.
Investigators say the 19-year-old suspect, who is of Somali origin and moved to the UK aged five, is mentally ill and has no known links to terror groups or radicalisation.
Witnesses described their horror as a knife-wielding man launched his attack on passers-by in Russell Square, stabbing anyone he could reach late on Wednesday evening.
Russell Square attack: Woman killed in London was American citizen
A cyclist said he was flagged down by a Spanish family to call an ambulance, saying he called an ambulance as he watched one of the tourists cradle the dying woman in her lap.
Fernando, from Brazil, said: "I thought they were friends, but then I realised that they were just passing. No-one knew each other.
"The moment the police arrived, they asked them if the man had been shouting. They said that he didn't say anything.
"They said that when he stabbed the people he didn't shout or scream anything."
The American woman, in her 60s, reportedly used her last words to warn passers-by trying to save her that the attacker was among them, saying: "He's still here, he's still here."
Paramedics attempted to save her life but she was later pronounced dead at the scene, police said.
Pol O'Geibheannaigh, who was walking back from a nearby cinema with friends, said he saw a woman lying in a pool of blood as Russell Square swarmed with armed police.
In pictures: Russell Square stabbing

Show all 6
"That level of police presence I haven't seen since 7/7 and I was here - I live around the corner," he added.
Bombs exploded in nearby Russell Square station and Tavistock Square as part of the al-Qaeda inspired attacks that killed 52 people and injured 700 on 7 July 2005.
A witness who gave his name as Michael said he heard screaming and ran to find a young woman lying on the floor bleeding from a knife wound in her back.
"She was lying on the floor with a friend hugging her," he told MailOnline.
She was among another five people injured - two other women and three men from Australia, the US, Israel and the UK.
Four of the wounded victims were discharged from hospital on Thursday, while a British man remained in a serious condition with a stab wound to his stomach.
Mark Rowley, the Assistant Commissioner of the Metropolitan Police, said armed officers arrived within six minutes of being alerted to the attack at around 10.30pm.
They used a Taser to restrain the suspect as he continued trying to stab other victims in the street, in what was praised as the "minimum necessary force".
"Whilst the investigation is not yet complete - all of the work that we have done so far, increasingly points to this tragic incident as having been triggered by mental health issues," Mr Rowley said.
"At this time we believe this was a spontaneous attack and the victims were selected at random."
Describing the suspect as a Norwegian national of Somali origin, the counter-terrorism chief said his background was not believed to be "relevant to the motivation for his actions".
"So far we have found no evidence of radicalisation or anything that would suggest the man in our custody was motivated by terrorism," he added.
When asked why initial police statements had named terror as a line of investigation, Mr Rowley told reporters detectives were considering many options in light of recent attacks in Europe and the "current climate of threat".
The unnamed suspect and his family have been interviewed, as well as witnesses, and a full intelligence review has been conducted alongside house searches in London.
Norway's National Criminal Investigation Service said it had been informed by their British counterparts and would offer assistance in the case, adding that the suspect emigrated in 2002.
Sir Bernard Hogan-Howe, Commissioner of the Metropolitan Police, said a "normal night out ended in horrific circumstances" for the victims.
He deployed hundreds of armed and unarmed police across London to reassure the public – a move already planned after a string of attacks in Europe – adding: "We will protect our capital and those who live, work and visit our city."
Register for free to continue reading
Registration is a free and easy way to support our truly independent journalism
By registering, you will also enjoy limited access to Premium articles, exclusive newsletters, commenting, and virtual events with our leading journalists
Already have an account? sign in
Register for free to continue reading
Registration is a free and easy way to support our truly independent journalism
By registering, you will also enjoy limited access to Premium articles, exclusive newsletters, commenting, and virtual events with our leading journalists
Already have an account? sign in