Rwandan assassin 'sent to kill dissidents in UK'
Met warns that Kagame regime may be plotting to kill two men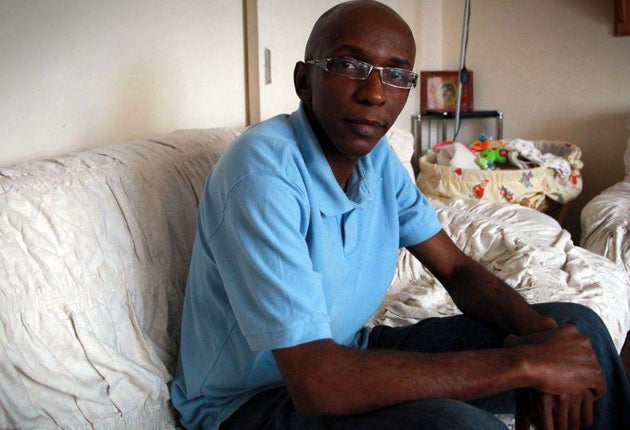 The Rwandan government is masterminding an alleged assassination plot in Britain against dissidents critical of the east African country's increasingly authoritarian regime, The Independent can reveal.
In a move which threatens to tip relations between London and one of its closest African allies into crisis, detectives from Scotland Yard last week visited two prominent Rwandans living in Britain, one of them a founder of a new opposition party, and warned them of "reliable intelligence" that the country's government "poses an imminent threat to your life".
The two men yesterday told of their shock and fear after being told to improve security at their homes, change their daily routines and that the "threat could come in any form". Whitehall sources said last night that the movements of two Rwandans with diplomatic accreditation in Britain, who have travelled regularly between London and Kigali in the last nine months, are being closely monitored.
The Independent also understands that police are investigating claims that an individual implicated in the attempted murder in South Africa last year of a key opposition figure to the Rwandan president, Paul Kagame, may have travelled to the UK.
Rene Mugenzi, 35, a survivor of Rwanda's 1994 genocide who is a British citizen and now runs a London-based social exclusion think-tank, said: "I am bewildered that such a thing could be happening to me. I am not a political figure in Rwanda, I left when I was 17. How can it be that in Britain, a foreign government can be allowed to threaten the life of a person? Every time I go outside, I am looking over my shoulder, wondering if there is an assassin around the corner."
The disclosure of the murder plot comes after an investigation by The Independent revealed last month that MI5 has warned the Rwandan High Commissioner to London to halt an alleged campaign of harassment against critics of Mr Kagame living in the UK.
But the Rwandan government's activities against dissidents have increased dramatically recently. Last week police served a "Threats to life warning notice" on Mr Mugenzi and a second Rwandan, Jonathan Musonera, laying out the danger facing them.
Mr Musonera, a former member of the Rwandan Patriotic Front (RPF) army led by Mr Kagame which halted the genocide, is one of the founding members of the Rwanda National Conference (RNC), a new political party led by exiled military officers which poses a threat to the president.
In the aftermath of the genocide, which left around 800,000 ethnic Tutsis and many moderate members of the Hutu majority dead, the regime led by Mr Kagame was hailed for its rebuilding of the country. Britain last year welcomed Rwanda into the Commonwealth and became its largest aid donor to the tune of £83m a year.
But President Kagame is now charged with becoming increasingly authoritarian, intolerant of dissent and of silencing political opposition.
Evidence that schisms among Mr Kagame's former comrades are leading to reprisals was strengthened last summer when a former head of Rwandan intelligence, Faustin Kayumba Nyamwasa, who is also a founder of the RNC, was the subject of an assassination attempt in South Africa. Several of the suspected gunmen were Rwandan, including one individual who Rwandan opposition figures claim has travelled to London.
Mr Musonera, 46, who along with father-of-three Mr Mugenzi has been told that police cannot offer round-the-clock protection, said: "I am terribly scared. We know what the Rwandan government can do. Their killers are not bothered about observing the laws of the countries in which they carry out their activities."
Sat in his home in south east London, Mr Mugenzi recalled how he had personally challenged Mr Kagame over claims of despotism in a BBC World Service phone-in this year. "I have no idea if my encounter with Mr Kagame is linked to the threat I now face," he said. "But this is not how a civilised government should behave. No-one is challenging the terribleness of the genocide but if Rwanda becomes a country that cannot tolerate a variety of voices then how can it move on?"
The Foreign Office said the threat faced by Rwandans in Britain had been raised with the Kigali government. The Rwandan High Commissioner to the UK, Ernest Rwamucyo, said in a statement: "The government of Rwanda does not threaten the lives of its citizens wherever they live."
Attacks in foreign lands
Russia and Alexander Litvinenko
Former KGB officer Litvinenko was poisoned with a radioactive isotope in London in 2006. Britain requested the extradition of another ex-KGB officer, Andrey Lugovoy, on murder charges. Russia refuses to send him to face trial.
Bulgaria and Georgi Markov
One of the most notorious assassinations of the Cold War took place on Waterloo Bridge in 1978 when a tiny pellet of ricin was injected into the leg of Bulgarian dissident Markov using a modified umbrella. The Bulgarian secret service was blamed for the murder.
Mossad and Ahmed Bouchiki
The Moroccan waiter was killed by Israeli secret service agents in the Norwegian resort of Lillehammer in 1973. He had been mistaken as one of the leaders of Black September, the Palestinian group behind the Munich massacre. Israel paid compensation to Bouchiki's family.