Sam Hallam: The man who spent over seven years in jail for a murder he did not commit
Freed after a miscarriage of justice, Sam Hallam tells Jon Robins about his psychological and legal struggle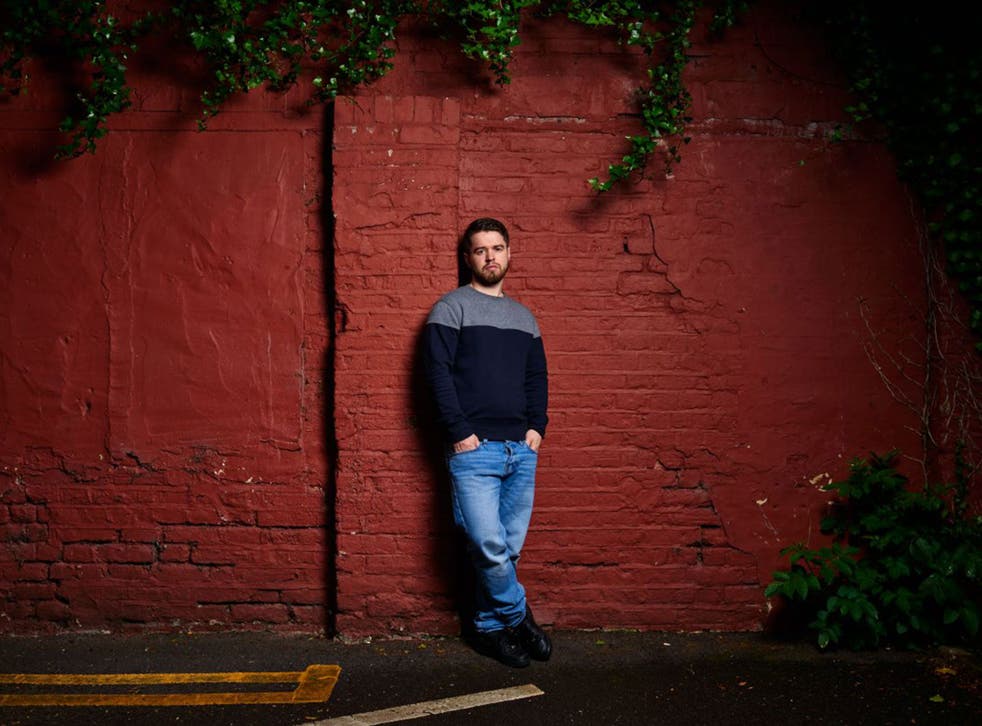 "I used to get really angry. But now, I say to people I feel more angry than I did then," says Sam Hallam, who spent more than seven years in jail for a murder he didn't commit.
A teenager when he was sentenced to life in 2005 for a gang-related murder in north London, Mr Hallam always protested his innocence.
"I look back on my time in prison and realise I was just living day to day," he tells me. "Only now can I see how much I missed."
Three years ago, the then 24-year-old emerged from the Royal Courts of Justice where, moments earlier, Lady Justice Hallett had announced that he could leave, a free man.
Newspaper photographs caught a seemingly joyful moment: a grinning Sam Hallam – his arm firmly gripped by his mother, Wendy – walking down the court steps doused with the champagne of well-wishers.
It is not how he recalls the day. "It was just overwhelming. I was in shock. I was scared," he admits.
Mr Hallam was 17 when he was convicted of the murder of a trainee chef who died after being stabbed. Hours before his release, he left HMP Pentonville in a prison van, with no idea what was about to happen. He had been transferred from an Oxfordshire prison the previous day, and hadn't been allowed to take anything other than a bar of soap and a few essentials because, he was told, it was "an overnight stay". "As we were leaving court, I asked my mum there if there were going to be people outside. She said: 'Oh, no.' The whole day was a blur."
UK miscarriages of justice

Show all 5
He is speaking ahead of a critical High Court test case this week in which he – together with another notorious miscarriage case, Victor Nealon – will challenge a new law introduced last year to cut compensation for almost all justice miscarriage victims.
Mr Nealon, whose case has also been championed by this paper, spent 17 years in prison before his attempted rape conviction was overturned on DNA evidence.
Taken together, their cases reveal an appalling catalogue of errors made by the criminal justice system. Shockingly, the Ministry of Justice has refused the two men compensation.
The Antisocial Behaviour, Crime and Policing Act 2014 restricts compensation to those who can demonstrate their innocence "beyond reasonable doubt". Mr Hallam is baffled, like many, by the apparent reversal of the legal principle of innocent until proven guilty contained in the 2014 Act. The legislation, says Justice, the UK based human rights campaigns organisation, "offends the right to the presumption of innocence and makes an award of compensation almost impossible to achieve".
Lady Justice Hallett described the killing of a trainee chef, Essayas Kassahun, as "yet another tragic example of gang violence". No forensic evidence linked Mr Hallam to the crowded murder scene. A Thames Valley Police investigation quizzed 37 witnesses. Nobody saw him. Under cross-examination, the main witness who placed him at the fight told the court she was "just looking for someone to blame on the spot, really". The evidence that exonerated Mr Hallam was on his mobile phone. Photos revealed he was in a pub with his dad that night.
Paul May, who campaigned to free the Birmingham Six and backed Mr Hallam's cause, says: "Sam's case was probed in minuscule detail by the Criminal Cases Review Commission, in a 15-month inquiry by Thames Valley Police, by the CPS, which dropped the case against him, and by the Appeal Court, which swiftly quashed his conviction. Even the Met issued an unprecedented apology when he was freed. The only people who still question Sam's innocence are the Ministry of Justice." The case for his innocence is stronger even than for the Birmingham Six, he adds.
Mr Hallam hasn't spoken publicly since his release in May 2012. Three years later, how does he feel? "It's up and down," he says. He has a girlfriend, Renee. The couple, who have an 11-month old baby, Thierry, have known each other since childhood, but only got together after his release. They live together in Renee's flat in Stoke Newington, north London, a short distance from the tight-knit Hoxton community the pair grew up in. But as Mr Hallam puts it: "It is like a whole new life to me."
He hasn't worked since his release, other than brief stints on a building site and in Marks & Spencer. What would be his ideal job? "I don't know. I know I should know, but I don't have a clue. These things take time. It will happen when it happens."
"Sam's doing a lot better than he was. He went through a stage where he was really down. Obviously, what's happened to him is hard to deal with," says Renee. Starting a family has helped. "Sam's really, really great with Thierry. That's because he's a big kid – technically, they're the same age," she teases.
He found prison hard. "When I first went there, I just hated it," he says. "But you can't do time as long as I did without in some way making it normal. You can't spend every day just dwelling on it, dreading the next day." He enjoyed the widespread campaigning support of the working-class Hoxton community, including Ray Winstone. The actor's nephew is a friend of Mr Hallam.
Was he aware of their campaigning? "Oh yes, they used to send me the photographs, press cuttings and newsletters. I don't know what I'd have done without them. I don't know if I'd have coped."
He recalls turning 21 in prison. "They had a birthday party for me outside the prison. Everyone came down in an open-top bus. It absolutely poured down."
He couldn't hear them or see, but adds: "I knew they were there."
Baby Thierry takes his name from Thierry Henry – Hallam is a keen Arsenal fan – but is also a tribute to his own father, Terry, who took his own life in 2010 as a result of the stress caused by his son's predicament. Hallam has still to come to terms with that and has yet to visit his father's grave. "It will happen when it happens," he says.
This week's legal challenge is about more than "compensation". "Money cannot make up for what happened. It is more about recognising the harm done," Hallam says. Renee agrees. "There has to be some recognition of what happened. Everyone just shrugged their shoulders and said, 'Well, you're out now. You should just be happy.' "
Register for free to continue reading
Registration is a free and easy way to support our truly independent journalism
By registering, you will also enjoy limited access to Premium articles, exclusive newsletters, commenting, and virtual events with our leading journalists
Already have an account? sign in
Register for free to continue reading
Registration is a free and easy way to support our truly independent journalism
By registering, you will also enjoy limited access to Premium articles, exclusive newsletters, commenting, and virtual events with our leading journalists
Already have an account? sign in