Conservative MP's aide cleared of raping woman following drunken night at Westminster
Samuel Armstrong says his life was 'turned upside down' following allegation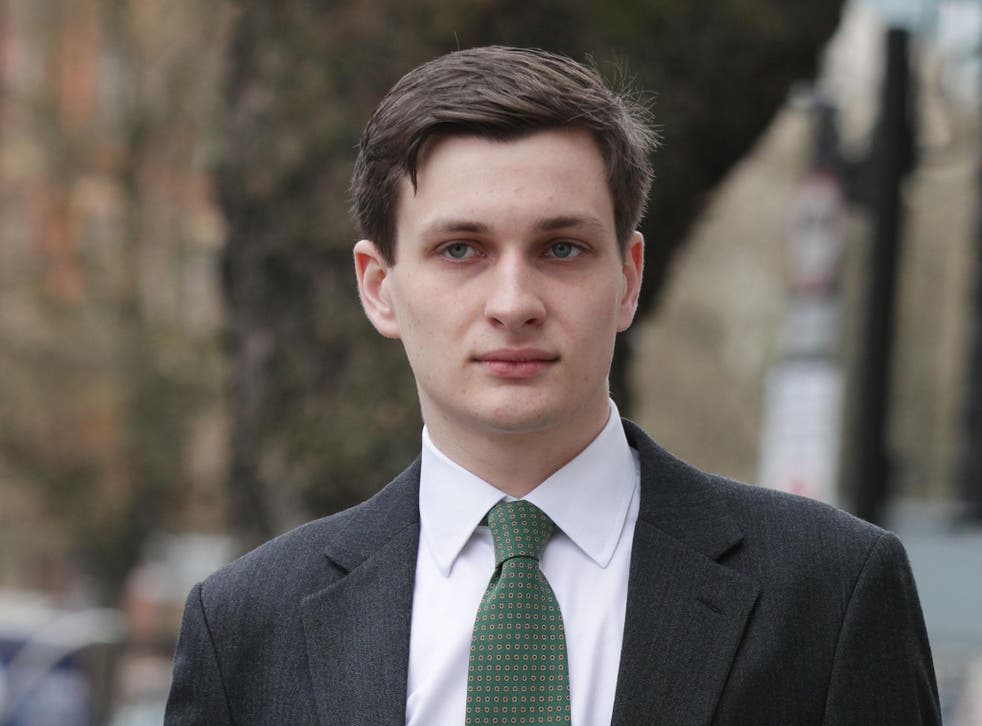 A Conservative MP's chief of staff has been cleared of raping a woman in his boss's office after a drunken night at the Houses of Parliament.
Samuel Armstrong, 24, was cleared by a jury at Southwark Crown Court of two counts of rape, one count of sexual assault by penetration and one count of sexual assault.
Speaking after the verdict, Mr Armstrong claimed he was cleared after "crucial evidence" was disclosed to his lawyers just days before the trial began.
He was accused of attacking a young female parliamentary worker after she fell asleep in his boss Craig Mackinlay's office after a night drinking in the Palace of Westminster.
The complainant, who is in her twenties, claimed she was raped twice by the South Thanet MP's senior aide, who was suspended from his job following the allegation.
But Mr Armstrong, who was arrested after the woman was captured on CCTV running through the corridors of Westminster in tears in the early hours of 14 October last year, insisted the sex had been consensual.
He wiped tears from his eyes after the jury of seven women and five men cleared him of all charges following a two-week trial at Southwark Crown Court, following five hours of deliberation.
Mr Armstrong was comforted by his father Andrew as he left the dock before addressing the media outside court.
"My whole life has been turned upside down. For a year I have not slept or eaten, and I was innocent," he said.
"Were it not for the fact that crucial evidence was disclosed to my defence team just eight working days before trial, there could well have been yet another miscarriage of justice in this case."
Mr Armstrong and his lawyers refused to elaborate on the nature of the evidence he was referring to, but the court heard the complainant initially refused to give police access to her mobile phone and medical records.
In messages recovered from her phone, she said she had contacted a journalist just hours after the alleged attack to secure a "sympathetic" write-up, while her medical notes revealed details of a history of mental health issues, including depression and anxiety.
Mr Armstrong, from Danbury in Essex, has been suspended from his job since the allegations arose.
Following the verdicts, Mr Mackinlay said on Twitter: "I am very pleased for Sam, a young man whose life has been destroyed over the past 14 months.
"Debate now needed over anonymity of those accused, especially in a week where actions of the authorities in such cases have been found wanting."
The Tory MP, who was not in Westminster on the night of the incident, previously told the court he and his aide were like "father and son".
Former grammar school boy Mr Armstrong joined Mr Mackinlay's permanent staff in April 2016 after graduating with a degree in politics and history from Nottingham University.
On the evening of 13 October, Mr Armstrong and the complainant drank together in a bar on the parliamentary estate, watched Big Ben chime on its terrace and sipped wine in the leader's office in the Lords before going to Mr Mackinlay's office.
The woman said she felt "held hostage" by Mr Armstrong, with prosecutors claiming he "abused his position" once they were alone by sexually assaulting her and raping her twice.
The woman was captured on CCTV running through the corridors of Westminster until she found a cleaner, who said she was "shaking and crying", holding on to him until police arrived.
Mr Armstrong, described by his barrister Sarah Forshaw QC as "earnest, a little geeky, awkward", said he felt as though he had been "punched in the stomach" when he was arrested early on the morning of 14 October.
Giving evidence, he told how he and the woman danced to jazz music, began kissing, then made jokes as they had consensual sex in his boss's office in the Norman Shaw building.
Ms Forshaw suggested the woman panicked and made the allegations after becoming distressed as she tried to leave the Palace of Westminster without a pass at around 2am – and was then caught up in her lie.
UK news in pictures

Show all 50
Mr Armstrong told jurors he regretted having sex in his boss's office, and said: "It was foolish. It was an act of enormous foolishness and as a consequence I have had the worst year of my life."
He said the allegations had cost him his "dream job", adding that he would "never, ever, ever" get his career back.
"While what I did is foolish, the point is I'm innocent of this and for whatever reason somebody is trying to make a horrible, horrible, horrible allegation," he said.
"The point is on this allegation, somebody is trying to send me to prison for a very long time for something I didn't do."
The Metropolitan Police announced this week they will review 30 rape cases to ensure all evidence is being properly disclosed to all parties following the collapse of two trials.
The cases under review have all reached the stage where they are under consideration for prosecution by the Crown Prosecution Service (CPS).
The two cases which collapsed both had the same senior investigating officer, Detective Constable Mark Azariah, who has now been removed from duty.
Student Liam Allan has said he plans to sue the Met after the trial against him for rape collapsed because of the late disclosure of evidence.
Prosecutors this week dropped a case against a man charged with raping a child after police handed over digital evidence which showed the girl, aged 14 and 15 at the time of the alleged offences, had regularly posed as a 19-year-old.
Attorney General Jeremy Wright labelled the two cases "appalling failures of the criminal justice system", but denied the suggestion that officers were not doing their job properly and claimed the failures were down to the existence of "very large amounts of mostly digital information".
Scotland Yard said its review will make sure all digital evidence has been properly examined, documented and shared with the CPS.