Sarah Barrass: Incestuous parents who murdered two teenage sons jailed for minimum of 35 years
Barrass killed sons with her half-brother Brandon Machin, who is also the boys' father
Lizzie Dearden
Home Affairs Correspondent
Tuesday 12 November 2019 15:52 GMT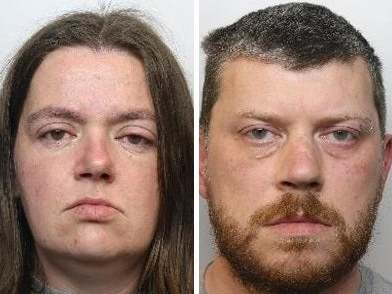 An incestuous mother and father have been jailed for life for murdering their two teenage sons.
Sarah Barrass and Brandon Machin were handed minimum terms of 35 years after strangling the boys to death at their home in Sheffield.
A judge who jailed them on Tuesday lifted a restriction that previously banned reporting of the fact that Machin is the children's father, and Barrass's half-brother.
Barrass had initially attempted to kill Tristan and Blake Barrass, aged 13 and 14 respectively, using a drug overdose.
But when they survived, she called for 39-year-old Machin to help her and they strangled the boys to death before trying to drown their younger sibling in the bath.
Mr Justice Goss told her: "You considered your love for them and fear of being parted from them entitled you to take their lives as well as your own."
Barrass and Machin pleaded guilty to two counts of murder, five counts of attempted murder and conspiracy to murder all six children.
The judge said the case did not warrant the use of a rare full-life term, and handed the pair concurrent life sentences for attempted murder and conspiracy to murder the other children.
Motorbikes join cortege at funeral of boys killed in Sheffield
Police said the pair had been in a "secret sexual relationship for many years", and that in the weeks leading up to the murders their concerns that it would be exposed grew.
Kama Melly QC, prosecuting, said: "Although clearly the defendants were motivated to prevent the loss of their children to the care of the local authority, this was combined with their fear of the authorities becoming aware of their unnatural relationship."
They mounted a plot to kill all six of their children, who lived with Barrass in the Shiregreen area of Sheffield, before the mother killed herself.
Machin would then "discover" what had happened and raise the alarm.
They put the plan into action on 23 May, when Barrass gathered assorted tablets from around the house and divided them up between the four eldest children.
"None of the children wanted to take the tablets but were forced to do so – their mother insisting on it," Ms Melly said. "The defendants expected the tablets to kill the children overnight."
As part of a planned cover-up, Barrass sent messages and made social media posts overnight claiming that they were suffering from a sickness bug.
The children were ill through the night but the drugs they had been given, including ADHD medication, would not have caused a fatal overdose, the court heard.
When Barrass realised the tablets had not had the desired effect, she started online research about alternative methods of murdering her children, including suffocation, strangulation and drowning.
At around 5am the following morning she called Machin to tell him to come over as "it had not worked" and he got a taxi to the house.
She said the pair "decided the children were better off dead than in care" and strangled Blake and Tristan, before placing bin bags over their heads "to ensure their certain death".
The court heard that Barrass strangled Tristan herself by wrapping her dressing gown cord around his neck and pulling for around three minutes, while Machin strangled Blake with his hands.
The couple then ran a bath and repeatedly tried to drown one of the younger children, the court heard.
The alarm was raised by a friend Sarah had been messaging and police arrived on the scene at 7.45pm.
Officers immediately began attempts to revive Blake and Tristan but the children were later pronounced dead.
Scene in Shiregreen, Sheffield after two children die and four taken to hospital over 'serious incident'
The four other children, all aged under 13, were taken to hospital and released later the same day. They cannot be named for legal reasons.
Barrass told police she had intended to kill all six children and then herself.
She described how the children were "terrified" as she tried to make them take the tablets and the child she tried to drown was "hysterical" as she held his head under the water.
The court heard that the child is now afraid of baths, and a sibling is scared that they will grow up to be a murderer.
Edmund Hulbert, of the Crown Prosecution Service, said: "Two of the surviving children witnessed their older siblings being attacked and the trauma that all the children have experienced, and will continue to experience, is unimaginable."
The court heard Barrass had previously threatened her children.
"Visitors to Barrass's house would hear her tell the boys 'I gave you life, I can take it away'," Ms Melly told Sheffield Crown Court. "Speaking to the boys in that way was described as an everyday thing."
The court heard that Barrass had previously requested help with her children from the local authority.
In a message to a friend, she said: "I've thought of every possible solution to this mess. Mass murder, putting them all in care, checking in to the local nut house.
"I love my kids too much to kill them, I can't put them into care for the same reason."
Bryan Cox QC, defending Barrass, said she was "profoundly damaged by her childhood", when she suffered physical and sexual abuse.
He continued: "The defendant was desperate to prevent her children being taken into care. She couldn't cope with the prospect of them being removed."
A serious case review is to be held by local authorities into the children's deaths.
Chief Superintendent Stuart Barton, the South Yorkshire Police district commander for Sheffield, said: "We continue to work with partners to ensure any of the young people affected by this incident are given specialist support and the right direction in life as they move forward.
"Incidents like this are fortunately, extremely rare. Sheffield is a place where people care for each other, a place where they look out for each other and a place that has community at its core."
Additional reporting by PA