Sarah Everard: Met Police to investigate sex offence and domestic abuse allegations against serving officers
Force examining current and past investigations that resulted in accused officers remaining in service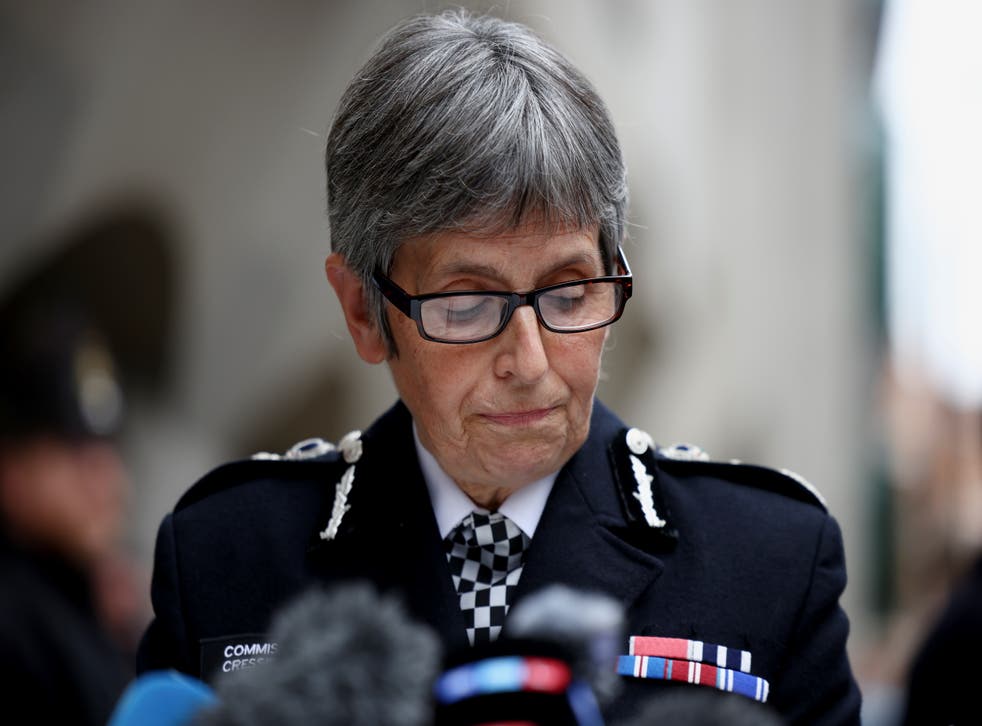 The Metropolitan Police is investigating sexual misconduct and domestic abuse allegations against serving officers and staff in the wake of Sarah Everard's murder.
Britain's largest force said it had launched an "urgent" review of current cases, looking at past conduct, supporting victims and ensuring investigations were "absolutely thorough".
"The detailed examination will include a thorough check of the vetting history of any individual against whom allegations have been made," a spokesperson said.
While announcing the review, Scotland Yard admitted that some accused officers have been permitted to remain in service.
A statement said there would be a sample of "cases from the last 10 years of sexual misconduct and domestic abuse allegations where those accused remain in the Met", adding: "This will check appropriate management measures, including vetting reviews, have been taken."
The Metropolitan Police said the review was part of efforts to restore public trust following the kidnap, rape and murder of Ms Everard by a serving officer. It admitted there were "other cases that have undermined trust".
The Met's commissioner, Dame Cressida Dick, previously announced a review of the force's "standards and culture".
On Friday, the chair was announced as Baroness Louise Casey, who was previously the UK's victims' commissioner and reviewed child protection in Rotherham.
Baroness Casey said: "Trust is given to the police by our, the public's, consent. So any acts that undermine that trust must be examined and fundamentally changed.
"This will no doubt be a difficult task, but we owe it to the victims and families this has affected and the countless decent police officers this has brought into disrepute."
Dame Cressida hailed the review as "an important step in our journey to rebuild public trust".
She added: "We recognise the grave levels of public concern following the kidnap, rape and murder of Sarah Everard and other deeply troubling incidents and allegations. I have said that we know a precious bond has been broken.
"The Met has huge numbers of wonderfully professional officers and staff, but I also recognise the behaviour of too many is of serious concern."
Priti Patel announces inquiry into Sarah Everard murder
The review is separate to a public inquiry announced by Priti Patel on Tuesday that will look at how Wayne Couzens was allowed to remain in the police and "wider issues" raised by the case.
The Metropolitan Police announced a series of other measures in response to the killing and wider concerns about violence against women and girls.
The force said it was creating a dedicated team for sexual misconduct and domestic abuse allegations against officers and staff, and increasing the overall number of investigators focused on abuse of trust.
An action plan is to be published that aims to improve the response to issues that make women and girls feel unsafe.
It is also conducting a "root-and-branch review of the Parliament and Diplomatic Protection Command", where Couzens served, including recruitment, vetting and culture.
The national police watchdog is already running several investigations sparked by the murder, including into material shared in a WhatsApp group involving Couzens.
The Independent Office for Police Conduct (IOPC) is also investigating why Couzens was not arrested over two indecent exposure incidents, in 2015 and days before Ms Everard's muder.
Writing in The Times on Friday, the IOPC's director general, Michael Lockwood, said it was a "watershed moment for policing to act and, above all else, change".
"Our work highlights that police officers falling below the standards of behaviour expected are not one-off events, nor can they be dismissed as being an isolated 'bad apple'," he added.
"Policing must re-focus on building trust and take a long hard look at its own culture.
"A police culture that allows racist, misogynistic or homophobic behaviour to exist is not one we can trust."
Mr Lockwood said that in two years, almost 400 cases had been referred to the IOPC in which police officers were accused of abusing their power for sexual gain.
He added: "It's now or never for policing to change. We all want confidence in policing."
Register for free to continue reading
Registration is a free and easy way to support our truly independent journalism
By registering, you will also enjoy limited access to Premium articles, exclusive newsletters, commenting, and virtual events with our leading journalists
Already have an account? sign in