Secret detention row forces UK to hand over suspects to Afghans
Defence Secretary admits Britain holding dozens of suspected insurgents without trial in Helmand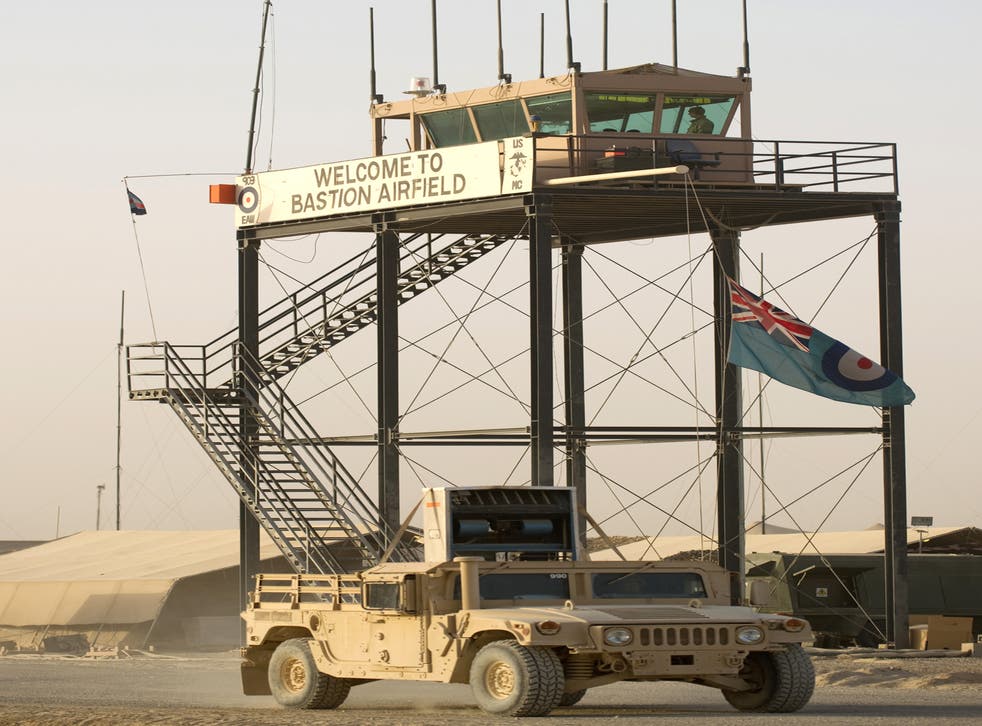 Up to 90 prisoners are being held without charge at the British base in Helmand, Defence Secretary Philip Hammond has confirmed.
The transfer of the suspected insurgents, some of them allegedly responsible for the killings of British service personnel, to Afghan custody was halted after claims that they may face mistreatment.
Mr Hammond said work was going on "very intensively" with the Afghan authorities to create the safe conditions for detainees to be transferred to the Afghan system and he said he hoped that this would be achieved "within a matter of days".
"We are holding a number of people in the temporary holding facility in Camp Bastion – far more than we would like to be holding," he acknowledged. "We would like nothing more than to be able to hand these people over to the Afghan authorities so that they can go properly through the Afghan judicial system."
Solicitor Phil Shiner, who represents eight of the men, said: "This is a secret facility that has been used to unlawfully detain or intern up to 85 Afghans that they have kept secret, that Parliament doesn't know about, that courts previously, when they have interrogated issues like detention and internment in Afghanistan, have never been told about – completely off the radar."
Mr Hammond responded that Mr Shiner's firm had started proceedings against the MoD last year "precisely to prevent us handing them over to the Afghan judicial authorities". He added that claims of a "secret facility" and Parliament being kept in the dark were "patently ridiculous". The Ministry of Defence stated that successive governments have reported to Parliament on detention operations in Afghanistan and references in Hansard as far back as 2009 confirm this; Mr Hammond updated the House last in December 2012 on this issue. The number of detainees held at the facility in Camp Bastion has also been publicly released.
Detainees are held in a temporary holding facility that is inspected regularly by the International Committee of the Red Cross. This facility has also been inspected by MPs of the cross-party House of Commons Defence Committee, who reported to Parliament on the subject earlier this year, said the MoD.
"Our client has been held at Camp Bastion since August 2012," said Rosa Curling, a lawyer with the firm Leigh Day, which is representing a 20-year-old detainee. "He has not been charged with any crime and has had no access to a lawyer so he can receive legal advice about his ongoing detention."
General Zahir Azimi, a spokesman for the Afghan Ministry of Defence, told the BBC that the detentions were illegal and inhumane. "The prisoners must be handed over to the Afghan authorities," he said. "After their handover to us, they will be dealt with according to our judicial laws and the agreements reached with the international community."
Hammond to stand firm over call for £2bn in defence cuts
The Defence Secretary Philip Hammond signalled that he would fight an attempt by the Treasury to cut his department's core funding.
Mr Hammond, right, has been told to cut the MOD's budget by up to £2bn for next month's Comprehensive Spending Review.
But in an interview, he suggested that he would attempt to block any cutbacks that affected military capability.
His remarks are likely to irritate the Chancellor George Osborne, who has told ministers to identify savings in their departments and not plead for exemptions.
Speaking on the BBC's Today programme, Mr Hammond said that while he was in favour of "efficiency savings", "output cuts" would have an impact on military capabilities.
"There is a difference between efficiency savings, which may be difficult to achieve but are painless in terms of the impact on the front line, and output cuts."
Register for free to continue reading
Registration is a free and easy way to support our truly independent journalism
By registering, you will also enjoy limited access to Premium articles, exclusive newsletters, commenting, and virtual events with our leading journalists
Already have an account? sign in