Secret plans to deploy soldiers on UK streets in the aftermath of a terror attack are 'shocking' and 'provocative', says peer
Notes leaked accidentally from an NPCC meeting revealed the proposals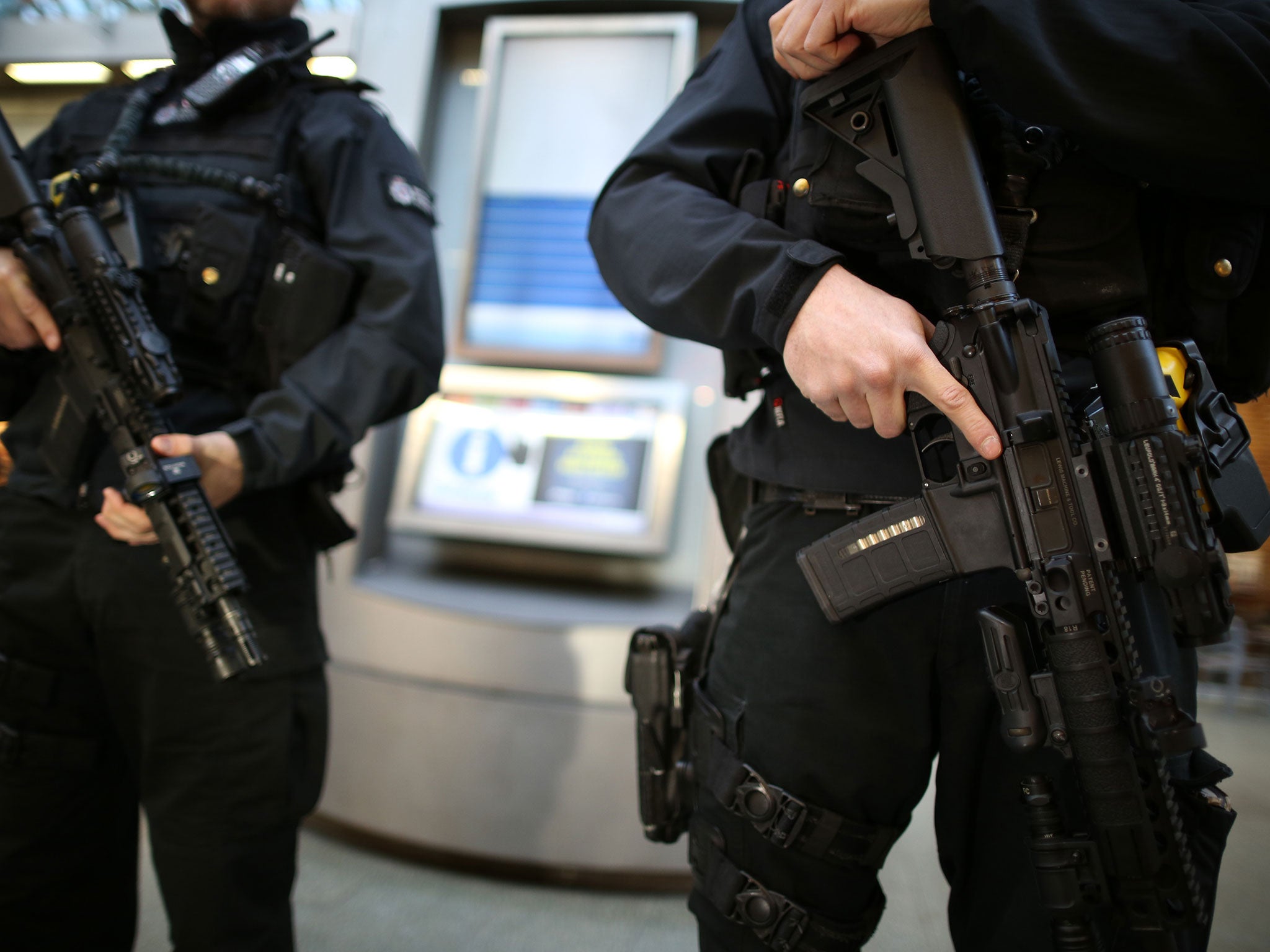 Secret police plans to deploy more than 5,000 armed soldiers on British streets in the wake of a UK terror attack have been questioned by a prominent peer as a "provocative" act that could potentially endanger the public.
Accidentally leaked minutes from a meeting of the National Police Chiefs Council (NPCC), published as David Cameron flew to South-east Asia planning to discuss Isis with leaders in the region, said "large scale military support" could "augment armed police officers engaged in protective security duties".
Based upon force assessments of how many military officers would be required, troops would be brought in to guard key targets and prevent further terror attacks, according to The Mail On Sunday, which saw the documents.
Codenamed Operation Temperer, the plans were revealed when documents from an 22 April meeting of the National Police Chiefs Council (NPCC) were accidentally uploaded to their website.
"The minutes of the meeting were uploaded last Thursday afternoon and removed and revised early on Friday morning when it was identified that details from the closed session had been included," an NPCC spokesperson said.
Baroness Jenny Jones, who sits on London's Police and Crime Committee, called the revelations "absolutely shocking". "Putting troops on the streets would be very controversial," she told The Independent. "I think it would be very provocative and cause more problems than it would solve." Although plans certainly had to be made for the event of a terror attack, she was curious about whether troops were being trained to deal with members of the public, she said, adding that "it would not be appropriate to use them" if they had not.
If it reached the situation where military help was necessary, the Government would have to have lost control, Baroness Jones said, adding that "it would make them look weak and panicky".
"Something that would be this extraordinary," she said. "I think the principle of this should be debated in Parliament."
Deputy Chief Constable Simon Chesterman, the "national lead" for armed policing, briefed the other chief officers at the meeting and "discussions were ongoing with Government" the minutes said, although they have never been debated in Parliament.
However, Raffaello Pantucci, director of international security studies at the Royal United Services Institute think-tank, said the plan was "sensible".
"You really have to have contingency planning, to prepare for potentially the worst," he said. "If you had multiple sites as they had in the Paris attacks, it is possible you would have overstretch, you would look to other options and the Army would be the most obvious port of call."
Last month more than 1,000 police and soldiers, including SAS troops, staged a mass exercise codenamed Strong Tower to test their ability to respond to a gun attack on London similar to the one that left 30 British tourists dead in Tunisia on 26 June.