Seven charged over UK's 'largest ever' gun seizure
Officers found 22 assault rifles and Skorpion machine pistols stowed in bags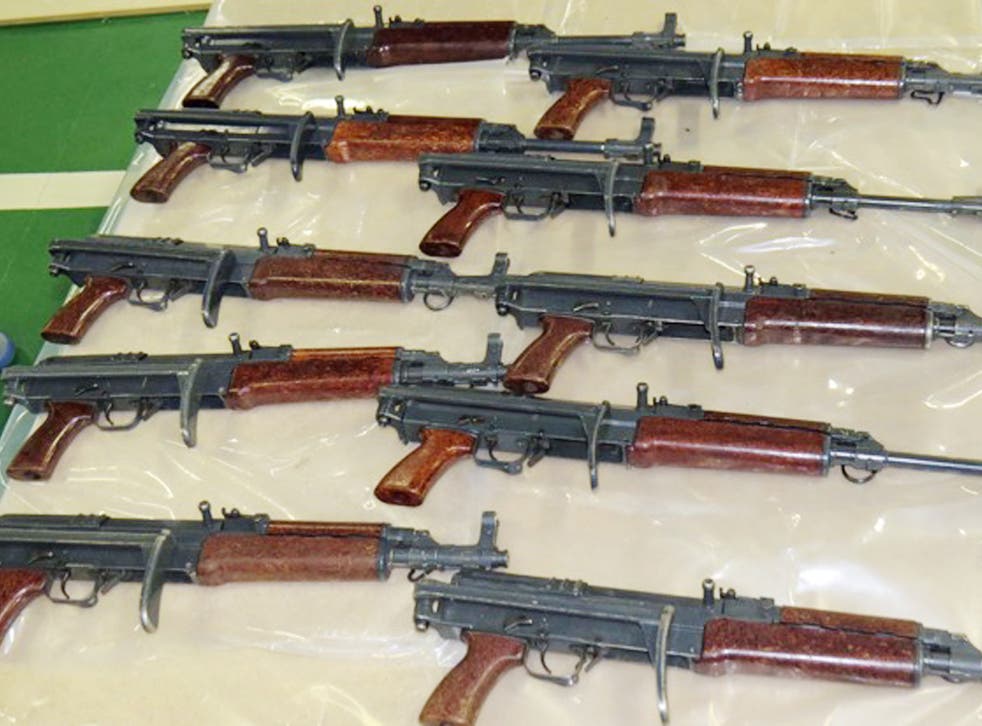 Seven people have appeared in court over the UK's largest ever seizure of guns that were allegedly smuggled into Britain on board a motor cruiser from France.
Officers seized 22 Czech-made assault rifles and Skorpion machine pistols stowed in bags along with silencers and 1,000 live rounds of ammunition during the operation on the River Medway, in Halling, Kent on Tuesday.
The MV Albernina was tracked as it travelled from France on the return leg from the mooring on the north Kent river, the National Crime Agency (NCA) said. The agency said that three men and a woman were arrested close to the landing site on the river the day after it arrived back in Britain.
The weapons were unloaded from the boat and discovered in holdalls and a suitcase inside a van as it left the area, magistrates heard. The court heard that the guns were allegedly due to be hidden until they were sold on.
Police teams arrested three other men in Orpington and a fourth man in Swanley. The 28-year-old man arrested in Swanley was later released on police bail.
In pictures: Items confiscated by the TSA

Show all 13
Six men and a woman, all aged between 24 and 58, appeared before Medway magistrates in a series of hearings via videolink. They have all been charged with importing and possessing firearms.
The seven included the skipper of the boat, David Payne, 42, and his partner Jennifer Arthy, 41, who lived on a boat at the mooring site in Halling, Kent, that was raided by armed police on Tuesday.
Two other men, John Smale, 58, of Rochester Road, Halling; and Christopher Owen, 29, of Bush Road, Cuxton, were also arrested at the mooring site, located on the river between two small privately-owned marinas for pleasure boats.
Harry Shilling, 22, of Hart Dyke Road, Swanley, Kent; Michael Defraine, 29, and Franklin Road, Bexleyheath; and Richard Rye, 24, of Lime Road, Swanley, Kent, were also remanded in custody.
The operation to track the vessel from Franc involved the NCA, the Border Force and the National Maritime Information Centre (NMIC), the NCA said in a statement after the seven were charged with criminal offences.
Graham Gardner, deputy director of the NCA, said: "This was an extremely significant seizure, the largest of its kind in the UK. I've no doubt that these weapons would have ended up in criminal hands and it goes without saying the risk they would have posed to the public.
"We are still in the early stages of a significant investigation which will continue for some time. Through the excellent work and action taken alongside Kent Police we have made a huge step in protecting the public in Kent and further afield."
Register for free to continue reading
Registration is a free and easy way to support our truly independent journalism
By registering, you will also enjoy limited access to Premium articles, exclusive newsletters, commenting, and virtual events with our leading journalists
Already have an account? sign in