More than 700 women and girls victims of sexual exploitation in North East as hunt for grooming gangs continues
'There's every likelihood that this is happening in every town and city across the country'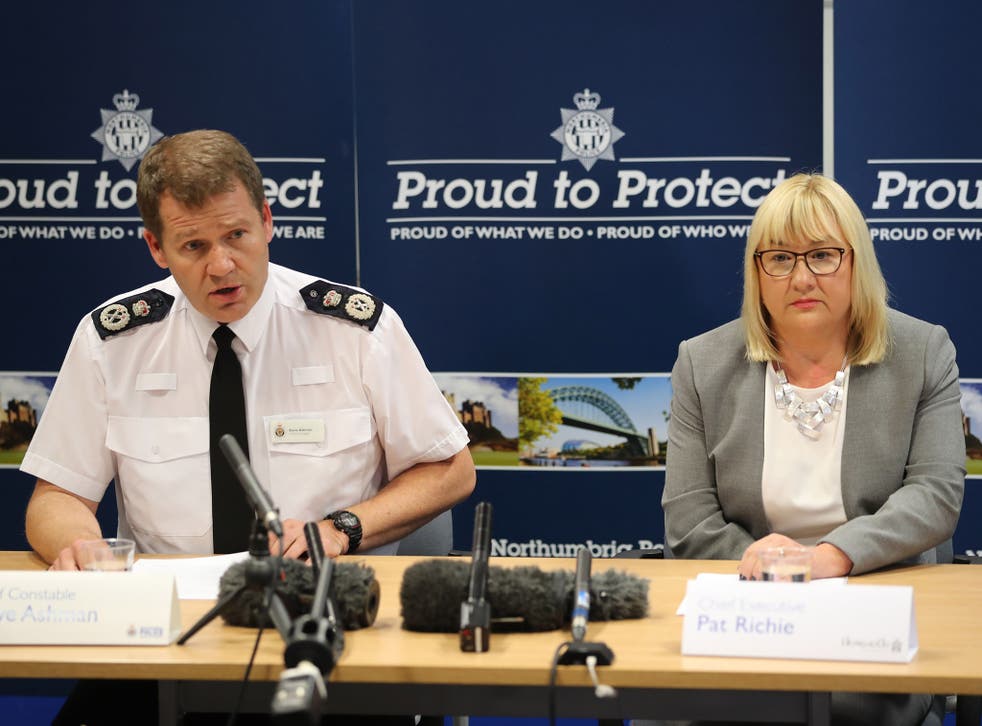 More than 700 women and girls have been identified as potential victims of sexual exploitation in the North East and authorities expect the figure to rise following the conviction of a high profile grooming gang.
A dedicated helpline was receiving calls within hours of the verdicts tied to Operation Shelter, which targeted a group of abusers operating in Newcastle, and investigators hope the publicity will encourage more people to come forward.
Steve Ashman, the Chief Constable of Northumbria Police, said the largest ever trials of connected grooming gang was "certainly not the end" of the work.
"All the resources are still there and there's plenty of work coming through from victims feeling they have the confidence and the strength to trust us," he told The Independent.
"We've got to be in a position where current and historic victims have the confidence to take that courageous step.
"There may be many more victims out there and we are appealing to them to come forward."
Chief Constable Ashman said that women and girls will not be forced to give evidence and that the primary aim to protect victims and "help them recover from the horrific abuse they have endured".
Northumbria Police and Newcastle City Council have set up a joint sexual exploitation hub staffed by police, social workers, health professionals, psychologists and voluntary groups.
Pat Ritchie, the council's chief executive, said all the programmes and helplines that grew out of the grooming case would remain in place for the foreseeable future.
"We've gone through a number of inter-related trials but it would be naïve to think that issue is gone and that it's not going to continue," she told The Independent.
"We have to continue to support victims and make it clear that this sort of exploitative behaviour and awful crimes are not acceptable in our city."
The council's Director of People, Ewen Weir, who is responsible for social services, said authorities had been "gearing up" for an influx of new potential victims after the huge publicity surrounding the trials.
He added: "We've been working really hard for the past three years on how we tackle this with our partners.
"We've already had some contacts overnight."
A total of 17 men and one woman were convicted of offences including rape, sexual abuse, supplying drugs and trafficking for sexual exploitation after a three-year investigation that could only be made public when the last trial ended on Wednesday.
Prosecutors said the gang targeted vulnerable women and girls, meeting them on social media, at so-called "sex parties" or even preying on them in the street under the pretext of offering a warm car or safe place to say.
Victims were offered money, alcohol and drugs including cocaine and mephedrone, being forced or coerced into sex, or becoming incapacitated and waking up to realise they were being raped.
Some originally believed they were in loving relationships with defendants and said they initially had sex with their friends out of a sense of "loyalty", while others were beaten, threatened or locked in rooms if they refused.
Police were heavily criticised for paying a convicted child rapist almost £10,000 to gather intelligence on the grooming gang, who were mainly operating in Newcastle' West End between 2010 and 2014.
The NSPCC was among the groups condemning the decision, which has generated suspicion of the police operation in Newcastle and triggered attempts by some defence lawyers to have the criminal case thrown out of court.
Chief Constable Ashman said he recognised recruiting the informant known as XY would be a "huge issue morally" but insisted he had been instructed not to attend the parties where abuse took place and that the Independent Police Complaints Commission had found no issue with the operation.
"I think it has been a distraction from what we think is a hugely successful operation," he added.
Police have also pledged to monitor members of the grooming gang when they are released from prison, with some convicted of lesser crimes including drugs supply expected to be freed in little over a year.
Chief Constable Ashman said officers would be "even more determined" to disrupt any re-offending but hoped that the local community would change attitudes to ensure that the "stigma and shame" of involvement in exploitation, as well as the threat of fresh punishment, would deter any past or future offenders.
The investigation came under the umbrella of the wider Operation Sanctuary, which has been covering all sexual exploitation in Northumberland and Tyne and Wear since 2014.
It has resulted in a total of 93 convictions for abusers imprisoned for more than 300 years in total.
Police said convicts were mainly "not white" but came from a diverse range of backgrounds including Pakistani, Bangladeshi, Indian, Iranian, Iraqi, Kurdish, Turkish, Albanian and Eastern European.
Local authorities have rejected claims of "political correctness" influencing the probe – an accusation that was levelled at Rotherham Council by Theresa May during her time as Home Secretary.
Mr Weir said an event on safeguarding vulnerable people was requested by members of the black and ethnic minority (BAME) community earlier this year and that everyone he had met was "as abhorred as anyone" by the abuse uncovered.
"There are men from all sorts of backgrounds, including white men, in this," he added.
"In terms of religion, I've seen no evidence personally that it is a big driver and I think it's over-simplistic to claim otherwise."
Sarah Champion on Newcastle sex ring: "The majority of the perpetrators have been British Pakistani"
Chief Constable Ashman echoed the sentiment, saying his officers' work was not impacted by religion, race or nationality.
He added: "We're not politically correct, I don't care about the background of individuals: we find them, we arrest them and we put them behind bars."
Ms Ritchie said the one characteristic shared by the perpetrators was "the willingness to exploit vulnerable women and girls" and that discussions needed to tackle the attitudes underpinning the abuse.
She said local authorities would continue preventative work to raise awareness in the communities of both offenders and victims, as well among bar owners, door staff, taxi drivers, teachers and council workers to spot the signs of exploitation.
"We've learned a lot about and way in which these crimes are committed and the complexity of it," she said.
"The first and foremost focus has been on providing the right support for girls and young women to talk about what is happening and begin to tackle it."
The council chief executive said much of the abuse discovered is "based on control, fear and intimidation" that women will be helped to escape through support and measures like rehousing.
UK news in pictures

Show all 50
Newcastle City Council, which has spent around £4m on anti-exploitation work since 2013, has learnt from the investigations in Rotherham, Rochdale and Oxford and hopes to pass its expertise on in turn.
The authority will also be publishing the results of the serious case review by the end of the year, which will examine how the sexual exploitation exposed by Operation Sanctuary spread unchecked for so long.
Some of the victims were in council care, while others were known to social services and council employees had been called to noise complaints during "sex parties" where girls were being abused.
"I'm sure there will be things to learn and we will act on them," Ms Ritchie said. "I don't think you would ever be complacent about something like this and think we've got everything cracked.
"I think we all need to learn from one another in terms of this happening in different places. What's different here in Newcastle is that we are going out and looking for it."
Ms Ritchie believes grooming gangs are active in many, if not all, other areas of the UK and her suspicion is shared by Northumbria Police.
"This is not unique to Tyneside," Chief Constable Ashman said. "Whatever people might think about what we've done, we could not have worked harder than this.
"I think there's every likelihood that this is happening in every town and city across the country but you won't find it until you look for it."
Register for free to continue reading
Registration is a free and easy way to support our truly independent journalism
By registering, you will also enjoy limited access to Premium articles, exclusive newsletters, commenting, and virtual events with our leading journalists
Already have an account? sign in
Register for free to continue reading
Registration is a free and easy way to support our truly independent journalism
By registering, you will also enjoy limited access to Premium articles, exclusive newsletters, commenting, and virtual events with our leading journalists
Already have an account? sign in