Shafilea Ahmed's poetry captured something more profound and deadly than normal teenage angst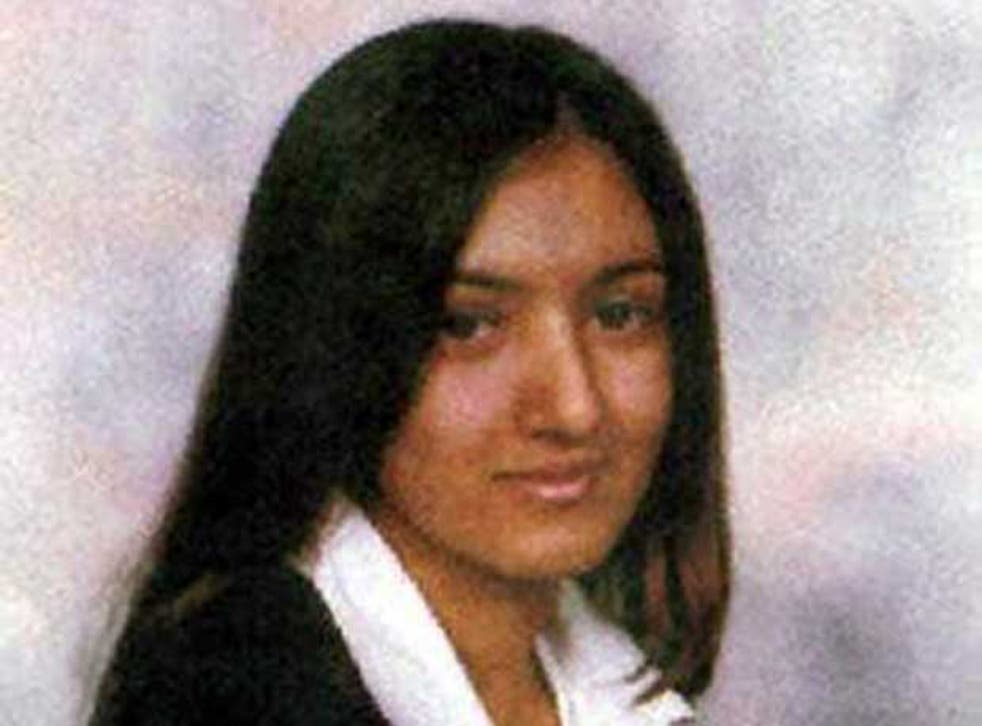 Her poetry captured something more profound and deadly than the normal angst-ridden teenage yearnings for freedom.
"I don't pretend like we're the perfect family no more, desire to live is burning, my stomach is turning, but all they think about is honour," wrote Shafilea Ahmed before being murdered by her controlling parents and her body dumped in a remote riverbank where it was hoped it would never be found.
The slim, bright teenager with the ready wit and ambitions to be a lawyer, found herself caught between two cultures.
Her repressive and domineering parents, couched in their twisted interpretation of loyalty and the values of the remote Pakistani village of their birth, feared that her embrace of the Western fashions and pop culture would bring shame on them and the wider family spread across the north of England.
Shafilea on the other hand, born and brought up in modern Britain had other priorities.
She had friends, both Asian and white, some of them boys. A fan of Justin Timberlake, tight jeans and t-shirts she loved talking and texting on her mobile phone which she paid or with money earned from her part time job.
She was, according to the prosecution at the trial of her parents, "a thoroughly Westernised young British girl of Pakistani origin".
But though she was popular, clever, conscientious and ambitious, it was not enough for Iftikhar and Farzana Ahmed. They subjected their eldest daughter to sustained campaign of domestic violence in a bid to crush her independence, limit her movements and her friends.
Iftikhar had himself brought shame on his family – cheating on his first wife in Denmark and abandoning her and his son to return to an arranged marriage.
His relationship with his daughter was fraught manifesting itself in repeated beatings handed out by both him and his wife which saw her attend school covered in cuts and bruises.
It was a relationship which was to end in a murderous rage at the family home in Warrington in September 2003.
On that night, following yet another row over clothes, boys, and her continued refusal to be cowed into an arranged marriage with a Pakistani stranger, her father forced a carrier bag into her mouth egged on by his wife who urged him to "just finish it here".
The taxi driver, then bound his daughter's asphyxiated body in black plastic bags and drove up the M6 to Cumbria where he hid it at the first likely spot he could find before returning to his family.
The Ahmeds ruled their four children with an iron rod and were able to exert extraordinary power over them – insisting upon their silence despite the terrible events that had been witnessed that night at the house in Liverpool Road.
The omerta held for nearly seven years throughout a police investigation in which both the Ahmeds were arrested and questioned along with other members of the extended family; despite a covert surveillance operation which listened into their conversations; and continued even after a coroner's inquest concluded that Shafilea had been the victim of "vile murder" and that family members had been covering up.
It was a view that had first been expressed as far back as December 2004 when the then senior investigating officer expressed frustration at the lack of witnesses coming forward. At first it was thought that post-riot tensions between police and the Pakistani community in Bradford, where many of the Ahmed family still lived, was to blame.
Detectives rejected claims they were stereotyping the family when they questioned them over Shafilea's disappearance believing her another victim of honour based violence.
The Ahmeds repeatedly made the claim, most spectacularly when they stormed uninvited into a police press conference to tearfully suggest, via their lawyer, that they were the victims of racism.
It was an act of extraordinary arrogance and supreme self confidence that their secret would never emerge and that the strict ties of loyalty binding the family in silence would never break.
Yet Cheshire Police had gone to great lengths to tread carefully and not alienate the community as they struggled to reach into the Urdu speaking homes in Warrington and Bradford in a bid to break the deadlock.
In one effort to encourage witnesses the actress Shobna Gulati read extracts of the teenager's poems. A lack of forensics as a result of the advanced state of decomposition of the body found four months after she disappeared hampered the investigation too and the first case review by prosecutors concluded their was no likelihood of conviction based on the evidence gathered.
But the breakthrough eventually came from within the very heart of the Ahmed family itself.
At around 10pm on 25 August 2010, shortly after Iftikhar Ahmed had left his home to attend the local mosque, three men forced their way into smartly kept, red brick semi-detached house on Liverpool Road.
Mrs Ahmed and three of her children were tied up – although not Alesha Ahmed, who was being blackmailed by the gang after owing them £3,900. They were threatened with a gun, a hammer and an iron bar and £30,000 in cash and jewellery was stolen.
In December that year Alesha was arrested in connection with the break in, later pleading guilty to conspiracy to rob.
During her interviews with police she revealed the missing piece in the jigsaw – an eye witness account of Shafilea's final moments.
Ms Ahmed, who is awaiting sentencing in connection with the robbery, graphically re-lived the brutal attack on her older sister.
Then aged just 15, she had initially found the secret too big to keep. She told friends that her parents had murdered her sister, "chopping her up" and disposing of the body. She said she feared the same thing could happen to her.
In tearful evidence given from behind a screen at the trial she described how her sister had been brought home from her part time job, searched for money or evidence of boys' names and pushed onto the settee.
"Frozen with shock" she saw her father and mother suffocate her older sister, holding their hands over her airways, watching as Shafilea wet herself in the struggle before her eyes rolled and Mr Ahmed punched her inert body.
She explained how the couple later worked together to wrap up their eldest child before Mr Ahmed loaded it into a vehicle and drove off into the summer night.
All four children, including sister Mevish, 12, and her 13-year-old brother Junyard were in the house at the time of the killing. Junyard later told his sisters that Shafilea had deserved to die, she claimed.
The children were ordered to tell anyone who asked that their sister had run away and warned that if they spoke out a similar fate would befall them.
But rumours soon began circulating that Shafilea's dismembered body was hidden in the back garden.
Yet when teachers passed this information on to the police Alesha changed her story Meanwhile the Ahmeds stuck rigidly to their version of events that she had run away with a boy stonewalling during lengthy police interviews
Shafilea had been missing several times before including in February 2003 when she was away for a week and sought help from social services.
In her statement for emergency accommodation the teenager described being subjected to domestic abuse since the age of 15 in which "one parent would hold me whilst the other would hit me" and how she was regularly prevented from going to college or her part time job.
But despite her pleas to be given a one bedroom flat in the hope that the involvement of social workers and police would convince her parents to leave her alone, she returned home accompanied by her father insisting everything had been worked out.
The latest flashpoint had come over a matchmaking trip to Pakistan in which the Ahmeds were planning an arranged marriage. It was a thought that revolted Shafilea who wanted to make her own decisions about the future.
But they ignored her wishes, even emptying her bank account of £2000 to fund the journey.
Mr Ahmed set off on 18 February 2003 with his two eldest daughters and son. Shafilea was given a drugged drink to get her on board the plane. In the alien surroundings of a Pakistan village, two and a half hours drive from Islamabad she received a series of marriage proposals and was shown pictures of potential suitors but tensions grew as she rejected any attempts to arrange a match.
During a family row in the midst of a massive power cut, Shafilea drank bleach causing severe damage to her throat. Her mother, who had later joined the family in Pakistan, claimed she had mistaken the fluid for mouthwash and appeared reluctant to let her see a doctor.
Despite being treated in hospital in Pakistan she had to come home. Her father had already obtained a £250 refund on the return leg of her flight. Back in Britain she spent several months in hospital. Unable to eat her weight plunged by two stone. Younger sister Mevish told a friend that her mother had told her to stop caring for Shafilea and to stop trying to feed her claiming she did not want her daughter to survive. But Mevish, now aged 22, was later to retract her evidence, claiming under oath that the letters in which she described the killing were works of "free writing". Such was the control of the Ahmeds.
Register for free to continue reading
Registration is a free and easy way to support our truly independent journalism
By registering, you will also enjoy limited access to Premium articles, exclusive newsletters, commenting, and virtual events with our leading journalists
Already have an account? sign in