Shana Grice: Ex-boyfriend found guilty of murdering teenager after police fined her for wasting their time
Michael Lane, 27, slit 19-year-old Shana Grice's throat after telling a friend 'she'll pay for what she had done'
Adam Lusher
Lewes Crown Court
Wednesday 22 March 2017 15:27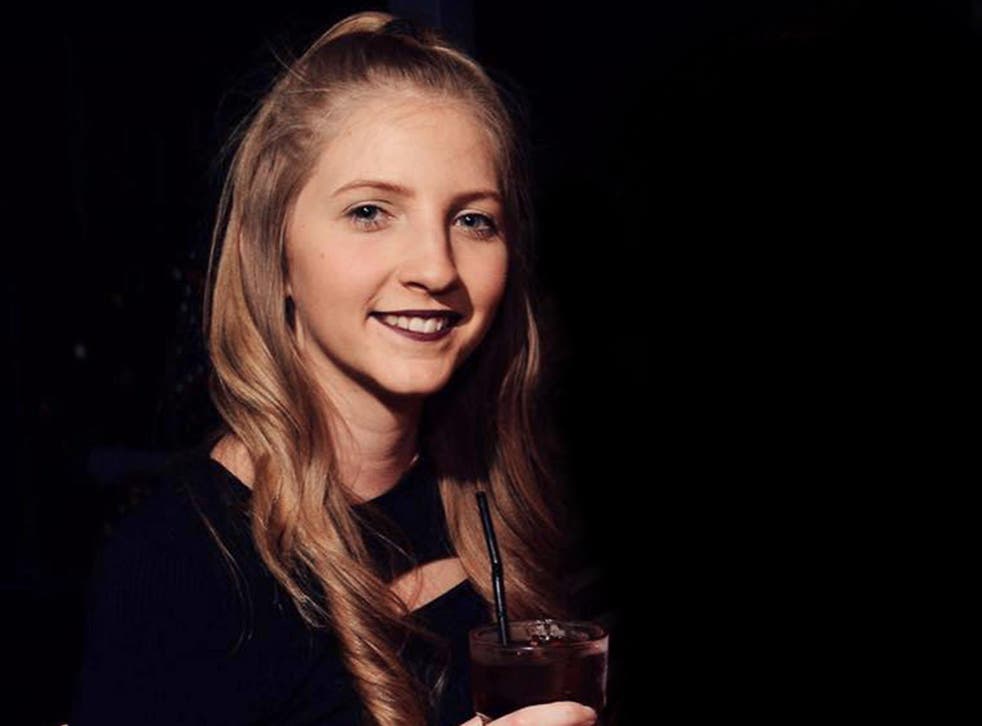 An obsessed ex-boyfriend has been found guilty of murdering his former lover in an attack that happened just five months after police fined her for wasting their time when she complained about his stalking.
Unable to accept he had been rejected, Michael Lane, 27, slit 19-year-old Shana Grice's throat on 25 August after telling a friend "she'll pay for what she had done".
The murder marked the brutal end to a stalking campaign that had seen Lane follow Ms Grice, subject her to heavy breathing phone calls and even sneak into her home to watch her sleeping.
Yet just five months earlier, on 24 March 2016, when Ms Grice complained to Sussex Police about Lane pulling her hair and trying to grab her mobile phone, it was the teenager who ended up with a fixed penalty notice for "having caused wasteful employment of police by making a false report".
Lane had been able to show officers text messages that seemed to confirm that Ms Grice wanted to be with him, and police decided to punish her for failing to disclose that she had been in a relationship with the tyre fitter.
The court heard that later, on 4 August - days before her death - Ms Grice decided against telling police of another stalking incident, telling a friend she feared police would not believe her.
Moments after the jury delivered its verdict, Lewes Crown Court in East Sussex heard a stinging indictment of the police's handling of the case from Ms Grice's family.
In a victim impact statement that was read to the court by a lawyer, Shana's mother Sharon Grice said: "We brought Shana up to respect authority and always respect the law.
"We firmly believe her murder could have been prevented if her fears had been listened to and been taken seriously by the police."
Ms Grice added that after a year of stalking and harassment by Lane, the life of her "beautiful, bright, bubbly kind-natured" daughter had "become a nightmare".
"The brutal death of our daughter has ruined our lives forever," Ms Grice added. "We have gone from being a joyful family to one which will never be able to come to terms with the sudden way she was taken from us.
"We have become shells of our former selves."
Sussex Police have apologised to Shana's family, and deputy chief constable Bernie O'Reilly said they referred themselves to the Independent Police Complaints Commission (IPCC).
Speaking after the verdict was delivered, Mr O'Reilly said: "When we looked at the circumstances leading to Shana's murder, we felt we may not have done the very best we could.
"Within days of her murder I personally visited Shana's family to apologise on behalf of Sussex Police and we made a referral to the IPCC.
"The referral was specifically in relation to how we dealt with incidents involving Shana leading up to her murder."
An IPCC spokesman said investigators had already questioned a number of witnesses and extra interviews would now be held with police officers and staff linked to the case.
The criticism of the police emerged as judge Mr Justice Green warned Lane faces life in jail with a "very substantial minimum term". He will be sentenced on Thursday.
UK news in pictures

Show all 50
Claps and cheers rang out in court among Ms Grice's friends and family as Lane was convicted after just over two hours of deliberation by jurors.
Relatives sobbed and hugged in the public gallery, as Lane, in the dock, appeared to show little emotion.
He had denied the killing, and in her victim impact statement, Ms Grice's mother condemned him for never having shown remorse.
"We have had to live with his protestations of innocence for seven soul destroying months," she said.
During the trial, the court heard how Lane had become "obsessed" with Shana after forming a relationship with her in 2015 while they both worked at Brighton Fire Alarms.
After the relationship ended, Lane turned into an obsessive stalker.
The court heard he installed a tracker on Shana's car, sent her unwanted flowers, followed her and demanded money for gifts he had given her after she got back together with long-term partner, Ashley Cooke.
In February 2016 Shana, of Mile Oak, Brighton, complained to police about being stalked by Lane and about her car tyres being deflated.
Then on March 24 last year, the court heard, police were called were called after Lane pulled Shana's hair and tried to grab her mobile phone, as she walked down a road after leaving her home, unhappy that he had turned up unannounced.
The court heard Lane was spoken to by police and denied Shana's claims, before showing officers text messages apparently confirming she wanted to be with him.
No further action was taken against Lane. Instead, jurors heard, Shana was issued with a fixed penalty notice for failing to disclose she had been in a relationship with Lane, and for "having caused wasteful employment of police by making a false report".
Then on July 9 last year, Lane stole a back door key from Shana's home, let himself in, and watched her apparently sleeping, the court heard.
The jury was told Shana – who was in fact awake - hid under her duvet when she heard footsteps approaching her bedroom and then a man breathing in her room.
Shortly afterwards the man left, the court heard, and Shana looked out of her bedroom window and saw Lane walking away from the property.
Later, she confronted Lane about his actions. In an audio recording played to jurors, he was heard admitting: "I'm sorry …. Obviously something's not right in my head and I don't know what it is but I know I need to find out or be locked up or something."
On this occasion, Lane was cautioned by police and told to stay away from Shana.
But the following day, the court heard, Shana reported to police receiving around seven calls from a withheld number, including one with heavy breathing, which she said she believed was related to Lane's intrusion into her bedroom.
The court heard that Shana was told by police that there were no further lines of inquiry and that the case would be left on file.
Then on July 12, about a month before she was killed, Shana reported to police that she was being followed by Lane.
Jurors heard police treated the incident as "low risk", but that the investigating officer would be made aware.
And then, the court heard, on August 4, three weeks before she was murdered, Shana spotted Lane loitering outside her house again.
Her friend Joann Pumfrey gave evidence that Shana feared police "would not believe her" if she told them Lane was still stalking her, due to her previous fine for wasting officers' time.
Ms Pumfrey told the court that Shana told her the police would think "she was blowing stuff out of proportion".
"She didn't report it," Ms Pumfrey told the court. "She said she felt that they did not believe her all the time that she went to the police. [I said] they would have to believe her as I was there as a witness."
On August 25 2016, the court heard, Lane waited until Shana was alone in her shared bungalow before letting himself in and slitting her throat and torching her bedroom, in an apparent attempt to cover his tracks.
The court heard that Shana's killer dismantled the smoke alarm in the hallway and disposed of broken pieces of it under her bed.
The teenager's body was found face down on the bed in her smoke-filled room after her concerned colleagues reported she had failed to arrive at work. Lane was arrested the same day, at his then workplace, in Burgess Hill.
He initially lied to police about his whereabouts on the day of the murder, before changing his story and admitting he had gone to her home.
In court, he claimed the front door had been left open, allowing him to enter and discover Shana's bloodstained dead body.
He panicked, he claimed. He left the scene - without calling 999, checking Ms Grice's vital signs, or telling his family about the discovery.
Then he went to check his lottery ticket at a nearby shop.
He didn't want to believe what he had seen, Lane claimed.
He insisted to the court that he was not the murderer and had only kept quiet about what he had seen for fear of being accused of the killing.
The jury refused to believe him. Instead they sided with the argument presented by prosecutor Philip Bennetts QC.
"He stalked her," Mr Bennetts had told the jurors. "That obsession with her translated into killing her. He would not allow anyone else to be with her."
Register for free to continue reading
Registration is a free and easy way to support our truly independent journalism
By registering, you will also enjoy limited access to Premium articles, exclusive newsletters, commenting, and virtual events with our leading journalists
Already have an account? sign in
Register for free to continue reading
Registration is a free and easy way to support our truly independent journalism
By registering, you will also enjoy limited access to Premium articles, exclusive newsletters, commenting, and virtual events with our leading journalists
Already have an account? sign in