Pair who tortured and murdered 74-year-old shopkeeper jailed for life
Ramniklal Jogiya handled with such force that one of his biceps was ripped away from the bone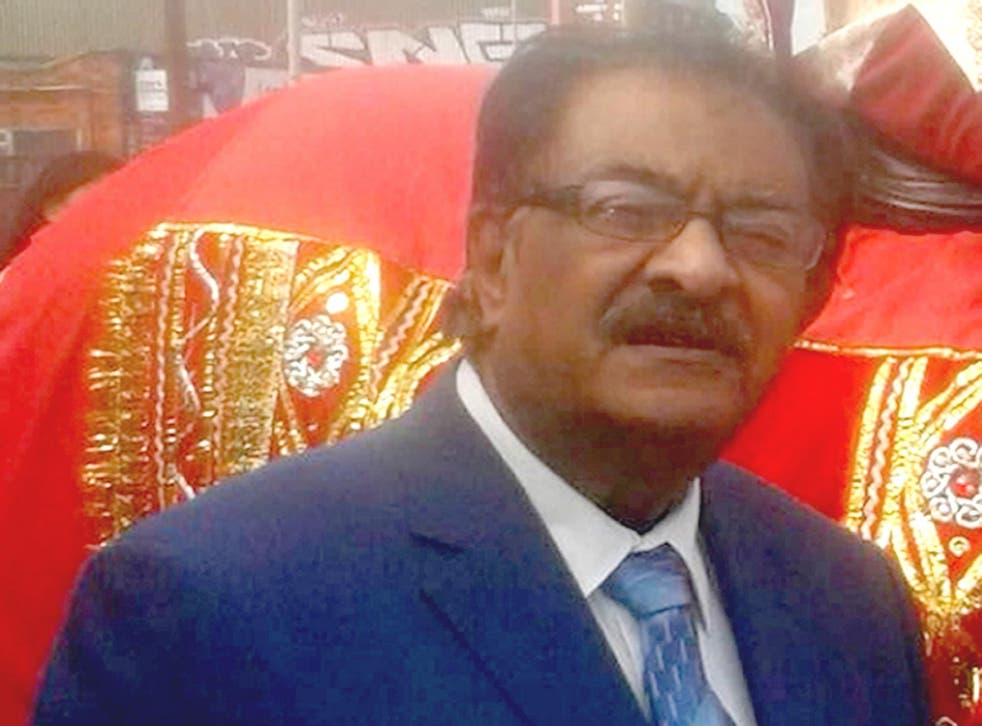 Two "cowardly, cruel and callous" men have been jailed for life for torturing and killing an elderly jeweller in a botched £300,000 robbery.
Thomas Jervis, 24, and Charles Mcauley, 20, spent weeks planning to rob Ramniklal Jogiya, 74, who they kidnapped as he walked home from his shop in Leicester.
They bundled him into a van and brutally beat him into handing over his safe's code before dumping him in a country lane on a freezing night in January.
Mr Jogiya was handled with such force that one of his biceps was ripped away from the bone, six ribs on his left side were broken, and he had multiple injuries to his hands and fingers.
Jervis, who planned the robbery, was given a life sentence with a minimum term of 33 years on Monday, while Mcauley was jailed for at least 30 years. A jury at Birmingham Crown Court had previously convicted them of murder on the grounds of joint enterprise.
Callan Reeve, 20, who acted as a look-out, was cleared of murder but convicted of manslaughter after a five-week trial. He was jailed for 16 years.
Mr Jogiya's family said they had struggled to deal with the "pure aggression and hate" of his attackers and were "horrified" to learn of his suffering.
In a victim impact statement, relatives said their "worst fears were realised" after racing to the missing grandfather's jewellery shop and checking its CCTV to release he had been kidnapped.
The family were left "completely numb" when the police informed them he had died.
The gang abducted Mr Jogiya outside his shop in Belgrave Road on 24 January this year as he walked to the nearby home he shared with his wife and three sons.
They bundled the jeweller into a van and drove off before torturing him into handing over the keys to the shop and the codes to its alarm and safe.
Jervis disguised himself in a burqa and returned to the shop in an attempt to steal gold worth £300,000 but was thwarted by the time-locked safe and left empty-handed.
Police believe Mr Jogiya was alive when he was dumped in a road near Stoughton, Leicestershire, but his attackers had town his mobile phone out of the window so he was unable to call for help.
Mr Jogiya, who had recently had a stroke and had type-2 diabetes, is believed to have been alive when he was dumped by his kidnappers in a road near Stoughton, Leicestershire. He was unable to call for help because his attackers had thrown his phone away.
His body was found the next morning by a couple driving past.
Judge Martin Spencer said: "Mr Jogiya may have stumbled around in the dark on that freezing cold January night before collapsing and dying. He must have been terrified and lonely."
Jervis and Mcauley were both in the van when Mr Jogiya was tortured and "intended really serious harm" to their victim, the judge added.
UK news in pictures

Show all 51
"We'll never know exactly what happened in that van," Mr Justice Spencer said. "Perhaps he was obstinate about telling you what you wanted to know, and he would certainly have been terrified.
"One can only imagine the terror that poor man went through in the back of the van as the information required was tortured out of him.
"He was then dumped by the side of the road in the Leicestershire countryside and left to die.
"This was a cowardly, cruel and callous crime committed by men motivated by greed and self-interest with no respect for human life."
Mr Jogiya suffered 21 distinctive circular injuries to the torso and shoulder area, suggesting he had been shot at close range with a pellet gun. Other wounds were found on 27 separate areas of his body, including his brain.
His family said: "The sad reality is nothing could prepare us for when we saw his lifeless body all alone in the mortuary.
"He had suffered, as we could see from the terrible injuries to his face. Sorry Dad, I'm sorry I couldn't protect you."
Jervis, of Enderby Road, Whetstone, Leicestershire; Mcauley, of Gooding Avenue, Leicester; and Reeve, of Aylmer Road, Leicester, all admitted kidnap and robbery but denied murder.
Prosecutor James House had told jurors the "sophisticated" robbery, involving stolen cars with false plates and use of six burner mobile phones, must have been planned over weeks if not months.
Jervis, who was father to a two-year-old girl, was said by the judge to be "the brains behind the heist", putting together the plan and "recruiting other young men" to the endeavour.
Mr Jogiya and his wife had celebrated their 49th wedding anniversary three days before his killing.
Mr Justice Spencer said: "Their golden wedding anniversary, next year, now won't happen – instead the family are haunted by what he went through the night he was killed.
"His sons feel a sense of guilt at being unable to protect him from what happened to him."
Linsey Farnsworth, senior East Midlands prosecutor at the Crown Prosecution Service, said: "Today's sentence reflects the harrowing nature of this case.
"These defendants were part of a group determined to kidnap and rob Mr Jogiy, a man simply going about his daily routine."
An investigation to trace others connected to the robbery was continuing, Leicestershire Police said.
Some 185 officers from five different police forces have been involved in the six-month probe, following 2,000 lines of enquiry and taking 600 witness statements.