Shoreham crash trial: Pilot involved in airshow disaster which killed 11 on trial
Andrew Hill survived when his Hawker Hunter jet crashed onto a dual carriageway in August 2015, but 11 others died in the resulting fireball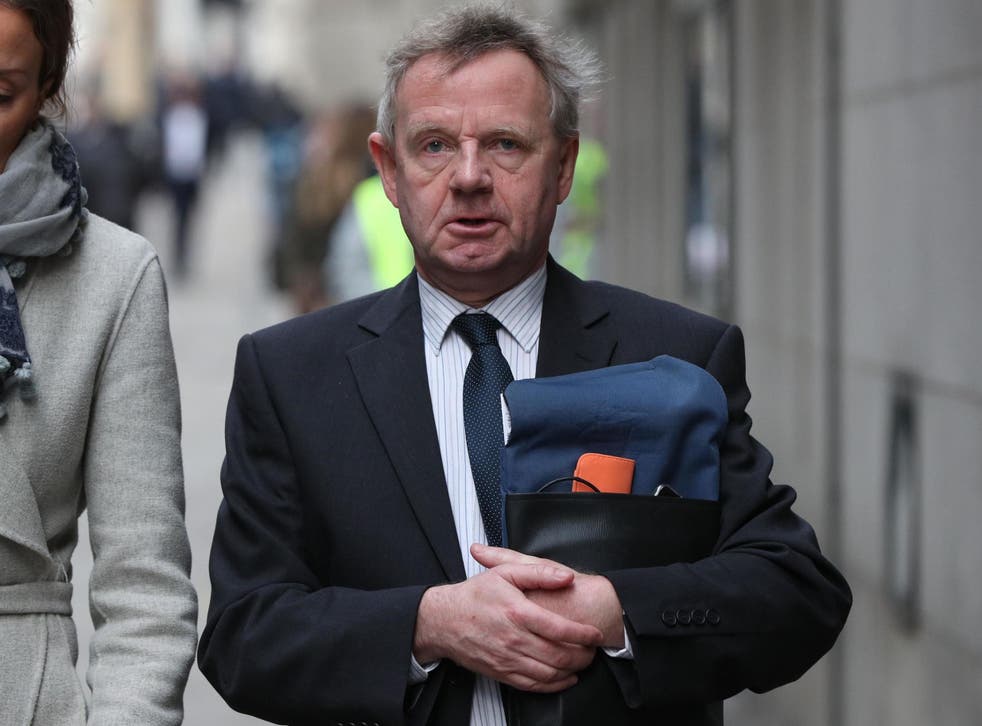 An airshow pilot was wholly to blame for a crash in which his fuel-laden jet plummeted onto a busy dual carriageway and exploded in a fireball that killed 11 people, a court heard.
Former RAF fighter pilot Andrew Hill had been too "low and slow" at the top of an attempted loop at the 2015 Shoreham Airshow, but committed himself to the stunt rather than pulling out of it, the Old Bailey was told.
As a result, the jury heard, the Hawker Hunter jet, which first flew in 1955, smashed into the A27 just north of the airfield in a crash that happened "purely because of pilot error".
Among those who died was a wedding chauffeur driving to collect a bride and two 23-year-old friends on their way to play football.
After "miraculously" escaping the carnage with his life, Mr Hill, 54, is now on trial facing 11 counts of manslaughter by gross negligence. He denies the charges.
Opening the case, prosecutor Tom Kark QC told the jury that on a "sunny Saturday" in Sussex, on 22 August 2015, the vintage jet had been "in excellent working condition".
"The prosecution case is that it was Mr Hill's serious negligence that led directly to the loss of 11 lives," said Mr Kark. "It was Mr Hill's duty to ensure he remained within the minimum aerobatic display height of 500ft (152m) following an aerobatic manoeuvre, not flying at any stage below 100ft (30m) and not infringing any of the no-fly zones around Shoreham airport."
Mr Hill, the court heard, had been too "low and slow" at the top of his loop, and should have pulled out of it.
Instead, Mr Kark told the jury, the pilot committed himself to the manoeuvre when he was about 1,000ft (305m) too low to complete it safely.
Mr Kark said: "The pilot was attempting a bent loop, which requires the aircraft to reach a specific height before it begins its downward trajectory. About half a mile north of the airfield the aircraft pitched upwards followed by an element of roll to the left.
"This was the beginning of the loop which was to end in disaster.
"Before the aircraft's pitch up, Mr Hill failed to select full power on the throttle.
"The aircraft ascended to about 2,800ft (853m) where it was inverted and horizontal at the top of the loop.
"The height at which the aircraft was horizontal was too low, probably by as much as 1,000ft (305m) below the height required safely to complete the manoeuvre.
"There was a relatively easy escape manoeuvre that could be performed to avoid pitching the nose of the aircraft fully downwards, which was to roll the aircraft around to its non-inverted position and recover safely.
"Instead of doing that, Mr Hill caused the aircraft to commit to the loop and go nose down towards the vertical descent."
UK news in pictures

Show all 50
Mr Kark added: "The jet's gross weight when fuelled was about 8,000kg and it is clear and obvious that if such an aircraft was to impact the ground at an airshow, it would, short of a miracle, inevitably cause massive damage and loss of life.
"The aircraft disintegrated and that crash caused a massive fireball."
Mr Kark told the court that Hill "miraculously escaped because his cockpit separated from the rest of the aircraft" and he was thrown out of it onto the ground, then saved by emergency services. He sustained serious injuries and had to be put in an induced coma, but eventually recovered to the point where he could be discharged from hospital.
Mr Hill, of Sandon, Buntingford, Hertfordshire, served in the RAF between 1985 and 1994 where he trained to fly, becoming an instructor and fast jet pilot.
Support free-thinking journalism and attend Independent events
During his military career he completed more than 1,600 hours in aircraft including a Jet Provost and a Harrier. He was also a British Airways airbus captain.
Mr Kark told the jurors that although witnesses would describe Mr Hill as a highly competent and experienced pilot, "it has to be borne in mind that any air-crash involving pilot error will normally involve a competent and skilled pilot."
The court also heard that a year before the Shoreham crash, Mr Hill had to be stopped from continuing his display at another air show because the flight director thought he was trying stunts that were too dangerous.
Mr Kark said: "At the Southport airshow he performed a dangerous manoeuvre and his display was then halted by the flight director of that display, calling what is known as a 'stop stop stop'.
"Such is a rare event, and was issued on that occasion because the manoeuvre he performed took him far too close to the crowd and was dangerous.
"Unfortunately, on this occasion in 2015 at Shoreham no one had time to call out a 'stop' and his display ended in tragedy."
Describing the crash as seen by David Miles, who had been among aviation enthusiasts watching the display from the A27 roadside, Mr Kark said: "He watched as the aircraft descended onto the road and exploded. He heard a bang and started running as fast as he could, aware that wreckage would be coming his way.
"He felt an enormous heat and fell to the floor.
"People he had been standing next to had simply disappeared, and the motorbikes he had noticed earlier were now just burning wreckage."
Among the 11 who died were Maurice Abrahams, 76, a wedding chauffeur who had been driving a Daimler along the A27 on his way to collect a bride in Worthing.
Matthew Grimstone and Jacob Schilt, both 23, died in a Vauxhall while they were on their way to play football in Worthing.
Mark Reeves, 53, and Mark Trussler, 54, had ridden to the roadside on their motorbikes and were watching the air show. Tony Brightwell, 53, had gone there on his bike.
Graham Mallinson, 72, was standing beside the A27 because he wanted to photograph one of the last flights of the Vulcan bomber.
Matt Jones, 24, had been giving his construction worker colleague Daniele Polito, 23, a lift in his BMW.
Keen cyclists Dylan Archer, 42, and Richard Smith, 26, had been going to meet friends on the South Downs.
The trial continues.
Register for free to continue reading
Registration is a free and easy way to support our truly independent journalism
By registering, you will also enjoy limited access to Premium articles, exclusive newsletters, commenting, and virtual events with our leading journalists
Already have an account? sign in
Register for free to continue reading
Registration is a free and easy way to support our truly independent journalism
By registering, you will also enjoy limited access to Premium articles, exclusive newsletters, commenting, and virtual events with our leading journalists
Already have an account? sign in