'Snapchat queen' who 'lured' boyfriend to his death ashamed of posting graphic video, court hears
Jurors told defendant shared clip of partner bleeding to death with caption: 'this is what happens when you f*** with me'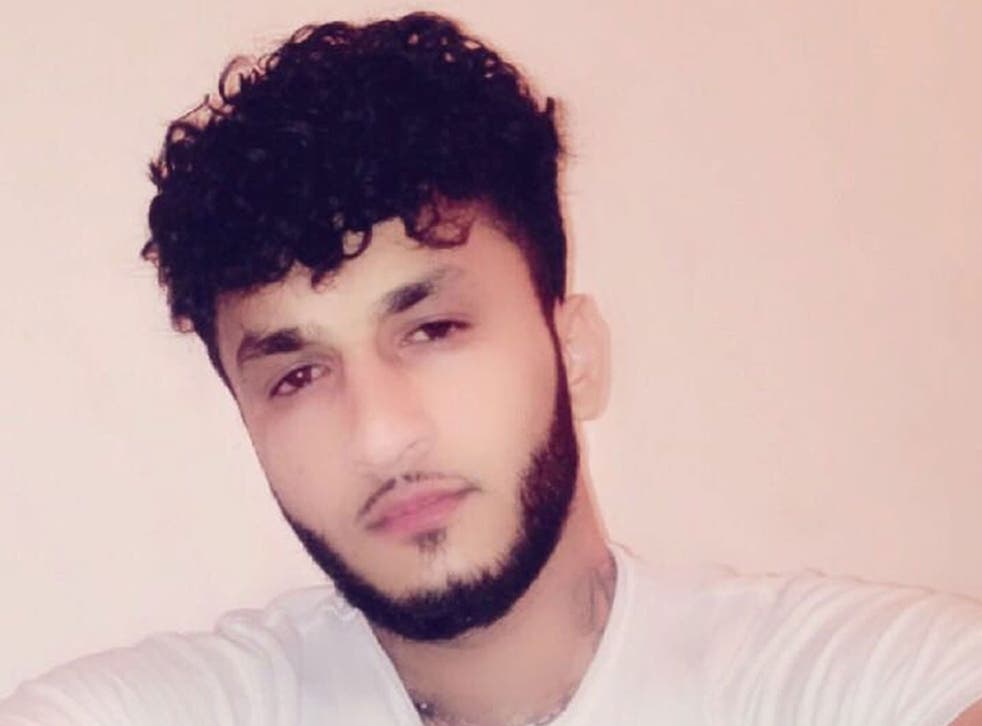 A "Snapchat queen" who allegedly lured her boyfriend to his death has told a court she is "ashamed and appalled" she posted a video of him lying in a pool of blood on the social media platform.
Fatima Khan is on trial accused encouraging love rival Raza Khan to murder her partner of two years, 18-year-old Khalid Safi.
Jurors at the Old Bailey heard on Monday Mr Safi, an Afghan asylum seeker, was repeatedly stabbed in the chest by Mr Khan, 19, in Acton, north London, in December 2016.
Rather than calling an ambulance, Ms Khan, 21, filmed her boyfriend as he lay dying in the street.
She then posted the video to Snapchat, with the caption "this is what happens when you f*** with me," the court was told.
Raza Khan fled after the stabbing and has not be traced since, jurors heard.
In an opening speech, defence lawyer Kerim Fuad QC said his client and Mr Safi had loved each other, even though he could be "clingy".
He said Ms Khan, of Ilford, north east London, had been "left to carry the can" for Raza Khan, who he described as a suitor who had seen a chance and killed Mr Safi in a fit of "macho madness".
"Raza Khan saw it, you may think, as his golden opportunity to play the Big I Am, on a rampage of macho madness to try and get into Fatima's affections because he had been snubbed before," Mr Fuad said.
"This was his opportunity to show his manhood in the most unmanly, cowardly way possible."
Mr Fuad said the evidence showed "two men fighting over a woman and a woman getting the blame and left to carry the can".
He said of the Snapchat video: "That woman was hugely callous, crass even, in taking that image of Khalid on the pavement and posting it with those words.
"If there was a charge of being callous and crass in the aftermath of this incident then she would plead guilty to that charge.
"It is, as Fatima Khan knows, shocking."
He added the defendant will say she was "appalled" and "ashamed" of posting the video.
UK news in pictures

Show all 50
"She may be Ilford's Snapchat Queen. I do not say that to make light of it," the barrister continued.
"She is now 21 and is another example of a youngster who seems to live her life through the prism of Snapchat.
"You may think she sees more of life through her phone than with her eyes. It's not good. You may think it's a blight on the young today."
Fatima Khan denies murder and conspiracy to cause grievous bodily harm.
Additional reporting by PA
Register for free to continue reading
Registration is a free and easy way to support our truly independent journalism
By registering, you will also enjoy limited access to Premium articles, exclusive newsletters, commenting, and virtual events with our leading journalists
Already have an account? sign in
Register for free to continue reading
Registration is a free and easy way to support our truly independent journalism
By registering, you will also enjoy limited access to Premium articles, exclusive newsletters, commenting, and virtual events with our leading journalists
Already have an account? sign in