Stephen Lawrence murder investigation: Lead detective suspected of corruption
An unprovoked murder. A farcically botched inquiry by a racist police force. Two failed prosecutions; one public inquiry; only two killers convicted. And now, 21 years on, the Home Secretary orders a new public inquiry, as a QC's report confirms this newspaper's revelation that the Met suppressed evidence  of corruption in the original investigation  of Stephen Lawrence's death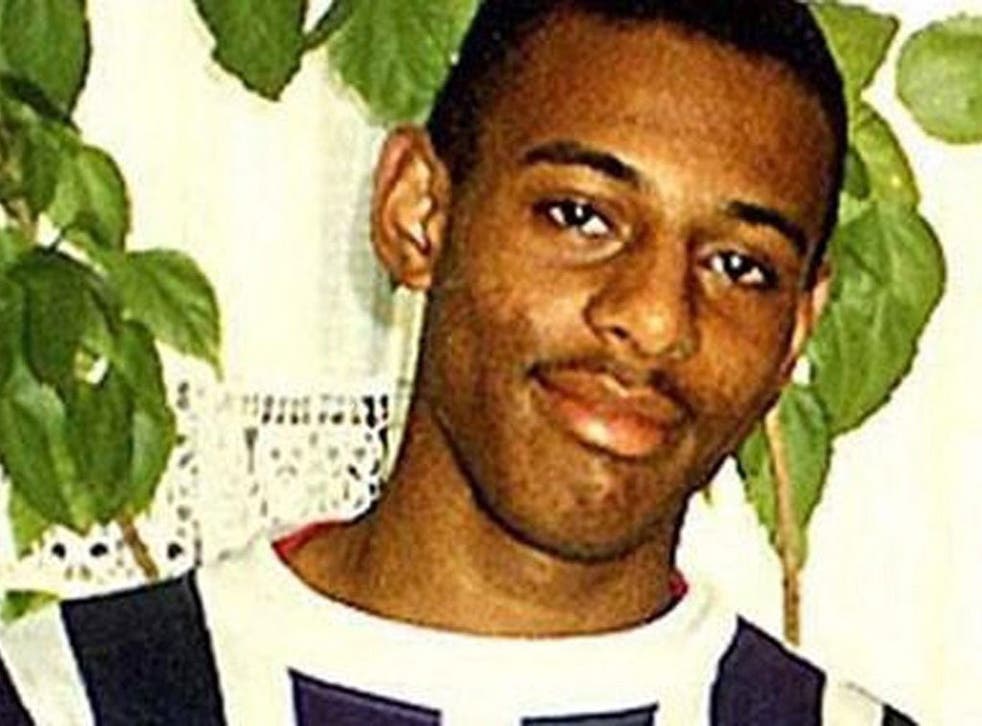 The Metropolitan Police is facing profound embarrassment after a report concluded there were strong suspicions that a lead detective on the original Stephen Lawrence murder inquiry was corrupt.
It suggested that Detective Sergeant John Davidson was dishonest before and after he worked on the flawed police investigation into the racist killing of the black teenager.
The damning conclusion comes two years after The Independent disclosed that secret police intelligence reports outlined extensive allegations of corruption against Mr Davidson, a key officer investigating the murder.
The review, conducted by Mark Ellison QC, also found a police "spy" had infiltrated groups campaigning alongside Stephen's parents and had passed evidence back to senior officers. Today Theresa May, the Home Secretary, announced plans for a judge-led public inquiry to examine the activities of undercover police officers amid fears that malpractice could have led to wrongful convictions and miscarriages of justice spanning decades.
Details of Mr Davidson's alleged criminality were held back from the public and the Lawrence family's legal team. Nor were they passed on to Sir William Macpherson, who concluded there was "institutional racism" in the Met when he conducted a public inquiry into the force's handling of the murder investigation.
Following The Independent's report, the police complaints watchdog concluded there was no new evidence of wrongdoing by the former officer. But the report found the Met had indeed held "intelligence" which suggested "there was an enhanced level of suspicion that Mr Davidson was corrupt both before and after he worked on the Stephen Lawrence investigation".
It said this was due in part to the "sheer number of other officers to whom he was connected who were also suspected of corruption".
Announcing the conclusions of the review, Mrs May said she was "profoundly shocked" by the wrongdoing it had uncovered and set out plans for a new criminal offence of police corruption, as current laws were inadequate to tackle the problem.
Stephen's mother, Baroness [Doreen] Lawrence, welcomed the inquiry, but she added: "I feel so wounded at yet again having to fight for something that should have happened over 20 years ago." His father, Neville Lawrence, said: "Mark Ellison's report has simply corroborated what I have known for the past 21 years and our long fight for truth and justice continues."
Stephen, 18, was stabbed to death in April 1993 by a group of up to six white youths in an unprovoked attack as he waited at a bus stop in Eltham, south-east London. It took more than 18 years to bring two of Stephen's killers to justice.
Mr Ellison, who successfully prosecuted Gary Dobson and David Norris for the teenager's murder in 2012, did not uncover any indication of corruption by officers other than Mr Davidson, but said other lines of inquiry might be able to produce such evidence.
He discovered that crucial documents relating to the initial police investigation were destroyed in a "mass shredding" in 2003 and that a computer hard-drive relating to the inquiry was found in a cardboard box last November following a year's search.
Mr Ellison also found that both the Independent Police Complaints Commission's 2006 report into corruption allegations and the Metropolitan Police's own review in 2012 were inadequate. Mrs May, in a statement to MPs, said: "What the report shows is deeply troubling."
She added: "It is deplorable [Stephen's] family have had to wait so long for the truth to emerge and indeed it is still emerging. The findings I have set out today are profoundly disturbing."
The former minister Jack Straw, who set up the Macpherson inquiry as Home Secretary, said: "It is now clear there was venality, probably at the highest level of the Metropolitan Police by which, against all rules, they refused to offer evidence, as they were required to do, to the full judicial inquiry of Sir William Macpherson." If Sir William had seen the withheld material, the judge could have concluded there was "institutional corruption" in the force, Mr Straw added.
In the report, Mr Ellison said Scotland Yard's Anti-Corruption Command held a debriefing with former Detective Constable Neil Putnam, in which he made claims against Mr Davidson in July 1998.
According to one report in 2006, Mr Putnam claimed Mr Davidson had taken a bribe from Clifford Norris, the father of David Norris. The barrister said that both the intelligence picture suggesting Mr Davidson was a corrupt officer and the content of Mr Putnam's debriefing should have been revealed to the Macpherson inquiry.
"It is a source of some concern to us that nobody in the [Metropolitan Police Service] who was aware of the detail of what Neil Putnam was saying about Mr Davidson appears to have thought to ask him about Mr Davidson's motives in the Lawrence case," the report said.
Mr Davidson denies acting corruptly.
Mr Ellison also discovered the Met had planted "a spy in Lawrence family camp" to gather background information about Stephen's parents. The officer reported to the Scotland Yard team drafting the response by Sir Paul Condon, who was then the Metropolitan Police Commissioner, to the Macpherson inquiry. Mr Ellison criticised the opening of such a channel of communication at that time as "wrong-headed" and "inappropriate".
The barrister also examined a claim by a former Scotland Yard undercover officer, Peter Francis, that he was instructed in 1993 to find material that could be used to smear the Lawrence family.
Mr Ellison said there was no surviving evidence to support the allegation, although he was "unable to reject" the claim.
* It has emerged that three undercover police officers could face criminal charges over claims that they had sexual relationships with women who did not know their true identities. A report by Derbyshire Chief Constable Mick Creedon revealed that evidence relating to the moles had been passed to the Crown Prosecution Service.
He is leading an investigation into claims linked to Scotland Yard's now disbanded Special Demonstration Squad of undercover officers.
Register for free to continue reading
Registration is a free and easy way to support our truly independent journalism
By registering, you will also enjoy limited access to Premium articles, exclusive newsletters, commenting, and virtual events with our leading journalists
Already have an account? sign in