White people more likely to be carrying drugs when stopped and searched, report reveals
HM Inspectorate of Constabulary finds black people are eight times more likely to be searched, even though drugs are less likely to be found
Lizzie Dearden
Home Office Correspondent
Tuesday 12 December 2017 01:02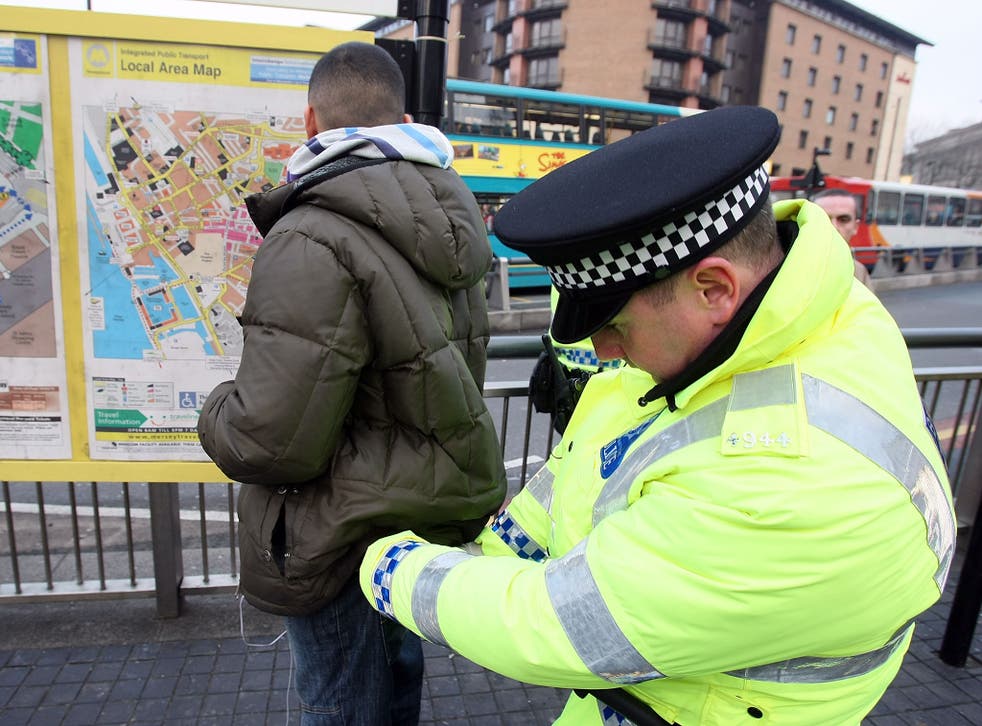 The disproportionate use of stop and search powers on black, Asian and ethnic minority people is threatening public trust and confidence in the police, officials have warned.
A report by HM Inspectorate of Constabulary (HMICFRS) found that black people are at least eight times more likely than white people to be stopped and searched, even though it is statistically less likely for drugs to be found.
The stark figure was examined in the body's annual report on the legitimacy of policing across England and Wales, where over three quarters of forces were found to be "good" or "outstanding" overall.
HM Inspector Mike Cunningham, who led the inspection, said that police were acting "ethically, lawfully and treating all the people they serve with fairness and respect".
"But that is not to say that there aren't elements forces could and should improve upon," he added.
"Of particular concern is the continuing over-representation of black people in stop and search figures.
"Forces must be able to explain the reasons for any disparity if they are to enhance the trust and confidence of all communities."
There were more than 295,600 stop and searches carried out in the 2016/17 financial year – a rate of five per 1,000 people.
Amber Rudd unveils new crackdown on knife crime
HMICFRS found that 94 per cent of examined incidents had "reasonable grounds" or resulted in objects including drugs, weapons, stolen goods or evidence of other crimes being found.
In drug searches, however, were less likely to be successful on black people (26 per cent) than white people (33 per cent).
The report said the difference suggests "that the use of stop and search on black people might be based on weaker grounds for suspicion than its use on white people, particularly in respect of drugs", adding that police forces have not sufficiently explained the reasons.
The authority said the recording of ethnicity was inconsistent, meaning that the gulf for BAME and white people "may be even higher than published", calling on forces to standardise practices and record both self-defined ethnicity and officer-defined ethnicity.
It warned that police must have sufficient grounds to exercise the "intrusive" power, with its disproportionate use on BAME communities "continuing to threaten trust and confidence in the police".
The use of stop and search has been declining over recent years following waves of national controversy and local tension, with the 2016/17 total a mere quarter of that from 2011/12.
But while stop and searches on white people have decreased by 78 per cent, the decrease for black people is just 66 per cent.
HMIC called for further training to tackle "unconscious bias" and better data monitoring to find the reasons for disproportionate targeting, with forces ordered to publish annual reports on stop and search from July next year.
UK news in pictures

Show all 50
The Metropolitan Police, which was among the 43 police forces considered, said it had been increasing training, understanding and scrutiny around the use of stop and search.
"This continues to be a sensitive matter for both the MPS and London's communities," a spokesperson said. "We share the ambition for stop and search to be a true intelligence led tactic, used respectfully and considerately."
The report also found further progress was needed from some forces on vetting policy, complaint handling – particularly over alleged discrimination, performance management for officers and staff and their access to mental health services and other support.
Overall, HMIC said police were treating employees and the public with fairness and respect, grading one force – Kent Police - as "outstanding" and 35 as "good".
Six forces - Northamptonshire Police, Cleveland Police, City of London Police, West Midlands Police, Warwickshire Police and West Mercia Police – were marked as "requires improvement" and none were found to be inadequate.
The report looked at the concept of legitimacy, which it says is necessary for the UK's model of policing by consent.
The main principles are using powers fairly, acting ethically and lawfully, treating both the public and police employees with fairness and respect, being effective and efficient and motivating the public to cooperate in order to reduce crime.
The report came as figures show a 13 per cent rise in recorded crime in England and Wales, including spiking acid attacks and violence, including stabbings.
The National Police Chiefs' Council Lead for Stop and Search, Deputy Chief Constable Adrian Hanstock said: "We are pleased to see that today's HMICFRS's assessment of police legitimacy rates 36 forces as good or outstanding with no forces described as inadequate which reflects our commitment to treating people with respect and ensuring that policing is delivered ethically.
"Police forces have made good progress in ensuring stop and search powers are used legitimately and fairly. Officers are conducting fewer stops while becoming more effective at finding weapons, stolen property or drugs after carrying out a search. Police forces now need to provide more data and analysis to help explain and where needed, address any inequalities in how they are using stop and search. I am confident that the ongoing rollout of body worn video across forces will further enable chief officers to assess the circumstances leading to a stop and search, provide balanced explanations to local communities and make stop and search more transparent."
He added: "Stop and search should be regarded as a safeguarding power. With rising knife and gun crime, as well as increasing incidents involving acids, it is vital officers use all powers available to them to take weapons off the streets and discourage people in every way from carrying them in the first place - as we know that the fear of being stopped and found in possession of weapons is one of the most powerful deterrents."
Register for free to continue reading
Registration is a free and easy way to support our truly independent journalism
By registering, you will also enjoy limited access to Premium articles, exclusive newsletters, commenting, and virtual events with our leading journalists
Already have an account? sign in
Register for free to continue reading
Registration is a free and easy way to support our truly independent journalism
By registering, you will also enjoy limited access to Premium articles, exclusive newsletters, commenting, and virtual events with our leading journalists
Already have an account? sign in