Suspected Islamist extremist Mohammed Ahmed Mohamed was cleared of tampering with tag on day he disappeared
Home Secretary Theresa May now battling to defend credibility of key Government counter-terror measure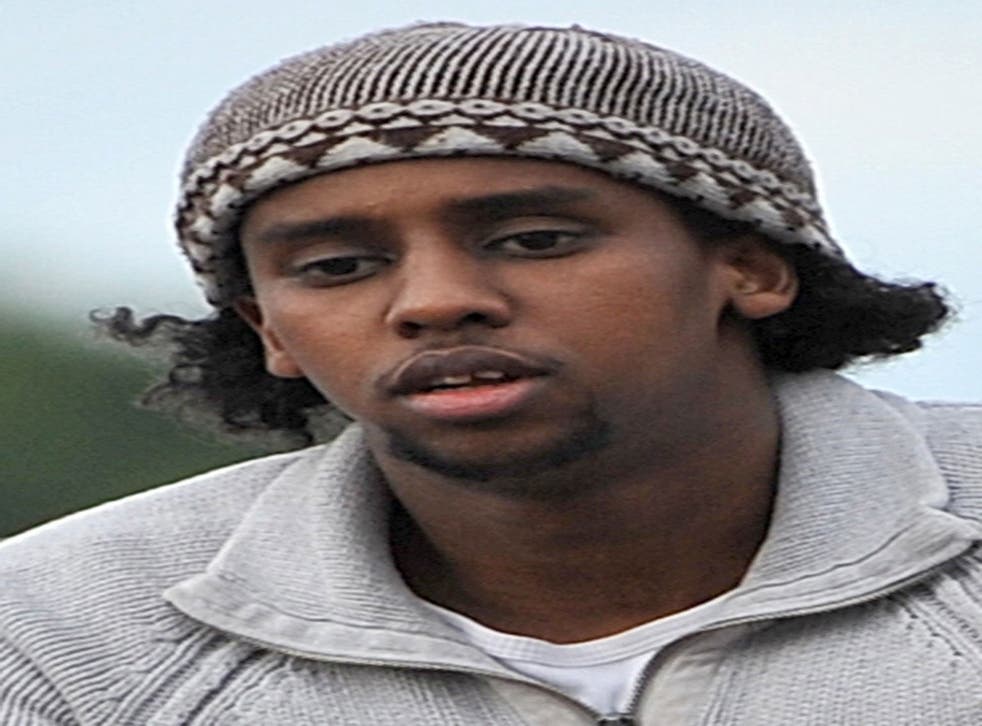 The suspected Islamist extremist who escaped surveillance by disguising himself in a burka was cleared of tampering with his security tag on the day he disappeared, it has emerged.
Mohammed Ahmed Mohamed was subject to a Terrorism Prevention and Investigation Measure (TPim), meaning the Government was monitoring his movements and specifically ensuring he did not attempt to travel abroad.
Last Friday he vanished, and yesterday Theresa May was battling to defend the credibility of the key Government counter-terror measure. Despite Mr Mohamed being fitted with a tag, the Home Secretary insisted he did not represent a threat to the public.
Prosecutions against three men accused of tampering with their tags were abandoned last week when it emerged the devices could have accidentally become loose.
It has now been reported that Mr Mohamed was one of those three. According to The Times, the prosecution had alleged that the straps on the men's devices had been pulled, twisted or "subjected to wriggling".
Security experts, however, said the tags had not been stress-tested to see if they could cope with the movements of a devout Muslim who prays five times a day. The Crown Prosecution Service decided to drop the charges due to lack of sufficient evidence.
That was just hours before it emerged that Mr Mohamed had entered the Annoor mosque in Acton wearing Western-style clothes at about 10am, only for CCTV images to show him emerging after around 3.15pm wearing a burka.
Labour has demanded answers from Ms May as to how two people subject to Tpims could escape in the space of less than a year. The Tpims system, which replaced the last Government's control orders regime, is under further scrutiny because of technical problems with the tags.
Another Tpim subject Ibrahim Magag ripped off his tag, hailed a black cab and vanished in December. Mr Magag is believed to be linked to Mr Mohamed, and like him faces suspicions of involvement with terrorist activity in Somalia.
Mrs May was accused in angry exchanges in the Commons yesterday of having made it easier for the two men to escape because Tpims, unlike control orders, allowed suspects to live in their home cities.
Yvette Cooper, the shadow Home Secretary, said: "Ibrahim Magag was previously relocated to the West Country. The Home Secretary's decision brought him back and he disappeared.
"Mohammed Ahmed Mohamed was previously relocated outside London and the Home Secretary's decision brought him back and he too has disappeared.
"Her policies brought these two terror suspects back into contact with their old networks, with people who could help them disappear and made it easier for these terror suspects to run off."
Jack Straw, the former home secretary, attacked Mrs May for complacency and said no-one had absconded on a control order in the five years after they were strengthened in 2007.
She responded that Tpims had been required because judges were steadily eroding the powers of control orders.
"Unlike control orders, Tpims have been upheld consistently by the courts so we now have a strong and sustainable legal framework to handle terror suspects," she told MPs.
"The police and the security services have always said that there has been no substantial risk since the introduction of Tpims."
Mr Mohamed was named after a court-imposed anonymity order was lifted by the Home Secretary to allow police to make an appeal for public help to track him down.
It is understood he took part in terrorist training in 2008 and is believed to have helped people to travel from the UK to Somalia to join terrorism-related activity.
Along with Mr Magag and others, he is thought to belong to a British network which supplied extremists travelling abroad with cash, forged passports and fake travel documents.
A Scotland Yard spokesman said: "The Counter Terrorism Command immediately launched inquiries to trace Mr Mohamed and these continue.
"Ports and borders were notified with his photograph and details circulated nationally. Public safety remains our priority."
Mrs May will face a dilemma early next year when the two year-limit for Tpims notices expires.
David Anderson QC, the independent reviewer of terrorism legislation, has said it was "tempting, in the most serious cases, to wish for longer".
THE TPIMS REGIME
Mr Mohamed was fitted with an electronic tag and was required to live at home and stay there overnight. He would have had to observe a curfew of up to ten hours a day and have been banned from visiting specified places and from travelling abroad. He would have been allowed to use a mobile phone and the internet for work or study, but his use would have been closely monitored.
Register for free to continue reading
Registration is a free and easy way to support our truly independent journalism
By registering, you will also enjoy limited access to Premium articles, exclusive newsletters, commenting, and virtual events with our leading journalists
Already have an account? sign in