Tabloid 'hired private detectives to spy on former Met Police chief'
Company hired by the News of the World put Lord Stevens under surveillance in 1999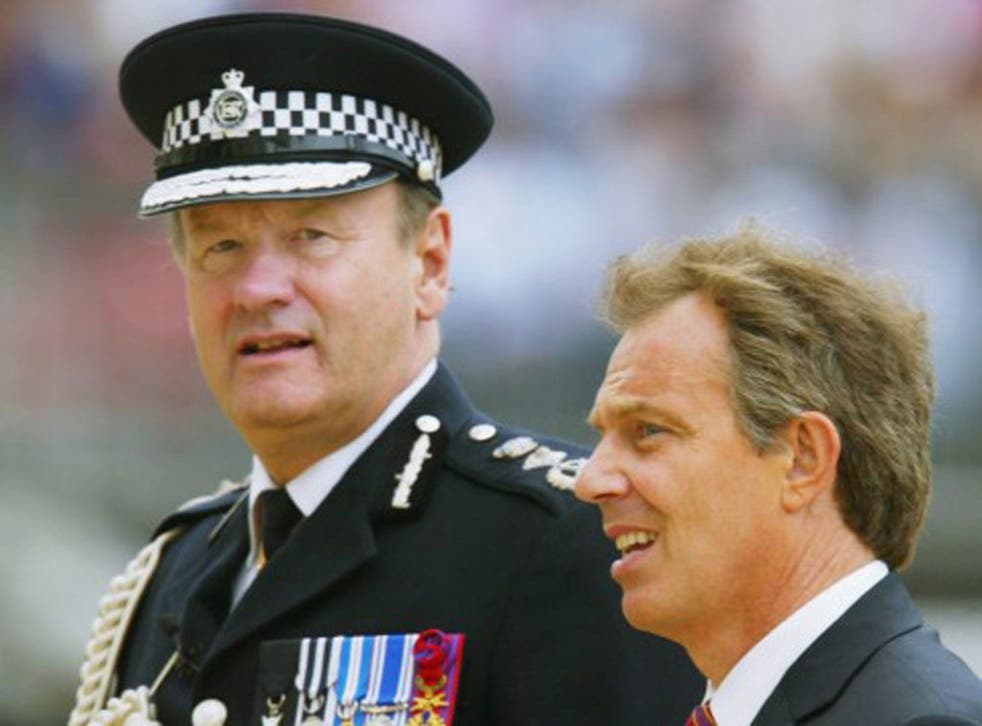 Britain's most senior police officer was the target of a secret surveillance operation by the News of the World.
Lord Stevens, the commissioner of the Metropolitan Police from 2000 to 2005, was tailed by a private detective agency working for the tabloid in 1999, shortly before he took charge of London's police force.
The agency, Southern Investigations, received a tip-off that the then-deputy commissioner was using taxpayers' money to fly a Metropolitan Police aircraft up to Northumberland to see his mistress. There is no suggestion that the tip-off had any foundation in truth.
According to Derek Haslam, a former undercover police officer who infiltrated Southern Investigations for Scotland Yard, the agency wanted to use the sensitive information to "control" Lord Stevens. Mr Haslam said: "I told my handler, 'You'd better tell him they are on to him and they are looking at anything'. They saw filth on police and politicians as a way to control them."
Jonathan Rees, a partner in Southern Investigations, rejected that allegation as "absurd" but confirmed the surveillance took place. In an interview with independentvoices.com, he said: "We were given instructions and an allegation that he was using a Met Police plane from Biggin Hill to see his mistress in Northumbria [sic].
"Now we did organise a surveillance team because it's what the News of the World wanted and we had team in Northumbria and here, but he never showed, so whether the allegation is true or not, who knows? The allegation was that he was using... a Metropolitan Police Federation plane bought by donations from charity... to travel up to [Northumberland] to see his mistress. You can see why people wanted... that story."
Yesterday, a spokesman for Lord Stevens denied that he flew a police aircraft to Northumberland or had a mistress. He added that the former commissioner was unaware he was under surveillance.
Mr Haslam claimed that during his nine years as a "mole" inside Southern Investigations, he told the Yard that the company was committing crimes – often on behalf of the News of the World. In briefings to investigators, he said he told the Met that Southern Investigations was "a corrupt organisation that was corrupting police officers and illegally accessing all sorts of confidential information".
"I told my handlers that MPs, ministers and Home Secretaries were targets," he said. "They fell into two categories: one they could earn money from and the other was to use blackmail, influence, to do their own thing. Anything that put the Met in a bad light, or anybody they could infiltrate or put in a bad light. It was about money and influence."
Mr Rees described Mr Haslam's allegations as "nonsense", saying that police wanted to smear Southern Investigations at a time that it was uncovering police corruption on behalf of the press. He said: "Haslam was tasked by senior officers to... come in there and mix with us again and... to find out... what we were doing against CIB3 [the Met's anti-corruption unit]... they knew we were investigating CIB3... it was a force within a force, they were given total autonomy to do whatever they liked... history tells us that when you allow policemen to do that it goes wrong."
Profile: Lord Stevens
Lord Stevens was seen on Fleet Street as an old-fashioned "thief-taker" who would restore confidence in the Met, battered by the Macpherson Report into the death of Stephen Lawrence.
In an attempt to bolster media support, he dined several times with newspaper editors, including the News of the World's Rebekah Brooks. When he left after five years in 2005, confidence in the police was at a 10-year high.
He then wrote a column for the News of the World called The Chief, which was ghost-written by the paper's deputy editor, Neil Wallis. Lord Stevens received £5,000-£7,000 per column.
Until yesterday, it was not known that he had been followed by private detectives on behalf of the paper in 1999.
Martin Hickman
Register for free to continue reading
Registration is a free and easy way to support our truly independent journalism
By registering, you will also enjoy limited access to Premium articles, exclusive newsletters, commenting, and virtual events with our leading journalists
Already have an account? sign in