Tarik Hassane: British medical student arrested on terror charges 'may have just returned from Somalia'
Student is one of four arrested on Tuesday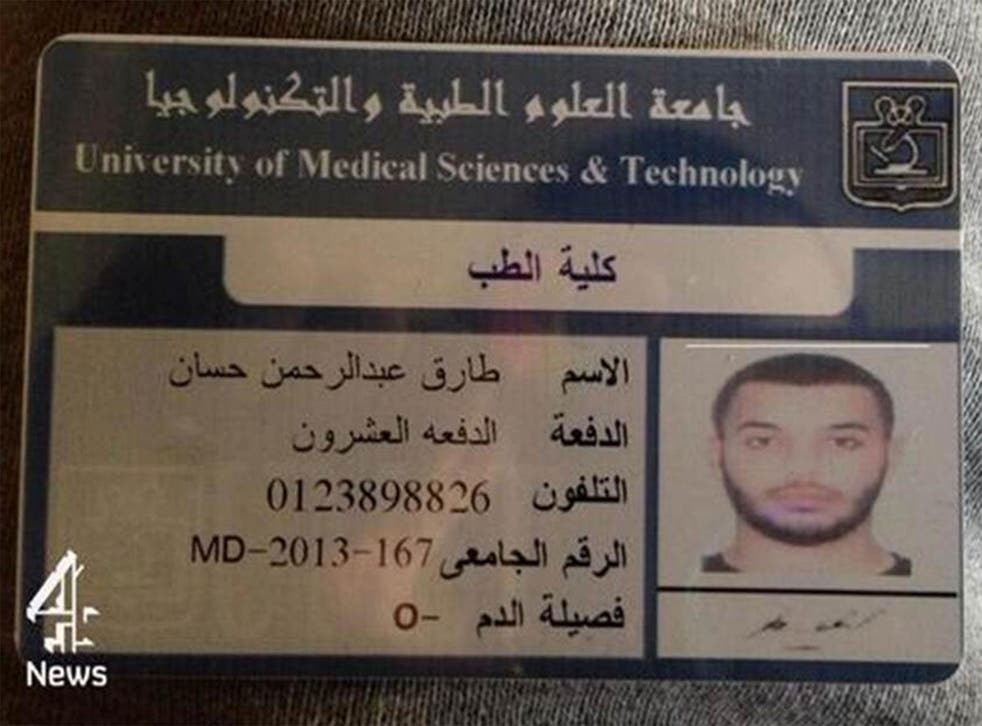 A medical student among four men arrested on suspicion of forming a terror cell in London is being investigated for whether he underwent bomb-making training in Syria and may have spent time in Somalia as recently as last month, The Independent can reveal.
Tarik Hassane, 21, who is studying medicine in Sudan and goes by the nickname "The Surgeon", was arrested on Tuesday as part of a major Scotland Yard operation to disrupt a suspected terror attack after coming to the attention of the security services several months ago.
The Briton, who is of Moroccan origin, was reported to have tweeted "Oi lads... I smell war" hours before the raid on the flat in north Kensington, west London, which he shared with his mother and sister. Channel 4 News said it appeared Mr Hassane may have flown into Britain from abroad as recently as Sunday.
The four men - aged 20 to 21 and living at addresses across London - remained in custody as counter terrorism officers sought to establish whether they were linked with Islamic State or other terror groups operating out of Syria or east Africa. Under terrorism laws, police have until this morning to either charge or release the men or apply to a magistrate to detain them longer.
Police and the security services are investigating whether the group were in the early stages of plotting an attack which it is understood may have involved shootings and bombings in public places but could also have envisaged public beheadings. Metropolitan Police Commissioner Bernard Hogan-Howe described the operation as "quite serious".
Some 500 Britons are believed by the security services to have travelled abroad to learn terrorist "tradecraft", including bomb-making, at locations including Syria's Idlib province. The arrest of Mr Hassane took place on the same estate where two men convicted of the failed 21/7 bomb plot, which took place a fortnight after the 7 July attacks in 2005, were eventually arrested. There is no suggestion of a link between two incidents.
Mr Hassane began his studies at the University of Medical Sciences and Technology in Khartoum last September.
Security sources said the university attended by the Briton in the Sudanese capital has previously had students associated with Islamist extremism. Mr Hassane was known to associate with some Salafist or fundamentalist students.
The 21-year-old is a prolific user of social media, telling his followers that he had missed out on a place to study medicine at King's College in London "by a couple of grades" and covering topics from his hopes for marriage to his proficiency at the FIFA football computer game.

A post written last year on the ask.fm website under the name Tarik Hassane suggested that its author had become steadily more devout in recent months, criticising women for wearing make-up.
The post said: "Wearing make up outside of the home such as foundation/lip stick etc isn't really permissible. And it's better that sisters avoid these things. Covering up has been enjoined upon women for a reason (i.e covering their beauty except for their husbands) so wearing make-up kind of defeats the purpose of hijab."
On the housing estate in north Kensington where Mr Hassane was arrested neighbours described a football-playing youngster who had changed in recent years. One woman, who would give her name only as Annabelle, said: "He used to play football with my son, everything was fine. He used to wear trainers - a bit of a Jack the lad.
"Then the tracksuit went and the beard grew. When he was going in the lift, people he'd known all his life he'd be shy and not talk to them."
The latest round of arrests follows a sharp increase in activity by police and security services focused on suspected British jihadists returning from Syria.
The Yard said this summer that anti-terrorist activity linked to Syria had been increasing for months with 69 arrests in the first half of the year - a five-fold increase on the previous year.
Assistant Commissioner Mark Rowley said that "high priority" operations against those involved in attack planning or on the cusp of it had increased greatly.
He added that half of those who raised concerns after travelling to Syria were not previously known as terrorist risks. The last arrests come a month after the terror threat level in the UK was raised from substantial to severe, meaning a terrorist attack is "highly likely."
Register for free to continue reading
Registration is a free and easy way to support our truly independent journalism
By registering, you will also enjoy limited access to Premium articles, exclusive newsletters, commenting, and virtual events with our leading journalists
Already have an account? sign in
Register for free to continue reading
Registration is a free and easy way to support our truly independent journalism
By registering, you will also enjoy limited access to Premium articles, exclusive newsletters, commenting, and virtual events with our leading journalists
Already have an account? sign in