Teenager killed by 'single stab wound to the heart'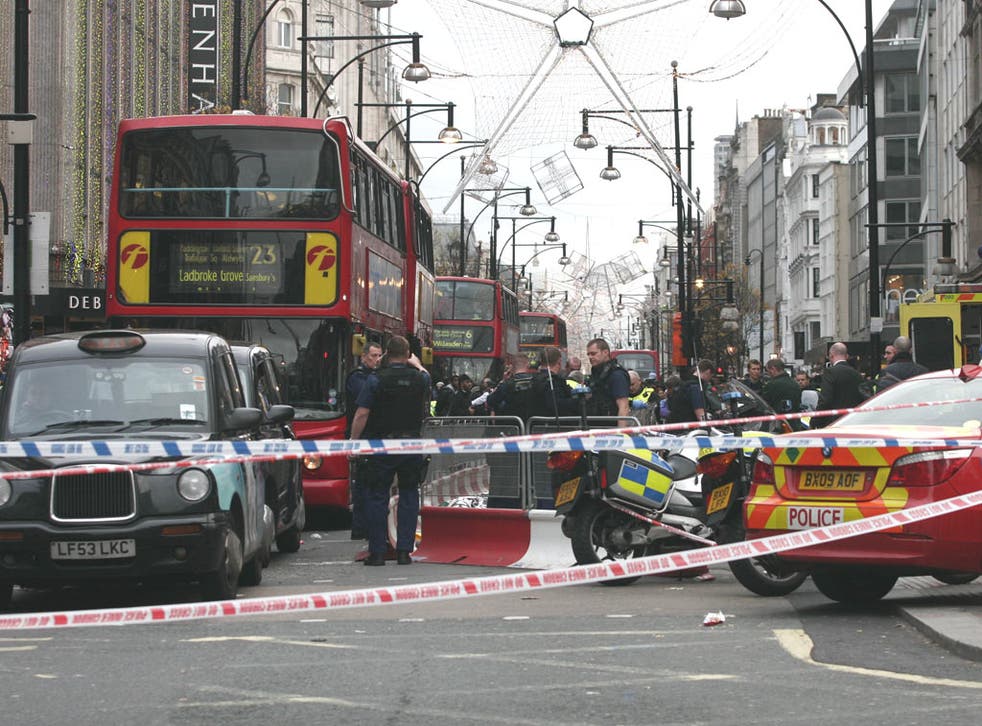 A teenager killed in front of horrified shoppers at the Boxing Day sales died from a "single stab wound to the heart", police said today.
Seydou Diarrassouba, 18, was stabbed to death yesterday in broad daylight following a fight at a Foot Locker sports shoe store on London's Oxford Street. Just hours later another youth was stabbed in the leg on the same busy street.
After a post-mortem examination was conducted at Westminster Mortuary today, police said that Mr Diarrassouba - also known by the nickname "Nutz" - had died from a single stab wound which pierced his heart.
Eleven suspects - including two 22-year-olds, five 19-year-olds, three 17-year-olds and one 16-year-old - are being held in custody in several London police stations in connection with the incident.
The motives for the confrontation between the two groups of youths inside Foot Locker remain unclear. Police said they were particularly interested in obtaining videos of the incident shot on camera phones.
Speaking outside Scotland Yard today, Detective Superintendent John Sweeney from the Metropolitan Police's Homicide and Serious Crime Command said: "There were several people who witnessed this event, both inside and outside the store.
"A number of them recorded it on camera phones, and we're particularly interested in those people coming forward so we have access to that footage."
School friend Munawar Shaikh, 20, today described the dead youth as a "big personality" who always had a smile on his face. The pair grew up together in Mitcham, south west London and attended Rutlish School at the same time.
Mr Shaikh said: "I heard about it on social network sites. It's devastating, I had lost contact with Seydou but he was such a big personality and a person everyone in Mitcham would know.
"He was just a good kid who always had a smile on his face."
Tributes to the dead teenager poured in throughout the day on a Facebook page called R.I.P. Seydou.
One message, posted by Okoko Felly, read: "my heart gose to ur mum and dad bruv, whats your big sis an ali gonna do with out u, man why dose life ave to be lyk dis. forever in our hearts nutz"i luv u boi. only 18"
Justin Osei wrote: "R.I.P man its not gonna be the same not seeing you around you were almost like a monument to mitcham, sad times".
And Kanyin Ifebogun said: "R.I.P Seydou, just the other day I was talking to you. Known from when we were little, wish you perfect peace in paradise. Gone but never forgotten hun. Will always remember our lil dancing moments in primary school and you always giving me joke. Sleep tight hunny".
Just hours after Mr Diarrassouba was killed on what was described by police as "the busiest place in the United Kingdom on the busiest shopping day", a 21-year-old man was stabbed in the thigh at the junction of Oxford Street and Regent Street.
Police today corrected previous information they had released stating that three arrests had been made in relation to the incident, which took place in front of the Nike Town store. A Scotland Yard spokesman said "several" suspects were being sought in relation to the second stabbing.
The Metropolitan Police also denied a taser electroshock weapon had been "deployed" by one of their officers in the aftermath of the attack on Mr Diarrassouba, after footage emerged on YouTube of tension between police and the crowd at the crime scene.
Commander Steve Rodhouse said: "Officers can be seen in the footage pushing the crowd back and one officer is shown to remove his Taser from its holster, although at no time was it ever deployed.
"Clearly in those initial early stages, officers would have been unaware of what had occurred and where the suspect(s) might be and their priority would have been to prevent further injury or loss of life to those in the area."
Witnesses to the stabbings can contact police at the incident room on 020 8721 4906 or Crimestoppers on 0800 555 111.
Witnesses can contact police at the incident room on 020 8721 4906 or Crimestoppers on 0800 555 111.
PA
Register for free to continue reading
Registration is a free and easy way to support our truly independent journalism
By registering, you will also enjoy limited access to Premium articles, exclusive newsletters, commenting, and virtual events with our leading journalists
Already have an account? sign in