Government must increase funding to combat attack threat, terror police chief warns
Mark Rowley's warning comes after Amber Rudd told police to stop asking for more money
Lizzie Dearden
Home Affairs Correspondent
Thursday 02 November 2017 18:27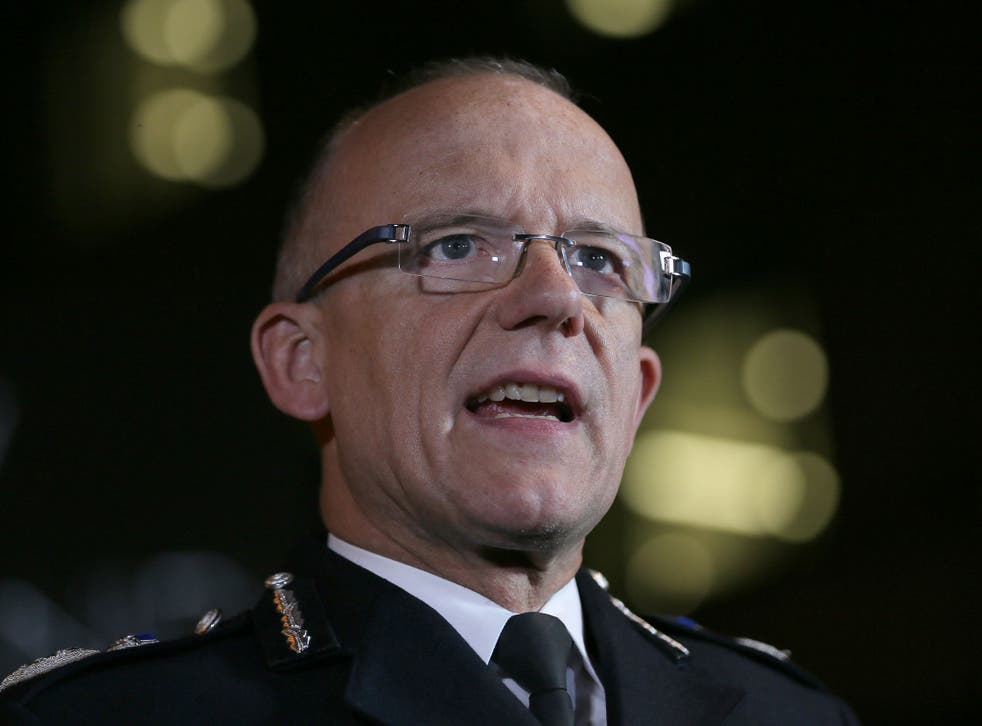 The head of the UK's counter-terror policing has warned the Government needs to increase funding for local policing to combat the growing threat of further attacks.
Mark Rowley, Assistant Commissioner of the Metropolitan Police, said frontline officers were needed to engage communities and provide vital intelligence to security forces.
"If we are to meet the threat and challenge…it's going to take three things," he told a summit in London.
"The determined collaboration [across policing] used to even greater effect, an enormous amount of innovation and determination, and – given the scale of the challenge – it is going to take real-terms growth in resources in both local policing and counter terrorism."
Mr Rowley said "frank conversations" were ongoing with the Government over the change with demand on Britain's police forces since the 2015 spending review, adding: "Even though it's perfectly right the Government puts pressure on us to be more efficient, the scale of that challenge is going to require real-terms growth in funding."
He was speaking a day after Amber Rudd told police she did not want to see the "asking for more money from the Government" as violent crime rises.
"There is more forces can do to transform, with greater efficiencies still available," the Home Secretary added.
But leaders at the two-day APCC and NPCC Partnership summit have painted a very different picture, telling how "flat cash" settlements provided by the Government had left forces having to cut millions of pounds while absorbing inflation and rising costs.
With the number of police officers at the lowest number since 1985, commanders described neighbourhood policing as among the most "squeezed" areas amid rising violence, 999 calls and demand for non-crime issues like mental health.
The head of the National Police Chiefs' Council (NPCC) accused the Government of underfunding increasingly stretched forces, while Metropolitan Police Commissioner Cressida Dick asked: "At a time of shrinking budgets…is it right that the things that seem to be growing is the Independent Police Complaints Commission, the HM Inspectorate of Constabulary and the Home Office?"
In pictures: Westminster attack

Show all 9
The Home Office has provided £24m extra funding for counter-terrorism policing but the funds are ring-fenced and being used to meet the cost of the attacks in London and Manchester, rather than new initiatives.
The Metropolitan Police has already admitted it can no longer investigate some lower-level crime, while Norfolk is planning to cut its community PCSOs.
Chief Constable Simon Cole, the NPCC's lead for the Prevent programme, warned that the policing "presence has gone" from many local communities.
He said neighbourhood officers were a trusted point of contact for residents who "might just provide that snippet" of information leading to a terror suspect.
Mr Rowley said local policing "underpins trust" and is a vital link between the counter-extremism Prevent and Channel initiatives, the security services and other public bodies.
He warned of a "step-change" in the terror threat, which he said was "moving faster and becoming more difficult to detect", leaving police to take on increasing responsibility for prevention work.
Between 2013 and 2016, 13 terror plots were foiled, but there have been five attacks and seven foiled plots so far this year alone, leaving dozens of victims dead and hundreds injured.
Between 500 and 600 counter-terror investigations as ongoing at any one time, involving 3,000 subjects of interest, and there is a growing pool of more than 20,000 people who have been part of past probes and could "become active" at any time.
Manchester bomber Salman Abedi, Westminster attacker Khalid Masood and London Bridge ringleader Khuram Butt all came from that cohort – being "known" to security services but not considered imminent threats.
The past year has seen a record number of terror arrests, including operations targeting the rising threat from right-wing extremists including the neo-Nazi terrorist group National Action.
"Both extreme right-wing and Islamist extremist issues in communities across the country are building, they're not retreating," Mr Rowley warned. "The links between terrorist groups overseas and vulnerable people in our community is stronger than ever."