The British connection: Jihadi chain traces European terror back to 9/11
Exclusive: Intelligence services investigate connections that lead to UK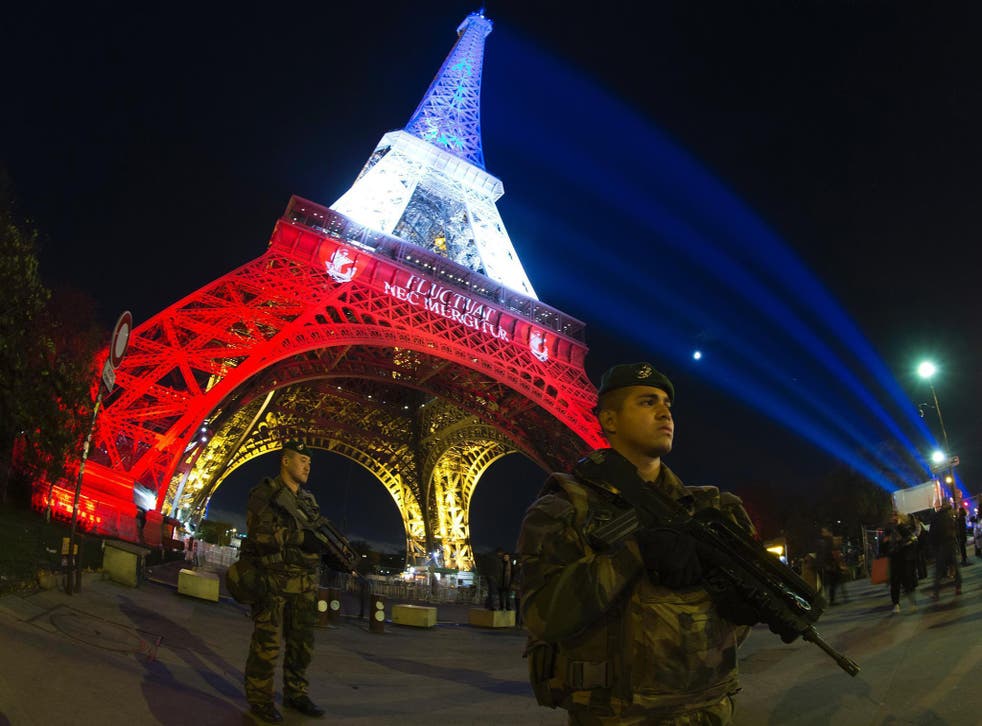 Investigations into an international jihadist chain behind the terrorist attacks in Belgium and France are also looking into past British connections to al-Qaeda plots paving the way for the 9/11 attacks, The Independent has learned.
Five people, four men and a woman, were arrested last week in Birmingham and at Gatwick airport in connection with the terror attacks in Belgium and France – their identities have not been released. This followed reports that two of the terrorists involved in the massacres had been in England in the last year and photographs of sites they had visited had been found on their mobile telephones.
Security officials are also investigating the links between Islamists in Britain and those in Belgium and France that go back more than 15 years. These include some with ties to Molenbeek, the Brussels suburb which has been at the heart of the recent bombings and shootings on the Continent. Western European intelligence officers believe that the links set up a decade and half ago between extremists in the UK and those on the Continent have been maintained and have become more active since the start of the Syrian civil war in 2011.
One of those arrested in the aftermath of the Brussels attack last month was Abdelramane Ameroud, who was shot by police who claimed he was trying to use his young daughter as a "human shield" and refused to hand over a rucksack suspected of containing an explosive device. Ameroud was allegedly part of a plan, which was at an "advanced stage", to carry out an attack in Argenteuil, France, when he was detained.
In 2005 Ameroud had been convicted by a French court and sentenced to seven years imprisonment for his part in the assassination of Ahmed Shah Massoud, the renowned Afghan Mujahedin commander.
The death of Massoud, the most prominent figure in the anti-Taliban Northern Alliance, on 9 September 2001 was ordered by Osama Bin Laden, who was then hosted by the Taliban regime in Afghanistan. It was widely believed to be part of the plan to carry out the attacks in New York and Washington two days later – with the murder removing the most effective ally the West could have in Afghanistan if it launched a retaliatory military campaign.
The men who killed Massoud in a suicide attack were Belgians of North African descent, like the men who had carried out the recent European attacks. They had gained access to the Northern Alliance commander by posing as journalists.
The paperwork enabling them to get press credentials was supplied by an Islamic organisation run by Yassir al-Sirri, an Egyptian based in the UK. Mr al-Sirri had admitted providing a letter on the stationery of the Islamic Observation Centre for the killers of Massoud, which enabled them to obtain press accreditation in both Pakistan and Taliban-controlled Afghanistan. But Mr al-Sirri strongly denied that he had any idea the letter would be used to facilitate Massoud's murder.
Mr al-Sirri was arrested and charged for alleged involvement in the Massoud assassination, but the prosecution was abandoned after a judge at the Old Bailey concluded there was insufficient evidence for a conviction. There is no suggestion that Mr al-Sirri was connected to any of the recent terrorist attacks.
It subsequently emerged that Tareq Marroufi, who was also convicted for involvement in the murder of Massoud in the same trial as Ameroud and who served six years in jail, had been a frequent visitor to London and became a follower of the radical cleric Abu Qatada, who preached at the Finsbury Park mosque.
Mr al-Sirri had fled to Britain from Egypt in 1993 on a fake Yemeni passport. The following year he was sentenced to death by a court in Cairo after it had convicted him, in absentia, of an attempt to assassinate the Egyptian prime minister. In 1999 he was sentenced to 15 years imprisonment by an Egyptian court, again in absentia, for allegedly being a member of a terrorist organisation, the Egyptian Islamic Jihad, whose former leaders included Ayman al-Zawahiri, the current head of al-Qaeda.
A look at Molenbeek, the small Belgian suburb home to some of the world's most dangerous terrorists
Mr al-Sirri had never been granted asylum in the UK. Instead he received exceptional leave to remain, which has been renewed every six months. In 2012 the UK Supreme Court had ruled that Mr al-Sirri could not be deported to Egypt as he faced serious risk of mistreatment in the country.
However, Mr al-Sirri also lost an appeal against him being refused asylum. The Supreme Court noted that asylum had been originally refused due to his contributions to books connected with al-Qaeda and his alleged involvement in a murder in Afghanistan.
In pictures: Terror attacks at Brussels airport

Show all 30
Also, back in 2008, the Home Office was said to be reviewing the bail conditions of radical cleric Abu Qatada after he was seen on the street with Mr al-Sirri. As part of Abu Qatada's bail conditions, he was not allowed to consort with extremists. Another condition was that he did not use a mobile telephone, but Mr al-Sirri was photographed walking alongside Abu Qatada while speaking on the phone. It was claimed that he was receiving instructions from his companion, although no evidence was produced to support this claim. Abu Qatada was deported to Jordan in 2013.
More recently, the five arrests in Birmingham and Gatwick last week were related to suspected British links to the Paris and Brussels attacks. Mohamed Abrini, the "man in the hat" seen with the suicide bombers at Brussels airport last month, visited the UK last summer. The 31-year-old Belgian national, the only surviving terrorist from last November's Paris attacks, was in Birmingham last summer. Abdelhamid Abaaoud, who led the attacks and was killed following a siege by police, also visited the UK last year.
Western security agencies are also re-examining further historic connections between Belgian and French jihadists and the UK as part of their investigations into attacks on the Continent. This includes the role of Djamel Beghal, a French-Algerian who became the mentor of Cherif Kouachi, one of the gunmen who carried out last year's attacks on the Paris offices of the magazine Charlie Hebdo.
Beghal worshipped at the Finsbury Park mosque in London in early 2000 and became a follower of Abu Qatada and fellow hardline cleric Abu Hamza, who was later deported to the US and sentenced to life imprisonment after being convicted of terrorism charges. Beghal, who French and British intelligence agents claim is one of al-Qaeda's leading recruiters in Europe, also met two others involved in the Paris attacks, Amedy Coulibaly and his partner Hayet Boumeddiene.
Beghal had organised the planned bombing of the American embassy in Paris while in Kandahar, under Taliban rule, in 2001. While he was in Afghanistan he met Dahmane Abd al-Sattar, a Belgian-Tunisian who was to be one of the Massoud assassins. Bin Laden was reported to have sent al-Sattar's widow, Malika al-Aroud, a Belgian-Moroccan, a pension through an emissary. Al-Aroud was convicted in 2010 in Brussels on terrorism charges and sentenced to seven years imprisonment.
The suicide attack on the American embassy in 2001 was due to be carried out by Nizar Trabelsi, a Belgian-Tunisian former footballer who was arrested in Brussels in that year for allegedly preparing the would-be embassy attack. He had returned recently from London, where he too had become influenced by Abu Qatada.
Trabelsi was visited in London by David Courtailler, a Frenchman, who lived in the Brixton apartment of Zacarias Moussaoui. In the summer of 2001 Moussaoui was arrested which stopped him, say law agencies, of being the 20th hijacker in the 9/11 attacks. Corailler was detained on his return to France by police investigating his alleged involvement in the attacks on the American embassies in Kenya and Tanzania in 1998.
The investigations into the historic connections between Belgian and French jihadists and the UK continue.
Register for free to continue reading
Registration is a free and easy way to support our truly independent journalism
By registering, you will also enjoy limited access to Premium articles, exclusive newsletters, commenting, and virtual events with our leading journalists
Already have an account? sign in