The crime Baron and his gang who lived like kings by drug smuggling
They posed as businessmen to bring tonnes of cocaine into Britain, but their lucrative operation ended with jail terms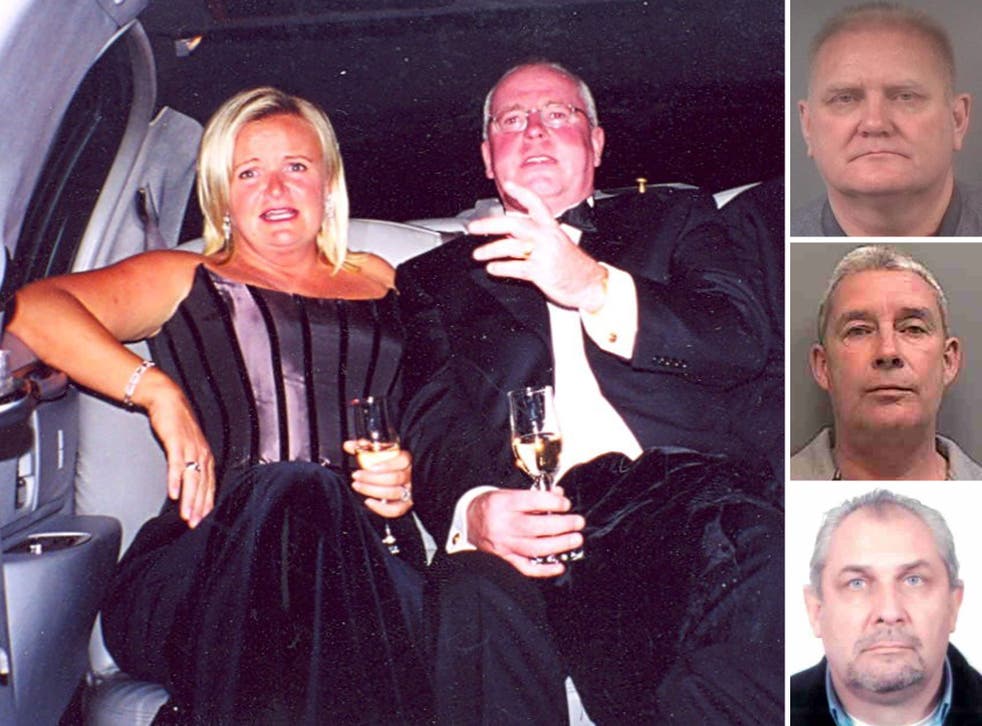 To his neighbours in one of Dublin's swankiest suburbs, Philip Baron owed his conspicuous wealth to the improbable success of what he said was his company renting deck chairs on Spanish beaches.
The would-be beach-ware magnate, whose vast detached home backed on to one of Ireland's premier golf courses, did indeed have a hugely lucrative income from a business enterprise based in the Costa del Sol. But it had nothing to do with deck chairs.
Instead, he was a kingpin in one of Britain's most prolific drug smuggling networks, masterminding the transportation of vast consignments of cannabis and cocaine from Spain to the UK. He used the multi-million pound proceeds to fund a lavish lifestyle far beyond, he believed, the reach of the law.
Today justice finally caught up with the 57-year-old Mancunian when he pleaded guilty at Liverpool Crown Court to charges of conspiring to import 60 tonnes of cocaine, many tonnes of cannabis and money laundering. He will be sentenced in June.
The father-of-three, who used a reconciliation with his estranged daughter to pull her into his smuggling and money-laundering cartel, is the final suspect to be convicted following a five-year investigation by the Serious and Organised Crime Agency (Soca) which its officers say has "completely dismantled" one of Britain's top 10 drugs rings.
Run by expat Britons, the network smuggled at least 110 tonnes of drugs estimated to be worth £350m over 15 years. Operation Beath, the Soca investigation, has resulted in the conviction of 29 people and jail sentences totalling 200 years.
Steve Baldwin, Soca's head of investigations, said: "There's no doubt Baron and his associates were operating at the top end of organised crime. He lived a lavish lifestyle abroad, portraying himself as a legitimate businessman, while orchestrating the importation of huge amounts of drugs into the UK.
"There is clear evidence that his criminal activity was having a direct impact on communities in many of our towns and cities. Baron thought he was untouchable."
The inquiry, which involved police forces from Costa Rica to the Irish Gardai, has yielded a rare insight into the workings of a smuggling network – from the code and nicknames used by the drug barons to their overseas trust funds and their extravagant spending habits.
Along with his co-conspirators, Baron, known as "4x" or "four by" because of his liking for SUVs, had hit upon a novel way of bringing their illegal product into Britain.
Rather than going to the trouble of hiding drugs in suitcases, the network decided to use the services of freight and courier companies to send consignments to 12 addresses across Britain rented from office services companies.
At the rate of at least one delivery per month, drugs were packed into boxes and labelled as technical manuals or printed material sent to unconnected and legitimate UK companies. Once they had arrived, another member of the gang would collect the consignment and distribute it to dealers in cities including Glasgow, Liverpool, Manchester and Birmingham.
Suspicions were raised about gang members as far back as in 2008 when staff at a Cheltenham office services company became suspicious about the quantity of packages coming through its premises and alerted police. Soca began the long process of tracing the network back to Baron and another drug lord, Walter Callinan – like Baron a former lorry driver – who had moved from Stoke to a sprawling villa in Malaga.
Mark, the Soca officer who led the investigation, said the men fed supplies into their own network as well as supplying other outlets in Britain's £5bn drugs market.
Baron, originally from Bolton, maintained the façade of a respectable businessman, driving a Bentley GT Continental and attending black-tie dinners. His two children by his second marriage were provided for with trust funds set up by the network's money launderer in locations from Switzerland to Uzbekistan.
Neither of these children nor his current wife were involved with the drug business. But Baron did not extend the same courtesy to his third child, Rachael, who was contacted by her father for the first time in many years after the birth of her first child about six years ago.
Within weeks, Baron had enticed his estranged daughter into his network, using her to make purchases on his credit card, ranging from paying his phone bill to spending £60,000 on watches during a single visit to a jeweller's. Rachael, who was sentenced to three years' imprisonment for laundering £1m of drugs money, also arranged the purchase of her father's Bentley.
As the funds started to pour into the bank accounts of the network's members, a sense of invincibility infected the main players. Baron, who was arrested in 2011, spent nearly two years fighting extradition to Britain, taking his case all the way to Ireland's Supreme Court.
Mark added: "They hammered the UK's streets with drugs in the belief that they could live a life of impunity from abroad."
Ironically, it was the habit of Callinan and the network's principal money launderer – a former Barclay's IT worker, Malcolm "Sir Humphrey" Carle – of keeping meticulous records that led to their downfall.
When police raided Callinan's villa they found a 200-page ledger detailing every transaction for 17 tonnes of cannabis sent to Britain over a 17-month period. The shipments accounted for 6 per cent of all cannabis sent to the UK in that time.
One-by-one the gang members were picked off by the investigation until Baron and Callinan, who was sentenced to 11 years' imprisonment in 2011, were among the few major players left. Shortly after his arrest, Callinan phoned his son in a phone call which Soca investigators admitted they had found "enjoyable".
The drugs overlord said: "There is documentation, spreadsheets of monies collected off motorways... 100 grand, 60 grand, 80 grand. We're f***ed mate, they've got that much documentation. F***ing hell, the Pope wouldn't get out of this."
THE GANG: Butlins, Big Fella, Sir Humphrey and Spot
Philip Baron (aka "4x" or "Butlins")
The 57-year-old former HGV driver masterminded his smuggling operation for at least 15 years from his mansion backing on to Dublin's prestigious K-Club golf course. Nicknamed after his liking for luxury SUVs and his views on open prisons, Baron was a key player in the smuggling gang, negotiating a deal with Colombian drug cartels to send cocaine to Britain via Spain. His second wife and their two children were, like his neighbours, led to believe he made his money from a deck-chair rental company. He will be sentenced in June.
Walter Callinan (aka "JJ" or "Big Fella")
Callinan, 60, is thought to have met Baron while the pair were lorry drivers. He set himself up in Malaga, co-ordinating consignments of cannabis and using the proceeds to fund a lavish lifestyle, which included a racehorse paid for under one of his false names, James Jones or JJ, and costing £40,000 a year to maintain. Callinan travelled the world following the England football team, spending thousands on first class travel. Sentenced to 11 years for drug importation.
Malcolm Carle (aka "Sir Humphrey")
The former Barclay's IT worker swapped a £50,000 salary to become the chief money launderer for Bishop and Callinan. Carle, 59, charged his employers 20p per mile to collect drug payments but also tried to double cross them. After buying a £1.2m pub to help launder some of the drugs money, he took out a loan against it to further his own business deals without telling Callinan. Carle was sentenced to six years' imprisonment.
Paul Hewett (aka "Spot")
The 55-year-old was the man on the ground, responsible for the packaging of drugs in Spain with the names of legitimate engineering or car components companies and renting space from office service companies in Britain to receive the packages. In return, Hewett rewarded himself with the toys and baubles of a player on the Costa del Crime, including a 64ft Sunseeker yacht and a Porsche Cayenne car. He was sentenced to 20 years' imprisonment for drug importation.
Register for free to continue reading
Registration is a free and easy way to support our truly independent journalism
By registering, you will also enjoy limited access to Premium articles, exclusive newsletters, commenting, and virtual events with our leading journalists
Already have an account? sign in