The killer: Woolwich suspect, Michael Adebolajo, described as the 'typical boy next door' from devout Christian family
Murder suspect was well-mannered schoolboy before turning to militant Islam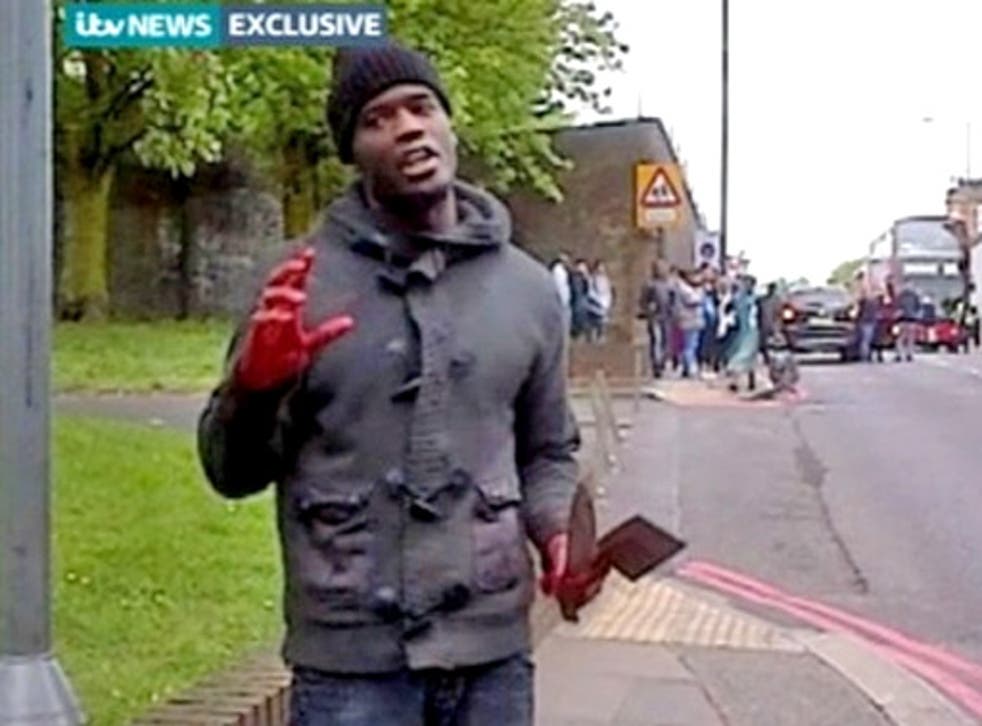 Michael Adebolajo, one of the men arrested over the Woolwich murder, was a polite and well-mannered schoolboy rapper who turned to militant Islam after rebelling against his devoutly Christian family.
Described as the "typical boy next door" by one of his former girlfriends, Adebolajo, 28, drifted into petty crime and converted to Islam in 2003, the year that he left sixth-form college in Romford, east London, according to former school-friends and acquaintances.
By the time he was seen on the streets wielding a cleaver a decade later, he used the name Mujahid and had become a snarling fire-and-brimstone preacher exhorting fellow Muslims to travel to Syria to fight.
As a schoolboy at Marshalls Park school, the reality was starkly different. "He was really friendly and really polite and there was never anything to suggest he would be caught up with anything like this," his former girlfriend Justine Rigden, 26, who went out with him for a year, told The Independent. "He was just a lovely polite boy. He stayed at my family's house and I stayed with his. He was a very family-oriented person.
"He had a group of friends from Hackney. They weren't wrong 'uns, they were okay and he used to do a bit of MC-ing, rapping. Nobody can believe it. He was just this normal regular boy."
Fellow pupil Jamie Virtue said Mr Adebolajo got into "a few fights" as a pupil, but nothing out of the ordinary. He even had a reputation for defending other students from bullies.
Mr Adebolajo, who has two sisters and a younger brother, spent two years at Havering College where he became involved in a Nigerian street gang, according to another friend.
He was said to carry a knife around for protection and during street robberies for phones, according to one friend, called Louise. "As he got older he started mixing with other people from outside. We used to go around the house and there used to be 20 black guys and they would walk around the streets... They were stealing people's phones and that and they had knives," she told The Guardian.
The family suddenly moved to Saxilby, near Lincoln, in 2003 because of concerns that he was mixing with the wrong people. The dispute had sparked furious rows between the son and his parents - with the teenager even smashing the windscreen of their parents' car during one dispute, one former neighbour Kemi Ibrahim-Adeoti, 45, said.
That house was searched by the police and remained cordoned off.
It proved to be a significant year: as well as moving, he left college but also converted to Islam and changed his name to Mujahid.
Anjem Choudary, the former leader of the banned Islamist organisation, Al Muhajiroun, confirmed that he knew Mr Adebolajo, who converted in 2003 and attended meetings of the group and its successor organisations for eight years. He told The Independent: "I knew him as Mujahid and he attended our meetings and my lectures. I wouldn't describe him as a member [of Al Muhajiroun]. There were lots of people who came to our activities who weren't necessarily members.
"He was a pleasant, quiet guy. He was interested in Islam, in memorising the Koran. He disappeared about two years ago. I don't know what influences he has been under since then."
Al Muhajiroun, founded in 1983 by Islamist Omar Bakri Muhammad, became notorious for attempting to justify the 9/11 attacks. Mr Choudary, who has long been a controversial figures in Britain's Islamist circles, has been an outspoken critic of British military involvement in Iraq and Afghanistan.
Mr Choudary said: "My position is clear. There is a covenant which says that in return for Muslims being allowed to live peacefully and practice their faith in Britain, then it is forbidden to attack anyone from the British authorities, soldiers, in the UK."
He denied that Mr Adebolajo could have been radicalised by his teachings, adding that more extremist material, including the sermons of Yemen-based cleric Anwar Al Awlaki and the Al Qaeda-linked magazine Inspire, have been easily available via the internet.
"Mujahid left us two years ago," he said. "There is plenty of material out there that does not observe the covenant we do that there can be no attacks in Europe. There is Al-Awlaki and Inspire. I do not know what sort of material Mujahid could have seen."
He appears to have been politically active for a number of years. He was spotted standing outside Paddington Green police station in 2007 holding a placard reading "Crusade Against Muslims", the BBC reported last night.
David Garnett, 44, an unemployed man from Woolwich Dockyards said he had seen Michael Adebolajo about two months ago, preaching outside WHSmith on the High Street in Woolwich, close to the scene of the attacks. "He was shouting all the Islamic stuff. He said 'Allah is great' and we should all be ruled by Islamic rule. People ignored him and he just shouted louder and louder. Nobody paid any attention."
He was one of many preachers of different faiths who tried to make their voices heard. "He said that Islamic law will come into force in this country one day soon ," said Mr Garnett. "The more he got louder the more people got embarrassed."
New footage in the aftermath of the attacks showed him addressing a camera vowing to continue fighting. In a similar message to his Woolwich sermons, he is recorded as saying: "So what if we want to live by the sharia in Muslim lands. Why does that mean you must follow us and chase us and call us extremists and kill us? Rather, you are extreme."
Students from the University of Greenwich, where Adebalajo studied, spoke of their shock. One undergraduate who spoke on condition of anonymity said: "For an educated person to apparently go from being calm and rational, by all accounts, to do what he did is quite frightening."
Police seize new suspect in armed raid
The second suspect for the murder of Lee Rigby was spotted at a flat in a Greenwich council block raided by armed police, neighbours said.
His identity remained unknown, and police are waiting to question the 22-year-old in hospital.
Officers smashed their way into the flat at Aylmer House, close to the old Royal Naval College, and led away two or three women, according to witnesses. Neighbours said there had been many "comings and goings" in recent days. An area either side of the flat remained cordoned off all day.
Register for free to continue reading
Registration is a free and easy way to support our truly independent journalism
By registering, you will also enjoy limited access to Premium articles, exclusive newsletters, commenting, and virtual events with our leading journalists
Already have an account? sign in