Lee Rigby trial: Michael Adebolajo says decpitating soldier was 'most humane way to kill him'
Soldier's alleged murderer tells court: 'We did not wish to give him much pain... he was still alive'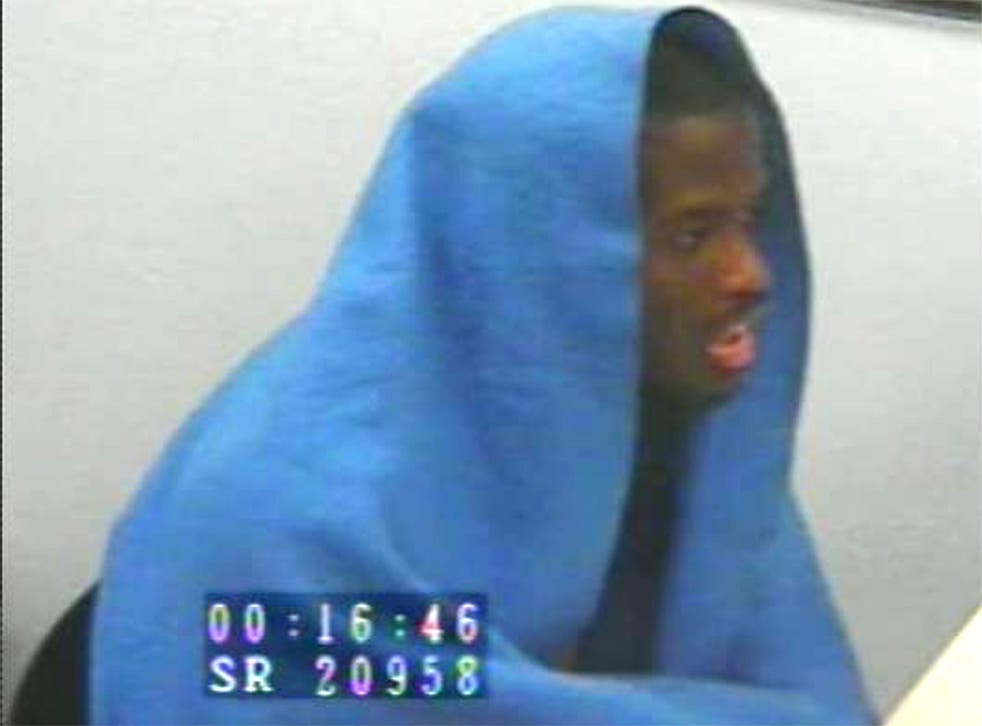 One of the alleged murderers of Fusilier Lee Rigby told police he tried to cut off the soldier's head because it was the most humane way of killing him, jurors at the Old Bailey heard.
Michael Adebolajo told officers it was "almost as if Allah had chosen" Mr Rigby, the first soldier he and his accomplice Michael Adebowale spotted as they waited to launch an attack in revenge for British military involvement in Muslim countries, the court heard.
The two men are accused of mowing down the "extremely professional and popular" soldier in their car before hacking him to death with knives and a cleaver in Woolwich, southeast London, on 22 May last year, as he walked to his barracks.
"When he crossed the road so casually in front of me… it was almost as if I was not in control of myself," the 28-year-old said in a police interview 10 days after the killing.
"I accelerated, I hit him and I think I also crashed into a signpost."
He added during the 43-minute interview played in court: "We wished to fulfil our promise to Allah. We did not wish to give him much pain. I could see he was still alive."
Mr Adebolajo had a copy of the Koran before him during his interview and his head was covered by a blue blanket shielding him from the camera which fell off as he became more animated.
"I'm not sure how I struck the first blow but I learned… the most humane way to kill any creature is to cut the jugular," he said.
"He may be my enemy but he is a man. So I struck at the neck and attempted to remove his head to be sure. That's how Lee Rigby died."
Mr Adebolajo said he thought that he might die during the operation and was shot as he charged the car carrying a three-strong armed police team that arrived first on the scene.
"To be killed on the battlefield is not something we shy away from and in fact this is something that Allah loves," he said.
A police search at the home of Mr Adebolajo's father uncovered extremist books, articles and lectures covering jihad and martyrdom.
It included "Extreme Islam" with sections highlighted, including one that said: "Allah does not like any drop more than the drop of blood shed in his way." Another said: "That is why Islam is always in need of martyrs. The revival of courage and zeal is essential for the revival of a nation."
Police also found speeches at the homes of both men and on a computer in their crashed car by Anwar al-Awlaki, the US-born extremist preacher killed by a US drone strike in the Yemen.
During his police interview, Mr Adebolajo said neither he nor Mr Adebowale, who converted to Islam at the age of 17, had a vendetta against the soldier's family.
He described Fusilier Rigby as a non-Muslim version of himself, but said he was a fair target because "he joins the army with kind of an understanding that your life is at risk", the jury of eight women and four men heard.
Despite the advice of his solicitor to remain silent, Mr Adebolajo urged police to remain patient so he could explain how Fusilier Rigby died. A request to meet the public to explain his actions was rejected.
In a statement read to the court, retired Brigadier Ian Liles said that the soldier's loyalty and work ethic was beyond reproach," and he carried out every task with a "smile on his face", the court was told.
"An extremely professional, popular and witty soldier, Fusilier Rigby was a larger-than-life personality who was well-known and liked by all who came across him, regardless of rank or status," the statement added.
Mr Adebolajo and Mr Adebowale both deny murder and attempting to kill a police officer.
The case continues.
Register for free to continue reading
Registration is a free and easy way to support our truly independent journalism
By registering, you will also enjoy limited access to Premium articles, exclusive newsletters, commenting, and virtual events with our leading journalists
Already have an account? sign in