The murder in suburbia that sent shockwaves across the world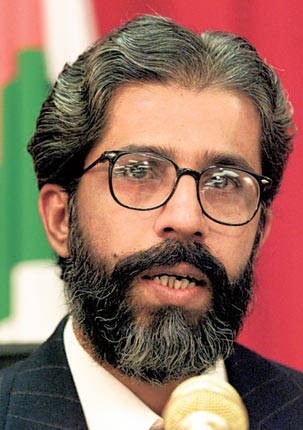 As one of Britain's most prominent exiled Pakistani politicians and the subject of long-standing death threats, Imran Farooq was always cautious about his security. He regularly changed addresses, rented homes under assumed names and, occasionally, employed a bodyguard.
Such precautions afforded the 50-year-old co-founder of the Muttahida Qaumi Movement (MQM) no protection as he walked home on Thursday afternoon from the pharmacy in Edgware where he worked to Green Court, an anonymous 1940s apartment block where for the last two years he had shared a maisonette with his wife, Shumaila, and their two sons, aged five and three. Shortly before 5.30pm, Mr Farooq, who was a trained doctor, was approached by a second Asian man in the communal entrance way of the flats.
Neighbours alerted by screams saw the Pakistani politician being beaten about the head by his attacker before falling to the ground, where he was repeatedly stabbed. Paramedics tried for more than an hour to save him but he was declared dead at the scene.
Sam Igbi, 21, a property developer and neighbour of Mr Farooq, said a woman who witnessed the struggle initially assumed it was a minor altercation and watched in horror as it became more violent.
He said: "She saw [Imran Farooq] being knocked on the head a couple of times. She heard screams and she saw someone beating him. She said he struggled and then the guy stabbed him."
The impact of the murder in a quiet London suburb was felt over 4,000 miles away in Karachi, the Pakistani commercial capital and the scene during the 1980s and 1990s of a bloody power struggle from which the MQM emerged victorious, despite claims that it was complicit in torture and summary killings.
Scotland Yard detectives investigating the murder were understood to be looking closely at the possibility that the killing was an assassination emanating from the multiple rivalries in Pakistani politics.
Officers from the SO15 counter-terrorism unit began the day by advising their colleagues but by last night they had taken control of the inquiry.
From its origins as an advocacy group for Pakistan's Muhajir community – Urdu speakers who fled from India following partition in 1947 – the MQM has become one of the country's most powerful parties, controlling Karachi, which provides 50 per cent of the nation's tax revenues.
Mr Farooq, who had been due to attend the birthday party of an MQM colleague on the evening of his death, came to Britain in 1999 after spending seven years on the run in Karachi while wanted on multiple terrorist charges, including murder.
On his arrival in London to claim asylum, he said the allegations were politically motivated and there had been a bounty of several thousand dollars for his capture "dead or alive". Speaking at the time, he said: "It was impossible for me to remain in Pakistan due to the continued threat on my life and liberty." MQM officials in London yesterday indicated that the threats may have followed Mr Farooq to Britain. The Independent understands that, after a period in which he had stepped back from frontline politics, he had also recently been critical of the use of MQM funds in Pakistan and abroad.
Muhammad Anwar, a member of the party's central co-ordinating committee in London and a friend of the dead man for 25 years, said: "This does not seem to be a robbery or a burglary. We have all sorts of fears about what might have happened."
He was speaking at MQM's headquarters, close to the murder scene in an office block rented by the party several months ago after security concerns were raised about its previous accommodation.
It is understood MQM officials contacted the Foreign Office and Scotland Yard about apparent threats from Islamist groups earlier this year but they were considered too vague to merit specific action.
Another MQM activist said: "Imran tried to live as normal a life as possible but there were threats and he was aware of them. He moved around and didn't let his name appear on rental agreements.
"For a while he even had a security guy but more recently I think he was relaxing. He would not have been expecting someone to be waiting for him on his way home."
The MQM leader, Altaf Hussain, who has lived in London since escaping an assasination attempt in 1991 and regularly addresses party supporters in Karachi by telephone, has always denied accusations that the party has been involved in kidnappings and intimidation of opponents. Mr Hussain said last night: "I have been deprived of a staunch, loyal and senior companion."