The real Minority Report? Kent Constabulary tests computer program to predict crime
Initial results from trial suggest algorithms can help police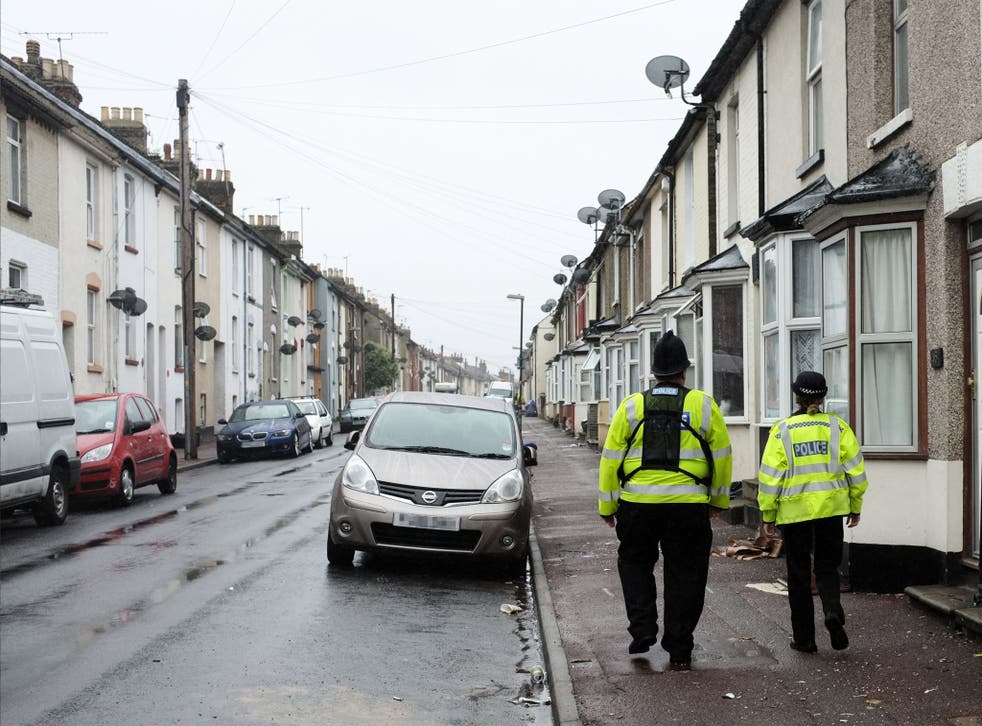 It's after 1pm, and Danny - a young man with a history of theft and shoplifting - is not best pleased to be roused with a knock on the door by the police.
No, he says, he wasn't up late last night and, no, he hasn't been in trouble. "I'm always being hassled by you lot," he tells Sergeant Dave Venus-Coppard before the officer takes his leave from the untidy hostel room.
Danny lives in one of the less salubrious areas of Chatham, Kent. Many of the houses in his road are owned by a charity that rehouses the troubled, the alcoholics and the drug users when they are moved on by other councils. Danny's road had appeared at the centre of a small box on Sgt Venus-Coppard's computer screen earlier that morning, representing one of 20 areas where crime was most likely to happen that day. The visit to Danny is part of a strategy to see that nothing does.
Kent is one of the testing grounds in Britain for predictive policing, a mingling of criminology, anthropology and mathematics designed to stop crimes before they take place. The technique was praised in a report by Her Majesty's Inspectorate of Constabulary that was largely critical of the ways in which forces have adopted technology.
In the sci-fi movie Minority Report, set in 2054, Tom Cruise plays a detective who prevents murders being committed after acting on the warnings of three mutated humans who predict when they will happen. The reality is rather more mundane for Sgt Venus-Coppard, who scours a computer map speckled with boxes that correspond to areas measuring 150 square metres; these shift according to the time of the day and developing crime patterns. When he comes on duty, he and his fellow officers are expected, when they are able, to spend 15 minutes inside the boxed areas.
The boxes are the result of analysts having tapped in crime statistics for the past five years and then applying an algorithm developed in California to assess where crime will happen the next day. In the face of 20 per cent budget cuts, it allows the force to focus its officers more effectively and "get the biggest bang for your buck", says Detective Chief Superintendent Jon Sutton, who is in charge of the project. The annual cost of £130,000 is the equivalent of a six-week undercover operation with 30 officers; and that, says the officer, is good value for money.
The police federation, which represents the majority of officers in England and Wales, said the technology was reliant on putting the right resources in the right place at the right time. "We've already experienced 20 per cent cuts to the policing budget with a further 4.9% to come. You can have the best technology in place but this falls flat if there are insufficient resources to complement it," said vice chairman Steve White.
It also relies on accurate crime statistics from a force that was criticised in June after inspectors found that one in 10 crimes had been wrongly recorded.
"The only information going into the analysis is information on reported crimes: where they occur, when they occur and what type of crime," said Jeff Brantingham, an anthropologist and co-founder of PredPol in the US.
"Violent crime is often portrayed on movies and television as random acts driven by the passion of the moment, but there's a lot more structure to it than people think.
"People go to certain pubs because they know they are going to get into scraps and the pub won't discourage that; so you end up with a cluster of assaults outside that pub at two in the morning."
Computer mapping is nothing new, but the program being used in Kent introduces the variable of human behaviour to give an indication of where the career burglar will strike next. The algorithm includes the burglar's inclination not to stray too far from home and, once he has identified rich pickings, to return in anticipation of similar success.
Early results are encouraging. Over a period of several months, officers found that the computer was 60 per cent more likely than its in-house analysts to predict where crime occurred. The adoption of predictive policing for burglaries, assaults and car crime has allowed analysts to focus on targeting individuals.
The head of analysis at Kent, Mark Johnson, said the system had provided surprising successes. One officer who was due to visit a victim of motorbike theft arrived early for the appointment and went to the nearby "box" for 15 minutes. He ended up spotting the stolen bike and arresting two people. Fire crews and community officers are also encouraged to drop in to the boxes, with analysis suggesting it has a disruptive effect for a couple of hours.
Hence the visit to Danny. In his short tour of the area, Sgt Venus-Coppard picks up on broken windows, and encourages people to take their rubbish inside. He finally stops for a chat with Simon Haslett, 43, who has fitted a CCTV camera outside his home because of repeated acts of vandalism on his car. The street is a multicultural mix and tensions are running high after a series of fights on previous nights.
Mr Haslett is fed up and is moving himself and his family away from life inside the box. "I wouldn't recommend anyone living here," he says.
Register for free to continue reading
Registration is a free and easy way to support our truly independent journalism
By registering, you will also enjoy limited access to Premium articles, exclusive newsletters, commenting, and virtual events with our leading journalists
Already have an account? sign in