The world according to Rupert Murdoch
The elderly magnate's evidence – given under oath – was notable for some deadpan statements that some might find surprising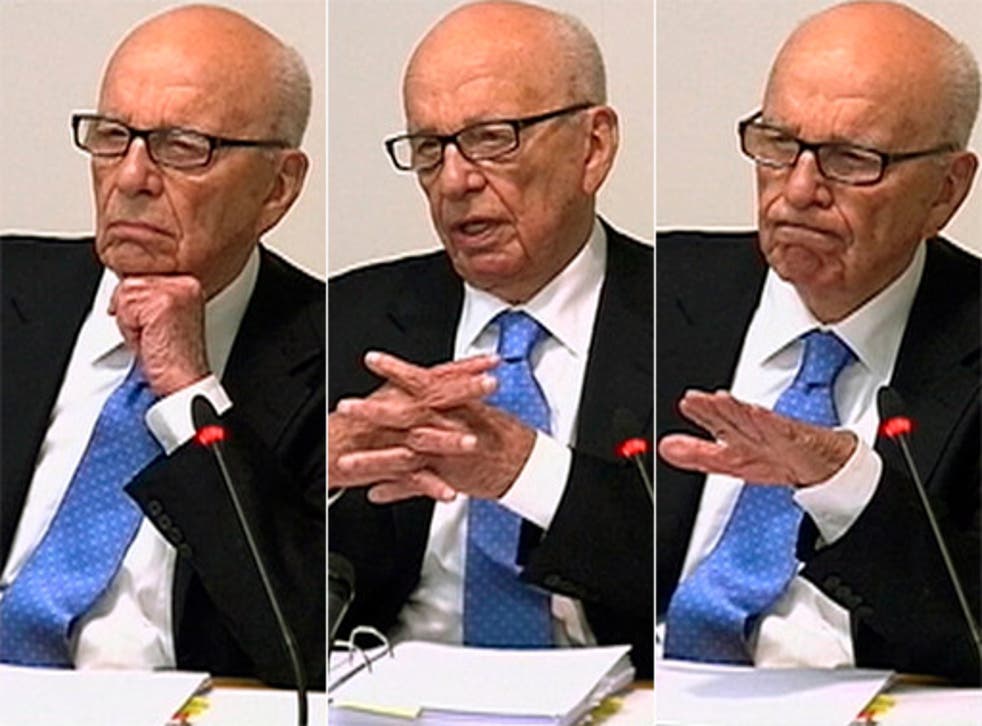 "I never gave instruction to the editor of The Times or Sunday Times"
There is a difference between telling editors what to do and hiring editors who know your views – and follow them (or indeed making them aware of your views). Andrew Neil, who edited The Sunday Times between 1983 and 1994, recalled in Full Disclosure that although the proprietor did not expect to see his views repeated immediately in the next paper "he had a quiet, remorseless, sometimes threatening way of laying down the parameters within which you were expected to operate... stray too far too often from his general outlook and you will be looking for a new job."
The former Times and Sunday Times editor Harold Evans said that Murdoch broke all of his promises of editorial independence after taking over titles.
"We have never pushed our commercial interests in our newspapers"
An absurd lie. For years plugs for Murdoch's BSkyB network so regularly littered his papers that Private Eye began a fortnightly feature on them; 20th Century Fox films are often warmly received by his redtops; books published by HarperCollins (admittedly a major publisher) are frequently serialised in his titles.
Aside from almost uniformly backing one political party or another at general elections, arguably in News Corp's commercial interests, his newspapers also promote favourable stories and ignore embarrassing ones: The Times took an unusually close interest in the misdeeds, indiscretions and affairs of the former Italian Prime Minister, Silvio Berlusconi (who owned TV stations competing with Sky Italia), but until July 2011 The Times, Sunday Times, Sun and News of the World wrote very little about the phone-hacking scandal.
"I have never asked a Prime Minister for anything"
Margaret Thatcher and Tony Blair remain on good terms with Murdoch and have not said that he demanded anything. However, they were both supported by Murdoch and they both did him favours. After Tony Blair cosied up to Murdoch by flying to a News Corp conference in Australia in 1995, Blair implicitly acknowledged the tycoon's menace, telling Piers Morgan: "It is better to be riding the tiger's back than let it rip your throat out." Blair's successor, Gordon Brown, claimed that News Corp had set out a series of demands to his government, including cutting the budget of the BBC, reducing Ofcom's powers and protecting BSkyB's rights to screen live sport. Brown – who said he resisted the demands – lost the support of Murdoch's newspapers at the 2010 general election. David Cameron – who won the endorsement – subsequently backed News Corp's controversial plan to take over all of BSkyB. Emails now released to the Leveson Inquiry indicate that the Government actively helped Murdoch to land the deal.
Murdoch disputes that all 175 of his newspapers worldwide backed the Iraq War
Robert Jay QC: "The March 2003 Gulf War, all 175 papers around the world which you owned backed the war, didn't they?"
Murdoch: "I don't own 475."
Jay: "175."
Murdoch: "Well, it would include a lot of little suburban papers, free sheets and things, which wouldn't have had a view, but yes, we did support the war, as did most papers, including even The New York Times."
At the World Economic Forum at Davos in 2007, Murdoch made no secret of the fact that, through his newspapers, he had been seeking to shape global public opinion in favour the war. "We tried," he said. "We basically supported – our papers – supported the [President George] Bush policy. We've been very critical of its execution, but our support hasn't meant very much because public opinion now has grown very tired of the whole enterprise."
Why mogul supported Alex Salmond
Rupert Murdoch said that he had a "warm relationship" with Alex Salmond, Scotland's First Minister
He described Mr Salmond as "an amusing guy" and said: "I enjoy his company - I enjoy talking with him or listening to him."
Mr Murdoch's Sun newspaper backed Mr Salmond's Scottish National Party at last year's Holyrood elections.
At the Leveson Inquiry yesterday, an email from a senior figure at News Corp suggested Mr Salmond would call the Culture Secretary Jeremy Hunt "whenever we need him to" while Mr Hunt was deciding whether News Corp should be allowed to take over BSkyB.
Labour, Conservative and Liberal Democrat leaders in Scotland called for Mr Salmond to explain his behaviour to MSPs.
In a statement Mr Salmond denied any wrong-doing and described the suggestion he would contact Mr Hunt as "email tittle-tattle".
Martin Hickman is co-author of 'Dial M for Murdoch: News Corporation and the Corruption of Britain'
Register for free to continue reading
Registration is a free and easy way to support our truly independent journalism
By registering, you will also enjoy limited access to Premium articles, exclusive newsletters, commenting, and virtual events with our leading journalists
Already have an account? sign in