Theresa May outlines ransom ban amid new measures to prevent UK attack as threat of violence on streets from 'lone wolves' looms
Scotland Yard is launching a major awareness campaign as part of counter-terrorist measures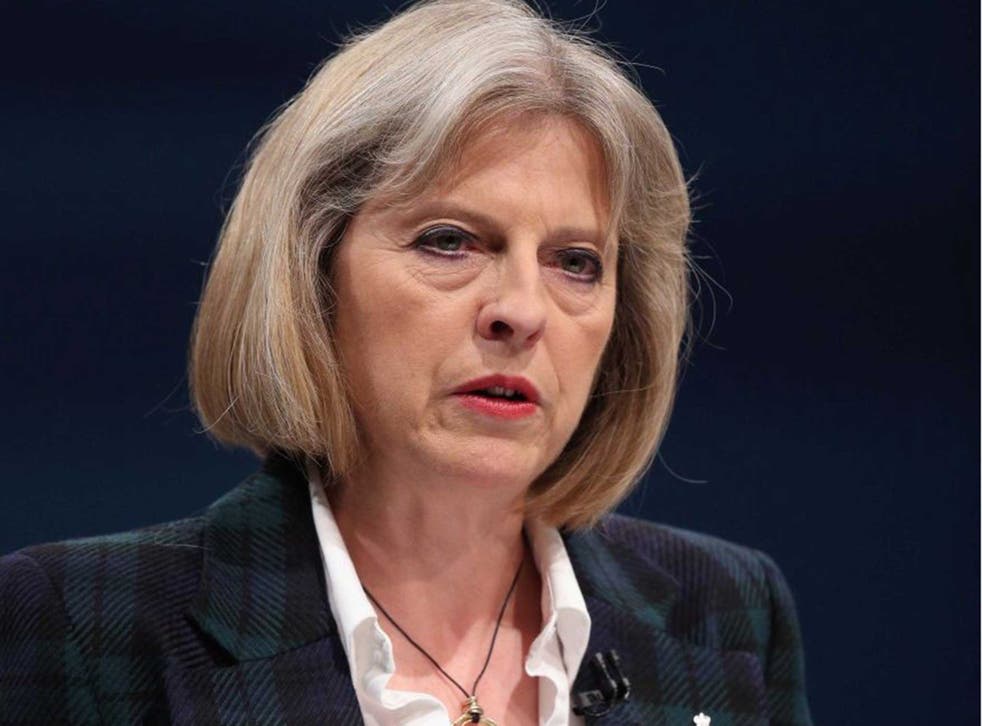 Britain is facing a terrorist threat "greater than it has been at any time before or after 9/11", Theresa May has warned, ahead of a major speech on Monday outlining a number of new anti-terrorist measures including a ban on ransom payments.
In an interview with The Telegraph, the Home Secretary said the menace posed by Isis (also known as Islamic State) to the UK is greater than any other terrorist threat in its history, adding weight to her comments on Sunday that terrorist groups are "more diverse" than the public may be aware of, adding that there is a real threat from "violent individuals" and "lone wolves".
The Home Secretary said the Counter-Terrorism and Security Bill, being introduced to Parliament this week, will make it clear it is an offence for insurance companies to foot the cost of terrorist ransoms that have been paid by companies or family members and then claimed back.
The new legislation, which the Home Secretary hopes to fast-track through Parliament, will include measures that allow the cancellation of overseas suspects' passports, allowing the Government to control their potential return to the UK, and changes to Terrorist Prevention and Investigation Measures, allowing authorities to force suspects to move to other parts of the country.
The Home Secretary will address a counter-terrorism event in London later today, and is expected to say: "Our position is clear, ransom payments to terrorists are illegal under international law.
"Agreeing to meet the demands of barbaric groups like Isis would only put many more lives at risk. These measures will ensure the UK remains at the forefront of global efforts to put an end to the practice."
Isis (also known as Islamic State) and terrorist groups linked to it, have been using kidnappings as a lucrative way to raise funds, with the UN estimating this method has brought in revenues of over £28 million in the past year alone.
Today marks the start of a week-long awareness campaign led by Scotland Yard Commissioner Sir Bernard Hogan-Howe, called 'Prevent' in which officers up and down the country will be briefing more than 6,000 people at 80 venues including schools, universities, airports, shopping centres, cinemas and farms in a bid to engage the public and businesses in preventing attacks.
Sir Hogan-Howe kicked off the campaign by disclosing that "four or five" plots have foiled this year.
But when speaking on the BBC's Andrew Marr on Sunday, Sir Hogan-Howe made it clear there was a growing concern about the risk of a "lone wolf" attack in the UK, adding that the heightened tempo was putting "pressure" on resources.
Metropolitan Police Assistant Commissioner Mark Rowley, the national policing lead for counter terrorism, will say on Monday: "So far this year, we have disrupted several attack plots on made 271 arrests following counter-terrorism investigations but the eyes and ears of law enforcement and other agencies alone cannot combat the threat."
He said the threat posed by violent extremists had "evolved", adding: "They are no longer a problem solely stemming from countries like Iraq and Afghanistan, far away in the minds of the public.
"Now, they are home grown, in our communities, radicalised by images and messages they read on social media and prepared to kill for their cause. The tragic murder of Lee Rigby last year was a stark warning to us all about how real and local the threat is."
"Not everybody is affiliated to a particular group, some are self-starting groups and you do have individuals, perhaps the 'lone wolves' or the volatile individuals, so we have to look across the board at all sorts of threats that are out there," she said.
Additional reporting by PA
Register for free to continue reading
Registration is a free and easy way to support our truly independent journalism
By registering, you will also enjoy limited access to Premium articles, exclusive newsletters, commenting, and virtual events with our leading journalists
Already have an account? sign in