Thieves blow up Post Office shop front and steal ATM machine
A family living in a flat above narrowly escaped harm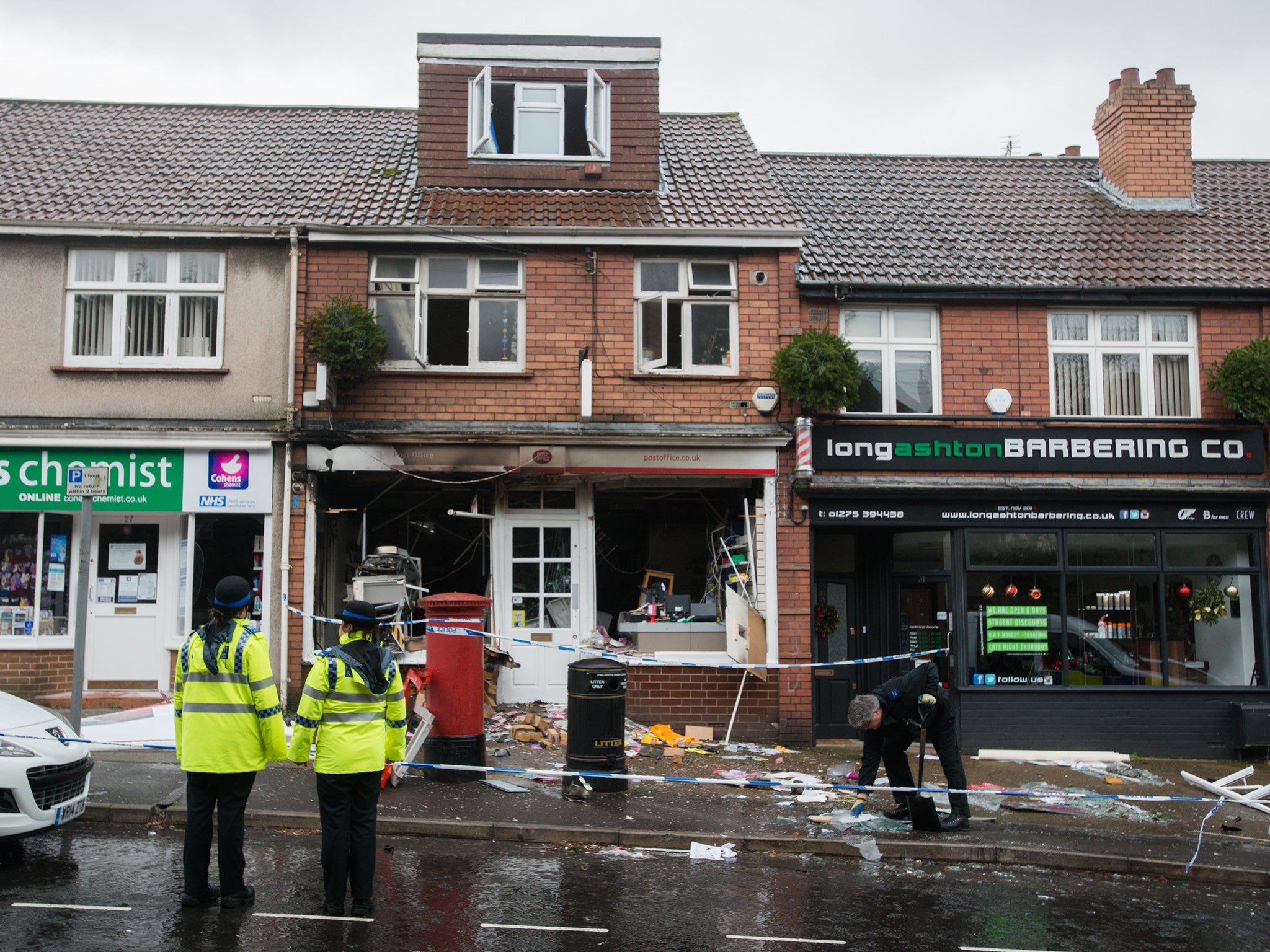 When Post Office owners David Andrews and Andrew Crabb booked their New Year holiday abroad, it was just reward for another year's hard work at the heart of their community.
Although they were away from their branch in Long Ashton, near Bristol, over the holiday season locals could still make withdrawals from the external cash machine.
Now not only is the ATM gone, but along with it the entire shop front after a callous hole-in-the-wall gang blew up the building in the early hours of Monday morning, stealing money and leaving a trail of destruction.
A family living in a flat above narrowly escaped harm as villagers described the audacious attack as "shocking", "insane" and "a hideous act".
It was the latest in a long line of similar raids in and around Bristol. More than a dozen have occurred in the last year and although forces do not comment on criminal tactics, police sources told the Independent the Bristol attacks have involved using gas canisters to blow off the faces of the ATMs. The modus operandi bears all the hallmarks of a notorious hole-in-the-wall gang from Merseyside as officials investigate whether the two are connected.
Seven of nine members of the Merseyside gang were jailed for 114 years in 2014. They had struck 31 bank and supermarket ATMs across England between March and October the previous year stealing nearly £800,000, but two suspects avoided capture. One man, Andrew White, fled to the continent and was among six Brits arrested on the Costa del Sol in 2014, having continued to blow up ATMs in Spain.
Merseyside police have said that all ATM charges against White were dropped last month and that, Adam Murphy, 30, from Liverpool, remains at large with a warrant out for his arrest.
The gang's tactics, only seen before in mainland Europe, involved forcing open the machine with a crowbar and inserting a pipe with a mixture of gases which was then ignited with a flame – often matches taped to a wire – to cause the explosion.
The Bristol hole-in-the-wall gang's tactics are not the only aspect linking them to Merseyside's. Two of the five men arrested by Avon and Somerset police this week over the Post Office ATM attack, on suspicion of causing an explosion with intent to endanger life, are from Southport, 20 miles north of Liverpool, and in their early 20s. The remaining three are from Bristol and all five have been bailed to return.
Police in Scotland have also been scratching their heads over a spate of hole-in-the-wall attacks across the country over the last 12 months. Tens of thousands of pounds have been stolen from rural cash machines after thieves also used gas canisters to blow off ATM facings.
The attacks in Scotland, on supermarkets, post offices and corner shops, have been highly organised and nearly always occur in the early hours of the morning. In one of the worst incidents more than £50,000 was stolen from an ATM in Abbeygreen, Lanarkshire. Police have spoken to counterparts in England to ascertain whether they might be chasing the same people.
Two more attacks occurred in Scotland this week – although they seemed to be a case of sheer opportunism as thieves took advantage of the recent serious flooding in Perth to make off with a sum of money from a bank machine. A filing station in the same town was hit overnight on 7 January. Police Scotland has appealed for information and is still confirming whether both incidents are connected.
Figures from the British Banking Association (BBA) show there were 451 "physical attacks" on ATMs last year – a rise from 400 in 2014, although still down from a recent peak of 773 in 2005.
The frequency of the attacks has also coincided with a surge in ATM usage. LINK, the UK's ATM network, announced in November a record number of monthly cash machine withdrawals were made the previous month – more than 183 million withdrawals worth £11.2 billion, an average of over 4,000 every minute and greater than in any other month since the cash machine first appeared on UK high streets in June 1967. That followed an announcement in July that the number of ATMs in the UK passed 70,000 for the first time.
Hole-in-the-wall gangs have taken over from the old fashioned bank robber as robberies in British banks have fallen by more than 90 per cent in less than two decades. The BBA said there were just 66 such robberies in 2011, down from 847 in 1992. None of this will be much comfort to the small business owners who keep being targeted.
Back in Bristol, David and Andrew said all the support they have received this week has made them even stronger and determined to reopen and serve the community once more. They updated the branch Facebook profile picture to a variant of the famous British government motivational poster from 1939, which read: "Keep Calm and we'll be back soon."
The worrying thing for ATM owners around the country is - so might the hole-in-the-wall gang.