TikTok influencer and her mother to be sentenced for double murder
Mahek and Ansreen Bukhari, along with two others, will be sentenced for murder, while three other defendants will be sentenced for manslaughter.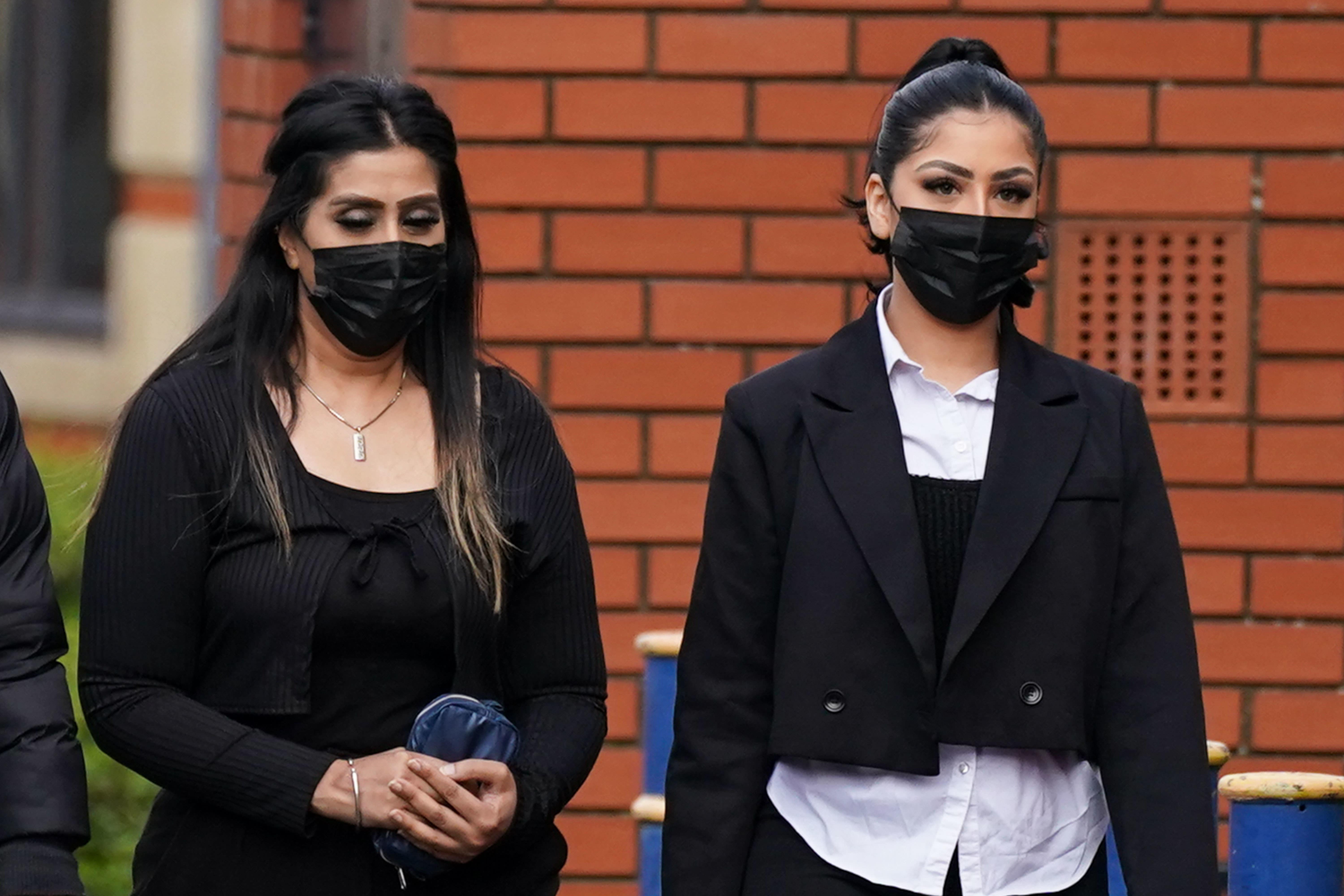 A social media influencer and her mother will be sentenced for ambushing and then murdering two men during a high-speed car chase.
Saqib Hussain and Mohammed Hashim Ijazuddin died when their car left the A46 dual carriageway near Leicester on February 11 2022, with prosecutors saying during a three-month trial at Leicester Crown Court that they were deliberately rammed off the road.
Jurors deliberated for more than 28 hours before returning a verdict finding YouTube and TikTok content creator Mahek Bukhari, 24, and her mother Ansreen Bukhari, 46, guilty of two counts of murder last month.
Fellow defendants Rekhan Karwan, 29, and Raees Jamal, 23, were also found guilty of two counts of murder – while Natasha Akhtar, 23, Ameer Jamal, 28, and Sanaf Gulamustafa, 23, were all found not guilty of murder, but guilty of two counts of manslaughter.
Mahek sobbed in the dock as the defendants were all remanded in custody to be sentenced at the same court.
Another defendant, Mohammed Patel, was found not guilty of murder or manslaughter.
The victims, both 21 and from Banbury in Oxfordshire, were in a Skoda chased by Audi and Seat vehicles containing the eight defendants.
Mahek was said to have taken part in the ambush after Mr Hussain threatened to use sexually explicit material to expose a long-running affair he had with her mother Ansreen.
The court was told Mr Ijazuddin's Skoda Fabia "split in two" and caught fire after hitting a tree at the Six Hills junction in the early hours of February 11 last year.
Mahek Bukhari and her mother, both of George Eardley Close, Tunstall, Stoke-on-Trent, had denied two counts of murder.
Prosecutors said Mr Hussain was "lured" into meeting with the Bukharis in the Tesco car park in Hamilton, Leicester, on the pretence of giving him back the £3,000 he said he had spent on taking his lover out during their tryst.
But Ansreen and Mahek arrived at the arranged meet-up along with the six others in two vehicles, an Audi TT and a Seat Leon.
Mr Hussain then arrived at the car park in a Skoda Fabia, being driven by his friend Mr Ijuzaddin, who had said he would take him as a "favour".
CCTV footage showed the Skoda Fabia arrive in the car park and then immediately leave, with the Audi TT and Seat Leon following the Skoda out of the car park two minutes later.
The cars then ultimately ended up in a chase, with analysis by forensic collision investigators showing the Audi had reached speeds of up to 100mph.
The speed of the Skoda at the time of the crash, which was not captured on CCTV, was estimated at being in excess of 80mph.
In a 999 call to police made by front-seat passenger Mr Hussain moments before his death, he said their car was being "rammed off the road" by balaclava-wearing assailants in two pursuing cars.
After they were found guilty, senior investigating officer in the case Detective Inspector Mark Parish, from Leicestershire Police, said it was a "callous and cold-blooded attack".