Right-wing radio host Tim Burton jailed for 'vile Islamophobic' trolling of anti-racism campaigner
'It was pre-meditated, it was determined, it was deeply unpleasant, and it was part of a campaign by you and your associates to tar all Muslims as Islamists'
Greg Wilford
Inner London Crown Court
Friday 28 April 2017 11:45 BST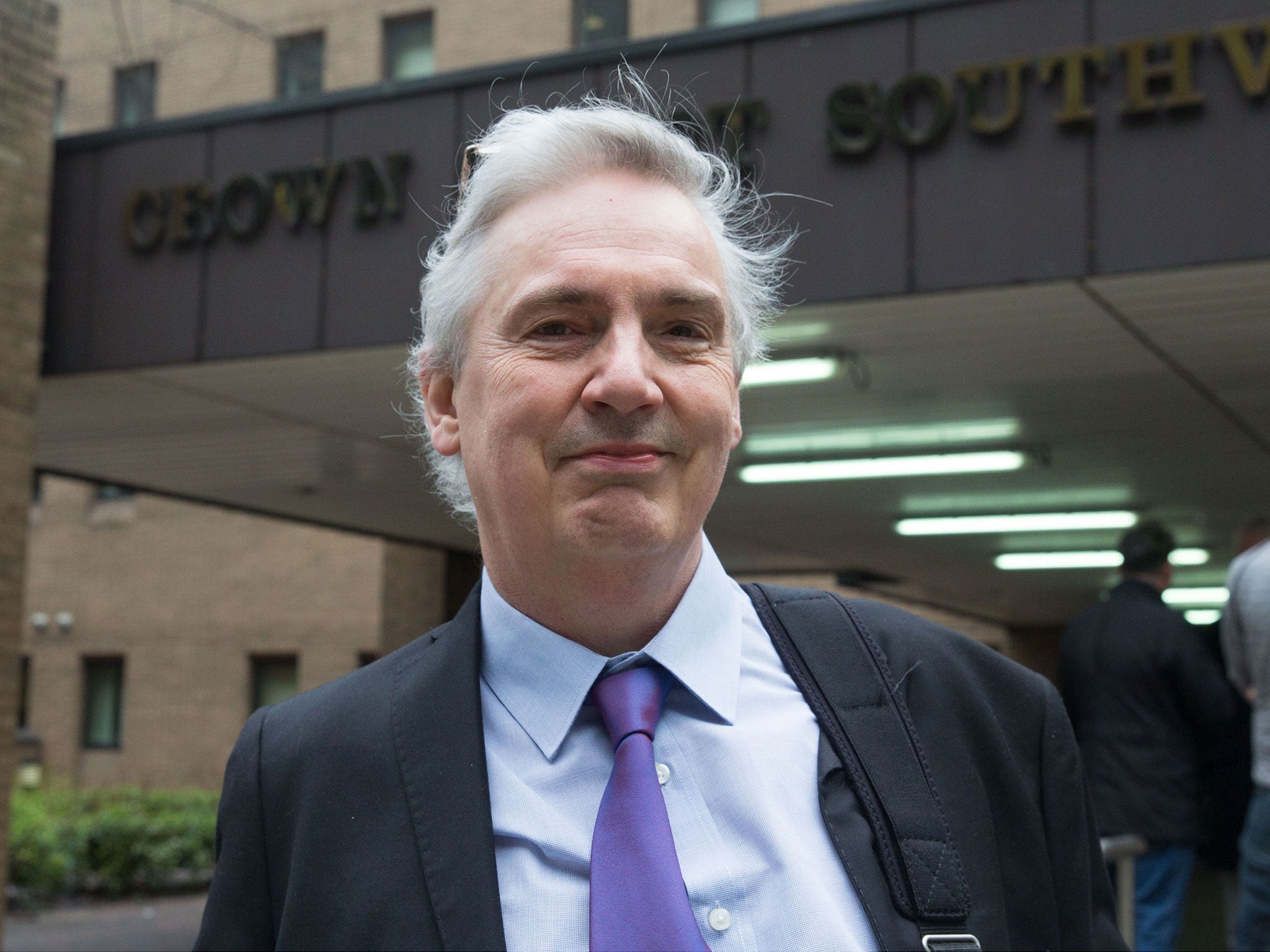 A right-wing radio host who trolled an anti-hate crime campaigner with "Islamophobic" tweets and emails has been jailed for 12 weeks.
Timothy Burton, 64, branded Islam a "backwards, misogynistic, seventh-century" ideology in a series of emails to Tell Mama founder Fiyaz Mughal OBE between 4 April and 26 April 2016.
Burton also sent Mr Mughal links to far-right blogs containing "vile slurs" against Muslims including a petition called "renounce, reform, or get the hell out of my country".
The radio presenter for the anti-immigration group Liberty GB was convicted of one count of religiously aggravated harassment in March following a week-long trial at Southwark Crown Court.
Burton, who says he has resigned from the group following his conviction, had denied the charge and claimed he was exercising his right to free speech.
He said he insulted Mr Mughal after reading articles suggesting Tell Mama had exaggerated figures about anti-Muslim incidents.
Mr Mughal said in a statement: "The defendant's actions have led to endless nights of anxiety and fear and a sense of being targeted to my core."
Judge Alex Gordon said Burton had been on a campaign to tar all Muslims as violent extremists as he jailed him for 12 weeks at Inner London Crown Court on Friday.
He said: "The defendant was found guilty by jury following a trial in March of religiously aggravated harassment.
"He sent a series of grossly offensive emails to Tell Mama with the obvious intention that they would be, as they were, received by Mr Mughal.
"Not only were these emails offensive, they provided links to deeply offensive material involving a petition called 'renounce, reform, of get the hell out of my country'.
"He also linked to articles with vile slurs to Mr Mughal.
"He was broadcasting the harassment to the world."
The judge said the emails "continued after the defendant was asked to stop sending them, and after it was threatened that he would be reported to the police".
He continued: "It was obvious that these emails were designed, carefully designed to harass Mr Mughal by causing him distress.
"Your extreme antipathy towards Muslims is what led you to harass Mr Mughal.
"You are seemingly incapable of distinguishing between Muslims and violent Islamists. Your offending behaviour was obviously motivated by a religious hostility and aggravated the harassment.
"You were at the time, [though you have] apparently now resigned, a member of a group Liberty GB which promotes antipathy based on religious adherence.
"It was pre-meditated, it was determined, it was deeply unpleasant, and it was part of a campaign by you and your associates to tar all Muslims as Islamists."
Judge Gordon accepted that Burton had "expressed some limited remorse".
Burton was previously cleared of racially aggravated harassment in 2014 after calling Mr Mughal a "mendacious grievance-mongering taqqiya artist" and a "Muslim scumbag" on Twitter.
He told him Liberty GB members "raised a glass in your honour, and toasted you with a bacon sandwich" in an email referencing the second anniversary of his acquittal on 26 April 2016.
Jurors were told the obscure theological term "taqqiya" provides persecuted Shia Muslims with an option to deny their faith "if their life is at stake".
Mr Mughal said far-right extremists use the term to "blacken all Muslims".
He told the trial: "Within far-right circles they say don't trust Muslims because 'taqqiya' means they will lie – one to spread Islam, two to take over the state by insidious means, and three to promote Sharia."
Judge Gordon jailed Burton for 12 weeks and imposed a restraining order barring him from contacting Fiyaz Mughal, Faith Matters, Tell Mama, or any employee of those groups.
He added: "A breach of that order is quite rightly taken by the courts as an extremely important matter and may well result in a custodial sentence."