Tommy Robinson's former employer will not face police action over filming inside Old Bailey
Ezra Levant, the Canadian founder of Rebel Media, filmed from inside the court in September 
Lizzie Dearden
Home Affairs Correspondent
Wednesday 07 November 2018 16:36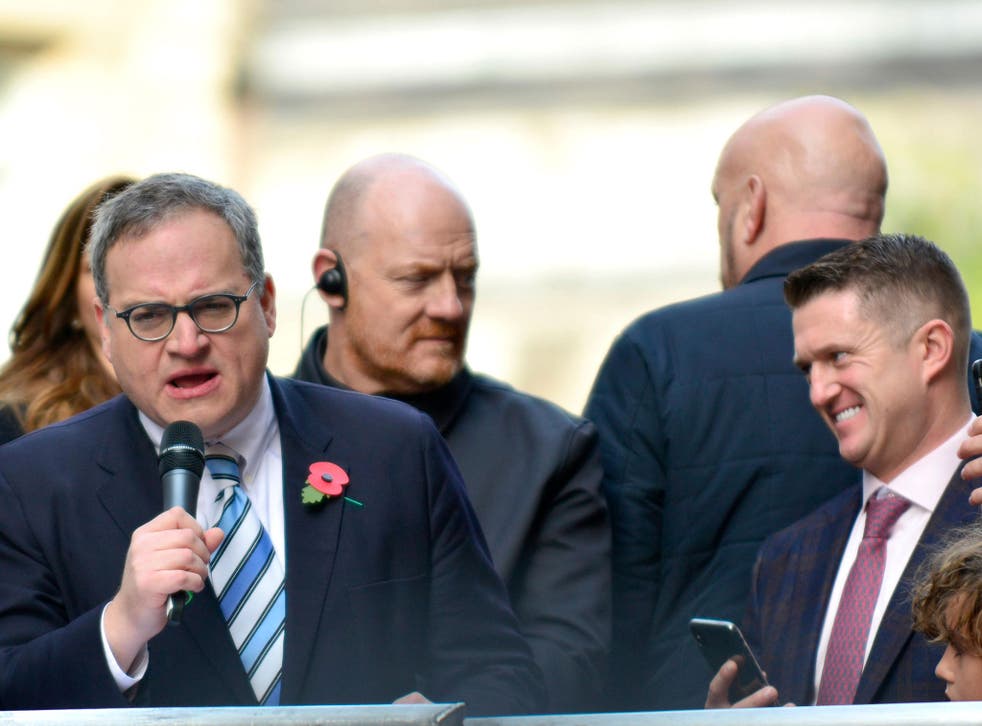 A key supporter of Tommy Robinson will not be pursued for filming from inside the Old Bailey during the far-right figurehead's contempt of court case, police have said.
Canadian Ezra Levant, who formerly employed Robinson for his Rebel Media website, posted footage on social media showing him going to a court window to look at a crowd of supporters protesting outside a hearing in September.
The same clip was later shared on the English Defence League founder's official Facebook page and watched hundreds of thousands of times.
It is illegal to take photographs or film inside courts in England and Wales and Robinson, whose real name is Stephen Yaxley-Lennon, was convicted of breaking the same law last year.
City of London Police launched an investigation into whether Mr Levant had committed any offences but a spokesperson told The Independent that they had "concluded no further action will be taken in relation to a video posted to social media on 27 September from inside the Central Criminal Court [Old Bailey].
They added: "The tweet we were investigating has been taken down and no further filming occurred within the courthouse during a related hearing in October. We would also take this opportunity to remind anyone seeking to take videos or photos within any court to check with court staff before doing so."
Tommy Robinson addresses supporters outside court after case referred to Attorney General
Mr Levant raised funds for Robinson's legal costs after he was jailed at Leeds Crown Court in May and asked supporters for more money for him to travel London to "report" on the continuing case.
Robinson left Rebel Media in February and uses money donated by supporters to produce his own videos.
The 35-year-old was originally jailed for 13 months over a Facebook Live video he broadcast from outside the city's crown court in May, which allegedly violated blanket reporting restrictions on three linked grooming trials.
Lawyers for the defendants applied for the jury in the second trial to be discharged over Robinson's video.
The attempt would have caused the trial to be reheard at a cost of hundreds of thousands of pounds, but a judge refused the application.
Tommy Robinson supporters protest outside the Old Bailey

Show all 16
The reporting restrictions were lifted last month, and 20 men have been jailed for 257 years for abusing girls in Huddersfield.
Robinson was also accused of breaching the conditions of a three-month suspended sentence he was handed for a separate contempt offence in Canterbury in 2017, where he attempted to film defendants in a gang-rape trial.
The Court of Appeal freed Robinson in August after finding that procedural failings by the judge who jailed him at Leeds Crown Court "gave rise to unfairness".
They ordered a rehearing, saying the "alleged contempt was serious and the sentence might be longer than that already served".
An Old Bailey judge has referred the matter to the attorney general to decide how to proceed, and lifted Robinson's bail conditions earlier this week.
A spokesperson for the attorney general's office said: "A law officer will consider all material afresh, and make a decision whether or not to refer Stephen Yaxley-Lennon to the high court for contempt."
Contempt of court laws aim to ensure fair trials in Britain by preventing juries from being swayed by information from outside the hearing, and the laws apply to all forms of online and offline publications.
The offences are covered by a "strict liability rule", meaning that intent and knowledge of committing them are not necessary for a conviction, nor is proof that a jury was prejudiced.
Register for free to continue reading
Registration is a free and easy way to support our truly independent journalism
By registering, you will also enjoy limited access to Premium articles, exclusive newsletters, commenting, and virtual events with our leading journalists
Already have an account? sign in