Finsbury Park terror suspect Darren Osborne read messages from Tommy Robinson days before attack, court hears
Prosecutors say Britain First deputy leader Jayda Fransen also sent message to Darren Osborne
Lizzie Dearden
Home Affairs Correspondent
Tuesday 23 January 2018 15:21 GMT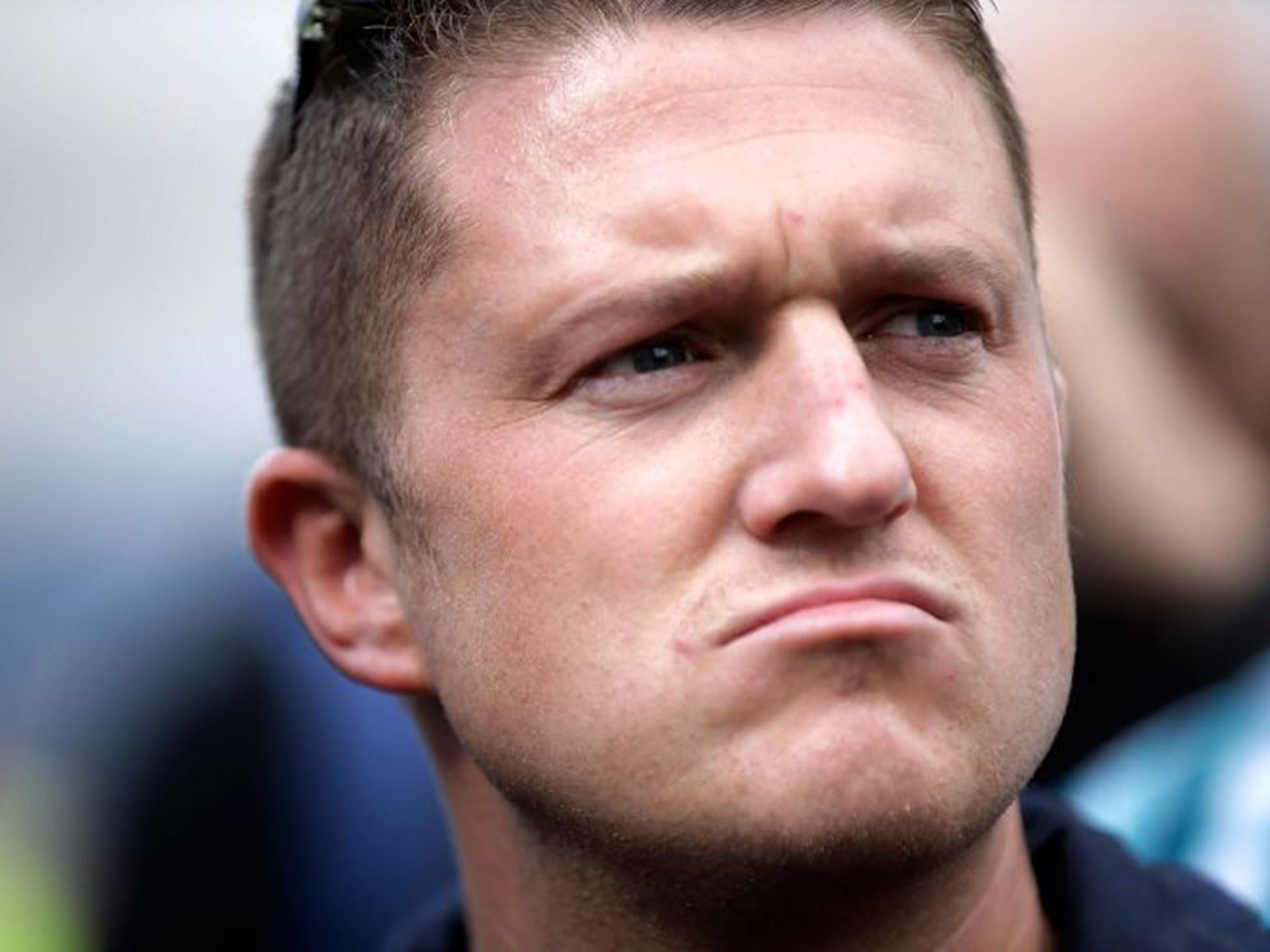 The alleged Finsbury Park terror attacker read messages from Tommy Robinson and Jayda Fransen in the lead-up to the atrocity, a court has heard.
Prosecutors told Woolwich Crown Court that Darren Osborne was overheard telling drinkers at a pub in Cardiff that he was a "soldier" and claiming "all Muslims are terrorists" the night before the attack.
He denies running a hired van into crowds of Muslim worshippers shortly after 12.15am on 19 June last year, killing 51-year-old Makram Ali and injuring nine other victims.
Mr Osborne joined Twitter on 3 June and started following far-right accounts, including some linked to the far-right extremist group Britain First.
Prosecutor Jonathan Rees QC said he received a "direct message" from Ms Fransen, the group's deputy leader, on the same day but did not detail its contents.
"Hot on the heels of receiving that message on Twitter from Jayda Fransen there's the London Bridge attack," he added.
In the hours after that attack, Mr Osborne allegedly searched for more information on Ms Fransen, read her tweets and researched the reported killing of Christians in the Philippines.
The following week, he received an email from Mr Robinson, the former English Defence League leader, whose real name is Stephen Yaxley-Lennon, the court heard.
Discussing the Isis-linked terror attack that killed 22 people in Manchester the previous month, it said: "What Salman Abedi did is not the beginning, and it won't be the end.
"There is a nation within a nation forming just beneath the surface of the UK. It is a nation built on hatred, on violence and on Islam."
Mr Robinson's message, which was identical to that sent to other supporters signed up to The Rebel website, made allegations against Abedi's local mosque before adding: "It has now been left to us, the ordinary people of the United Kingdom, to stand up to hate, to unite and in one voice say 'no more'."
The message was canvassing support for a march planned for 11 June in Manchester, where Mr Robinson said his supporters would "make ourselves impossible to ignore", jurors were told.
Mr Osborne sat impassive in the dock as the evidence, obtained from Metropolitan Police analysis of two iPhones and an iPad found at his family home, was read to the court.
The second email from Mr Robinson to Mr Osborne came on 14 June and detailed the campaign for a woman whose rapists were not prosecuted, jurors were told.
"Dear Darren, you know about the terrible crimes committed against [name redacted] of Sunderland," it read. "Police let the suspects go… why? It is because the suspects are refugees from Syria and Iraq?
"It's a national outrage… I know you will be there for her and together, we'll get her the justice she and her family have been denied."
Finsbury Park attack
Show all 14
Mr Osborne allegedly screengrabbed both emails from Mr Robinson, and read his tweets, including one mocking people for responding to terror attacks with the phrase "don't look back in anger", which was later included in the note found at the scene of the attack.
The court heard he also conducted numerous searches around grooming gangs, the murder of Lee Rigby, terror attacks, Sadiq Khan, Jeremy Corbyn, Lily Allen, bringing back the death penalty and debunked footage that claimed to show Muslims celebrating terror attacks in London.
A local van hire firm where Mr Osborne is alleged to have rented the vehicle used in the attack said there appeared to be nothing unusual about the transaction and that the defendant, arriving to pick up the van alone, was "polite and well-mannered".
But drinkers who met Mr Osborne at The Hollybush pub in Cardiff on the evening of 17 June – little over 24 hours before the attack – described him as "mentally agitated and disturbed".
Sarah Jenkins, a part-time barmaid, said the defendant asked her for a pen while ordering his first pint because he "wanted to write a letter to Parliament".
"The writing was very scruffy, as if it had been written with passion," said a statement read to the court.
When Mr Osborne came to the bar later, he allegedly said: "There is a lot of raping and pillaging out there."
Another barman, Angelo Lamberti, described him as "very strange" but said he felt nothing was untoward until Mr Osborne started talking about the upcoming al-Quds Day pro-Palestinian march to be held in London.
"He said Muslims were going to March in London tomorrow… 'all the Muslims are getting together and marching for Isis'," said a statement read to the court.
Mr Lamberti later overheard a conversation between Mr Osborne and a British Army soldier.
The barman said the defendant claimed he was also a soldier but when asked what regiment he was in, replied: "You'll find out tomorrow."
He said he "immediately recognised" Mr Osborne in coverage of the Finsbury Park attack, adding: "I wish I had done more at the time… I wish I had called the police."
Callum Spencer, a Royal Engineers soldier, said he had overheard Mr Osborne mention the word "terrorists" as he went to the bar to get a drink and challenged his claim of being a fellow soldier.
"He was mumbling but I heard him say, 'I'm going to kill Muslims, your family are going to be Muslims, they're all terrorists and I'm going to take it into my own hands'," Mr Spencer told the jury.
Witnesses described Mr Osborne "getting aggressive" after he was challenged to recite the phonetic alphabet to prove he was a soldier, incorrectly claiming the letter B was "bacon", A was "Andy" and H was "house".
Andrew Parker, the pub landlord, who later asked Mr Osborne to leave, told the court he also overheard him insulting Mr Corbyn and "making comments like 'no one is doing anything about it' and complaining that 'his brothers and sisters are dying'."
Jurors heard evidence from members of the public who met Mr Osborne as he drove around London on 18 June after driving the van from Cardiff.
A taxi driver in central London said he gave Mr Osborne directions to Grosvenor Square, where the al-Quds Day rally was being held, but police told the court roads were blockaded in a wide area around the event.
Andrew Sutherland, an architect, said he later met the defendant outside a Co-op branch in Forest Hill, south London, at around 8pm.
"He asked where the nearest mosque was located," said a statement read to the court. "I was taken aback and took a step backwards. He said: 'It's ok, I'm here for a protest'."
Mr Sutherland said the suspect appeared "very agitated" but spoke calmly and walked away after he said there were no mosques nearby.
Another man said he was approached by Mr Osborne in a lay-by shortly after 11pm, telling the court the defendant asked the way to Finsbury Park and followed him there in the van.
Later, at 11.10pm, Mr Osborne stopped at a Shell petrol station on Upper Clapton Road but his card was declined when he went to pay.
The man serving him said he handed over his driving licence to obtain a "letter of intent" to pay and promised he would return in half an hour, but never came back.
"I was shocked and surprised as this male appeared to be normal," he added.
Shortly afterwards, a couple walking through Finsbury Park said a man ran towards them with a "strange gait" and demanded to know where the "big mosque" was.
At 11.38pm, a chef waiting for a taxi was approached by Mr Osborne also asking the way to Finsbury Park Mosque. When asked why he wanted to know, Mr Osborne allegedly replied: "There's going to be some sort of protest."
Jurors were shown CCTV footage of the scene near the Muslim Welfare House minutes later, where Mr Ali collapsed and Muslim worshippers leaving prayers rushed to help him.
Mr Osborne stared straight ahead as the court was played footage of the moment the van swerved from the main road into the crowd at speed, leaving casualties scattered on the ground.
The trial continues.