More than a third of all trans people suffered hate crimes in 2017, research suggests
LGBT+ charity Stonewall warns that many do not report attacks, 'so all the data that is publicly available is likely to be the tip of the iceberg'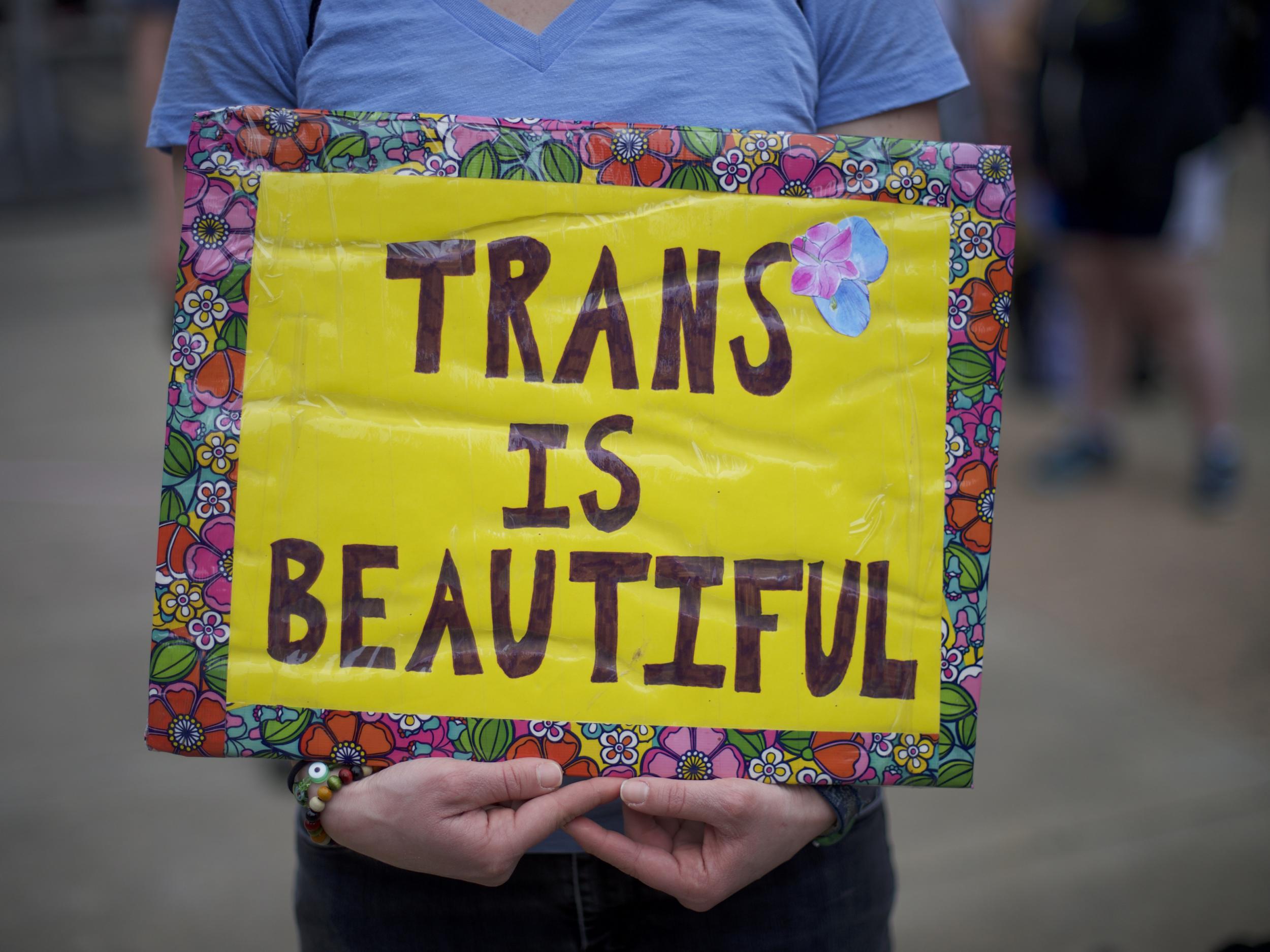 More than a third of all transgender people in the UK have been victims of a hate crime in the past 12 months, according to new research.
Campaigners believe the statistics could be the "tip of the iceberg" with the majority of victims not feeling safe in reporting their experiences to the authorities.
LGBT charity Stonewall is now calling for a full review into hate crime legislation saying that it falls behind on trans and other LGBT issues.
The Home Office, Crown Prosecution Service and police forces across the country are also being called upon to do more to support trans victims and bring perpetrators to justice.
Stonewall says two in five (41 per cent) of trans people have experienced a hate crime because of their gender identity in the past 12 months, with that figure shooting up to 53 per cent for young trans people aged between 18 and 24.
The new research conducted by YouGov on behalf of the charity, also found that four in five (79 per cent) of trans people did not report their crimes due to a perceived lack of support or fear of further discrimination.
Trans people are twice as likely to be victim of a hate crime than other members of the LGBT community, with Stonewall reporting that one in five LGBT people overall have experienced a hate crime in the past year.
Figures also show that the volume of transphobic hate crime referrals from the police decreased by 11 per cent from 98 in 2015-2016 to 87 in 2016-2017.
Charlie Craggs, a leading trans activist, author and founder of the Nail Transphobia group, told The Independent she had "lost count" of the number of times she and her trans friends had experienced a hate crime but not reported it.
"There's no much faith in the police within our community," she said. "They have a history of transphobia and having to go to a police station and be misgendered, judged or treated like you brought this on yourself is the last thing you feel like doing. It's not like much is going to happen to the person who did attack you, anyway."
Ms Craggs, who said she had been verbally abused, attacked and sexually assaulted in the street, added that she thought the right wing media was to blame for alarming number of hate crimes against the trans community.
"The press has blood on their hands," said the 25-year-old. "Every week there's a new front page headline telling people to hate us and be scared of us. These journalists and editors are literally making people hate us, and then there's this big shock when hate crime goes up against us. Do the maths."
The National Police Chief's Council (NPCC) told The Independent it was working with partners to develop a new national hate crime training programme for frontline officers and call handlers, which would include transgender issues.
"Traditionally, transphobic hate crimes have been significantly under-reported but we are working closely with trans groups to build confidence and trust in the police," said Assistant Chief Constable Julie Cooke, the NPCC's lead for LGBT issues.
"However, there's always more that can be done. Better knowledge is key as we continue to challenge hate and reduce the harm it causes."
Stonewall's research also found that almost half (48 per cent) of trans people were scared to use public toilets, one in eight (12 per cent) had been physically attacked by a colleague or customer at work.
More than a quarter (28 per cent) of trans people in a relationship had faced domestic abuse from their partner in the last year.
"Our research lays bare the deeply worrying levels of transphobia and transphobia hate crimes and incidents in Britain today," Tom Morrison, Stonewall's policy officer, told The Independent. "Even worse, trans people very often don't report when they have been attacked, so all the data that is publicly available is likely to be the tip of the iceberg.
"Many trans and non-binary people don't come forward to the police for a range of reasons from fear of discrimination to a lack of trust that their case will not be taken seriously. Still, we welcome the proportion of successfully completed prosecutions with announced tougher sentencing for transphobic hate crimes, which was 52.2 per cent in 2016-2017 an increase from 35.3 per cent the previous year."
Thousands march against Donald Trump in LGBT rights parade
Show all 8
However, 44 per cent of trans people said they would avoid certain streets because they did not feel safe walking down them as a trans person.
"I'd say a Hail Mary every day before I lefty the house in the early days of my transition because I was getting so much abuse in public," Ms Craggs said.
"People think that just because Caitlyn Jenner's been on the front cover of Vanity Fair everything's cool now, but though the public's understanding has improved and there's more positive representation and general acceptance of trans people, things have gotten worse in the way that matters most.
"The number of trans murders is rising consistently every year globally, and here in the UK hate crime is increasing rapidly too. We don't want magazine covers, we want to feel safe."
In Manchester, an initiative has been launched between the LGBT Foundation and Greater Manchester Police, where the charity would act as a third-party for reporting hate crime in a bid to encourage people to come forward.
"Whether you are a victim or a witness, it is important to report every hate crime," said James Huyton, community safety officer at LGBT Foundation.
Ruth Hunt, chief executive of Stonewall, said the charity was calling on cisgender people to take a stand against anti-trans discrimination whenever they found it.
"It's shameful that in Britain everyday activities like going to a cafe, having a peaceful day at work or accessing decent healthcare are made impossible for people simply because of who they are," she said.
"It's up to all of us to stand up as allies to trans people and making discriminating people because they are trans as unacceptable as it is to target someone because of their race or religion."