Travellers kept slaves 'in concentration camp'
Four members of same family guilty of forcing destitute people into brutal servitude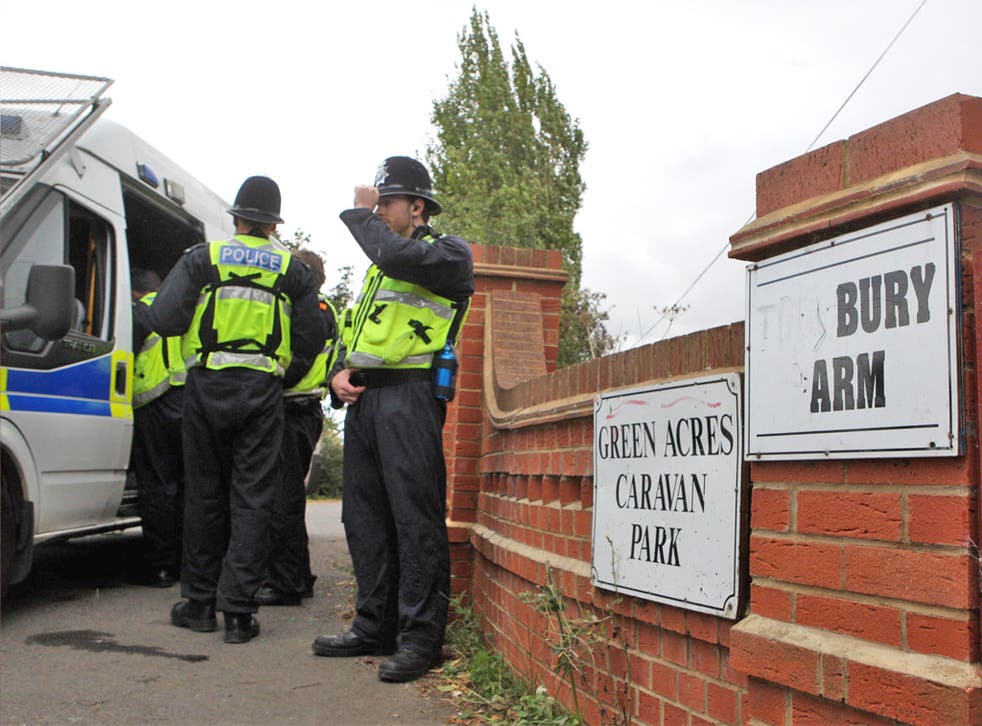 The victims were the destitute that society forgot: the addicts, the desperate and the suicidal. Discovered at soup kitchens, benefit offices and wandering the streets, they were put to work by an Irish traveller family under threat of ferocious violence and forced to live in squalor.
In the first quasi-slavery trial in Britain for more than 200 years, four members of one family were yesterday found guilty of servitude and forced labour of some of the country's most vulnerable men in a test case of new legislation designed to protect exploited British workers.
Tommy Connors Snr, 52 – the head of the family – fronted a block-paving business built on the labour of men forced to work for up to 19 hours a day for little or no pay and hardly any food, the trial was told.
While the Connors family lived in a series of lavishly furnished chalets on the Greenacres site in Bedfordshire, the labourers shared squalid converted horseboxes and huts and used a standpipe to clean themselves, Luton Crown Court was told.
One man described the site as a "concentration camp" where the labourers' heads were shaved and they were forced to work despite some suffering debilitating illnesses and broken bones. One man was recruited after being talked out of killing himself from jumping off a bridge at a service station and went on to work for the family for seven years, the court was told.
The 13-week trial heard of brutal tactics employed by the family. One man recounted how he was badly beaten after he dropped a vase worth several thousand pounds while he was cleaning the family chalet.
Connors' oldest daughter, Josie, 31, threatened to break the arms and legs of one man if he used the family's lavatory, the court heard. She wept in the dock yesterday as she was convicted along with her husband James John, 34, – known as Big Jim – of servitude and forced labour. Another member of the family, Patrick, 20, was also convicted of similar charges. They face maximum jail terms of 14 years.
The exploitation came to light after police raided the site in September 2011 and found 23 dirty and emaciated men, one of whom had been there for 15 years. In a series of police interviews, one man told police that he had been warned he would be "murdered" if he ever tried to leave. Most of the workers managed to escape but were fearful of being recaptured, the court heard.
Frances Oldham, QC, for the prosecution, said during the trial: "They were controlled in such a way that in many cases they could not see it. They became conditioned to do what the defendants wanted. The reason for their exploitation was money. They may not in the strict sense have been slaves… but the prosecution say this: they were not free men."
One man told police that one labourer working for the family fell through a garage roof and broke his ankle. But he was forced to carry on working and was prevented from going to hospital, the court heard.
Romana Cacchioli, from Anti-Slavery International, said: "That even physically fit British men can be forced to work under coercion and without pay shows the reality of anyone's susceptibility to modern day slavery."
A total of seven members of the family were on trial but the jury failed to reach verdicts on some counts regarding Tommy Junior, 27, Johnny, 28, and James Connors, 24. It cleared them of other counts. Prosecutors will say today if they will seek a retrial.