'Trial by Twitter': No 10 attacks Schofield for ambushing Cameron with 'paedophile' list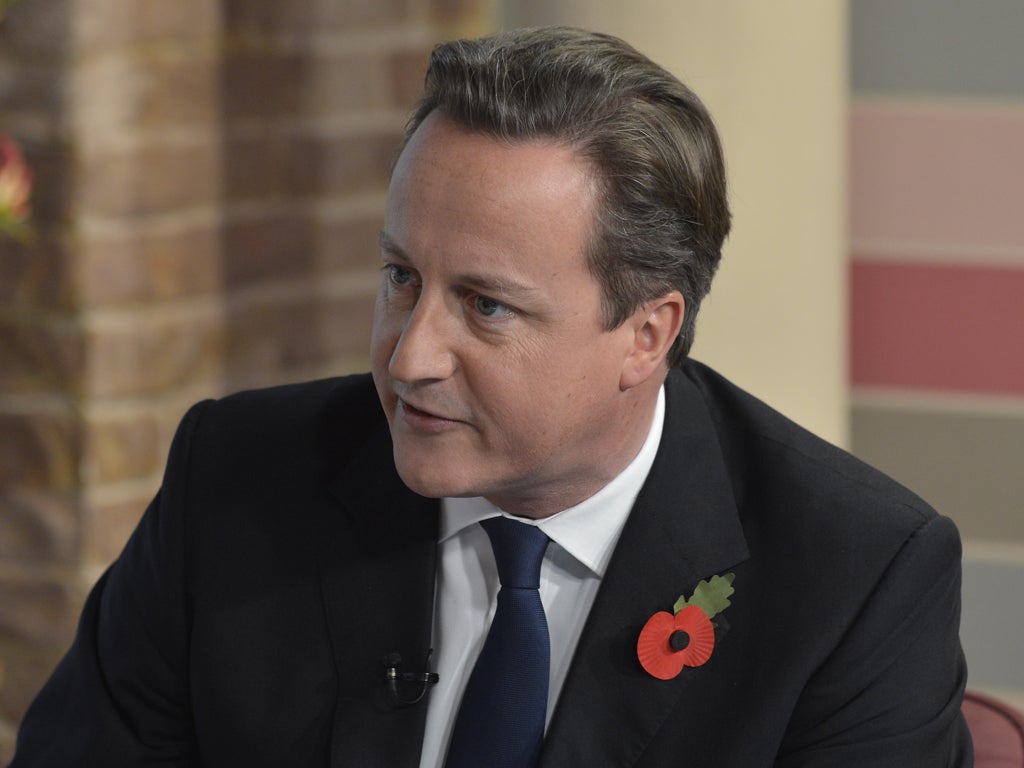 Downing Street has denounced "trial by Twitter" and a "silly stunt" by the ITV presenter Phillip Schofield who ambushed David Cameron live on air by handing him an internet-sourced list of suspected paedophiles - causing a shocked Prime Minister to complain of a "witch hunt" against gay people.
Schofield was forced to apologise after it emerged he had "misjudged the camera angle" and the names of several former senior Conservative politicians were visible on a card which he thrust into the hands of the Prime Minister before an audience of around 1.2 million. "You know the names on that piece of paper," the This Morning presenter told the Prime Minister. "Will you be speaking to those people?"
The presenter claimed to have found the names of the Conservative Party figures in "three minutes" during a "cursory glance at the internet" for details of a scandal relating to abuse at children's homes in north Wales during the 1970s and 1980s.
Mr Cameron took the card and said: "There is a danger if we are not careful that this can turn into a sort of witch hunt, particularly about people who are gay, and I'm worried about the sort of thing you are doing right now, taking a list of names off the internet."
After the show went off air Downing Street reacted with anger. "This silly stunt has resulted in people's names being put out there. They will want to vigorously defend themselves," said a source at Number Ten. "The Prime Minister has taken necessary serious action on child abuse allegations. He is also concerned about a separate issue where people are facing an internet witch hunt. It's important allegations are handled properly - and people's reputations are not unnecessarily smeared. If they have got allegations, if they have evidence, they should hand it to the police. We should not have people throwing allegations around and trial by Twitter."
Clearly embarrassed, Schofield issued a statement expressing his regret that the stunt had misfired. "If any viewer was able to identify anyone listed, I would like to apologise and stress that was never my intention. I was not accusing anyone of anything and it is essential that it is understood that I would never be part of any kind of witch hunt," he said.
"Unfortunately there may have been a misjudged camera angle for a split second as I showed the Prime Minister some information I had obtained from the internet."
Tory MPs expressed outrage at the treatment of party colleagues and at the way Mr Cameron had been ambushed. Stuart Andrew MP, a councillor in Wrexham during the original inquiry into the North Wales abuse scandal, described Schofield's behaviour as "completely irresponsible and an outrageous stunt". He said: "It is not acceptable to take a cheap shot on something that is so fiercely sensitive. Anybody who has got any allegations to make must make them to the police, so they can be properly investigated."
Rob Wilson, the Conservative MP for Reading East, wrote to Ed Richards, chief executive of the media regulator Ofcom, to ask him if Schofield's stunt would be investigated as a possible breach of the watchdog's broadcasting code for failing to give the named individuals the opportunity to respond to the allegations. Mr Wilson wrote: "I understand that broadcasters have an obligation under the Ofcom Broadcasting Code to seek a response from individuals or organisations who are the subject of significant criticism or allegations of wrongdoing or incompetence. I also understand that the Ofcom Broadcasting Code also states that the subjects of significant allegations must be given a 'timely opportunity to respond'."
The broadcaster Jonathan Dimbleby, a prominent figure on ITV over the years, was also scornful of Schofield's actions. "How cretinous can you get - giving a list of online names to PM as though they were evidence. Makes a mockery of our trade," he said on Twitter.
The uproar is the latest in a series of rows over media reporting of alleged high profile paedophiles which began early last month with a report by the ITV documentary show Exposure into allegations of child abuse by Jimmy Savile. That documentary helped provoke a crisis at the BBC both over its employment of Savile and the failure of its Newsnight programme to broadcast its own evidence against the Jim'll Fix It presenter.
Then last week Newsnight broadcast allegations against an unnamed Conservative politician who was said to have abused children in Welsh care homes in the 1970s and 1980s but had escaped the scrutiny of an official inquiry into the scandal. After the programme was broadcast, several former senior Conservatives were identified as alleged paedophiles by bloggers and users of Twitter.
On This Morning, Mr Cameron expressed concern that reputations were being unfairly damaged. "I've heard all sorts of names bandied around and what then tends to happen is everyone sits around and speculates about people, some of whom are alive, some of whom are dead," he said. "I do think it's very important that anyone who's got any information about any paedophile, no matter how high up in the country or whether they are alive or dead, go to the police."
Britain's biggest commercial broadcaster ITV, which now stands accused of contributing to a culture of trial by internet, sought to limit the criticism by issuing its own statement. "It is extremely regrettable that names may have been very briefly visible as a result of a misjudged camera angle, although most viewers would not have been able to read the list. As Phillip has stressed, the programme was not accusing anyone of anything."
The blogger Guido Fawkes was one of those who claimed to have identified three of the names on Schofield's list by expanding the video image. "I think Phillip Schofield's stunt was a good one but it was poorly executed," he said. The blogger claimed the size of the This Morning audience would mean the programme would not be ostracised by Downing Street for long. "This is how politicians get cut through to the people at home – if this had been [political editors] Adam Boulton or Nick Robinson they would be in the sin bin for a while."