Turkish police detain British activist over killing of government prosecutor
Stephan Kacynski was held over a hostage incident in a courthouse where a state prosecutor and the two gunmen holding him captive were killed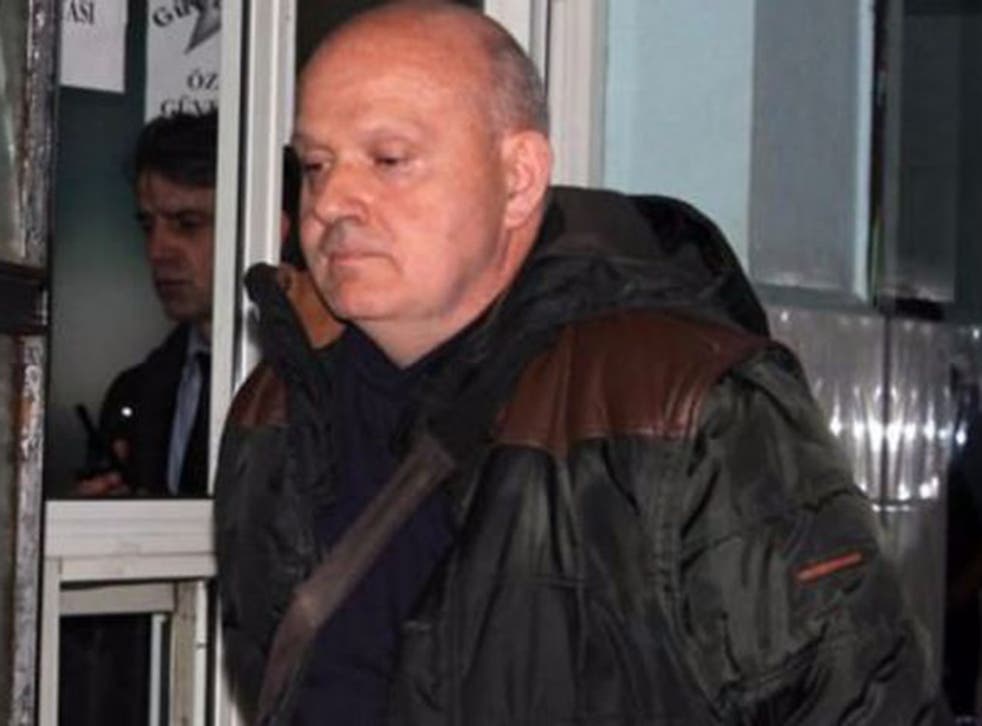 Turkish police have detained a left-wing British activist in connection with the killing of a government prosecutor, it was reported tonight.
Stephan Kacynski, 52, appeared in court in Istanbul following police raids in the city. He was held over a hostage incident in a courthouse last week, which ended when a state prosecutor and the two gunmen holding him captive were killed when the building was stormed by Turkish security forces.
Authorities believe the hostage-takers belonged to the banned left-wing DHKP-C group. The group had published a picture of the prosecutor Mehmet Selim Kiraz with a gun to his head and said it would kill him unless its demands were met.
Mr Kacynski, 52, who is understood to come from Scotland, was reported as telling investigators that he denied having any knowledge of anyone connected to the hostage-taking. The Foreign Office confirmed last night that British Embassy officials were providing consular services to a man.
Turkish newspaper reports claimed Mr Kacynski was detained during a raid on the building said to be the headquarters of the DHKP-C. The reports, which cannot be independently verified, claimed the Briton was a key figure in financing the group, which is proscribed as a terrorist group by the European Union and the US. One report also claimed Mr Kacynski, who can speak German, was reportedly working for the BND, the German intelligence service. A second unsubstantiated report claimed he was working for British intelligence when he was detained.
According to local press reports, Mr Kacynski was detained in a cultural centre associated with the DHKP-C. Unnamed sources said that he had repeatedly visited Turkey, the first visit coming in 1996. Media reports said he had visited Turkey twice this year. The second trip was said to have been in connection with a seminar in Istanbul organised by a socialist project.
Mr Kacynski was a former member of the Communist Party of Great Britain according to one political activist who knew him. He was a leading member of the radical website the Republican Communist Network, where he has written a number of articles critical of Turkish government repression of its opponents.
Timeline: the fall of communism in Europe

Show all 8
Turkish police said Mr Kacynski was one of more than 10 people arrested in an Istanbul neighbourhood last Thursday after the courtroom siege in which Mr Kiraz died.
The incident is believed to be linked to a politically sensitive case Mr Kiraz was handling involving the death of a teenager from injuries inflicted by police during anti-government protests in 2013.
The Turkish Prime Minister Ahmet Davutoglu vowed to track down accomplices of the courthouse hostage incident. Around 30 other DHKP-C suspects were detained in the cities of Antalya, Izmir and Eskisehir. Turkish media also reported that police seized several weapons, ammunition and "jammer devices".
Yesterday Turkish authorities banned access to Twitter and YouTube after an Istanbul judge imposed a block on access to social media sites showing photographs of the prosecutor taken hours before he was killed. Talks with YouTube were still under way, the official said.
Later officials told Reuters that Twitter had complied with the request to remove photographs of Mr Kiraz being held at gunpoint and the ban would be lifted. Twitter was not immediately available for comment.
Facebook said it had complied with a Turkish court order requiring it to restrict access to some content or face a block on its service. A company spokesman said it would appeal against the order.
The presidential spokesman Ibrahim Kalin said a prosecutor demanded the block because some media organisations had acted "as if they were spreading terrorist propaganda" in sharing the images of the hostage-taking. "This has to do with the publishing of the prosecutor's picture. What happened in the aftermath is as grim as the incident itself," Mr Kalin said. "The demand from the prosecutor's office is that this image not be used anywhere in electronic platforms," he said. Earlier Turkish government officials said the dead prosecutor's wife and children were deeply upset at the images.
Register for free to continue reading
Registration is a free and easy way to support our truly independent journalism
By registering, you will also enjoy limited access to Premium articles, exclusive newsletters, commenting, and virtual events with our leading journalists
Already have an account? sign in
Register for free to continue reading
Registration is a free and easy way to support our truly independent journalism
By registering, you will also enjoy limited access to Premium articles, exclusive newsletters, commenting, and virtual events with our leading journalists
Already have an account? sign in