Two police officers sacked over using Taser on innocent man five times
Kyle McArdle was put into the back of a police van and hit with five Taser rounds after he was spotted urinating in an alley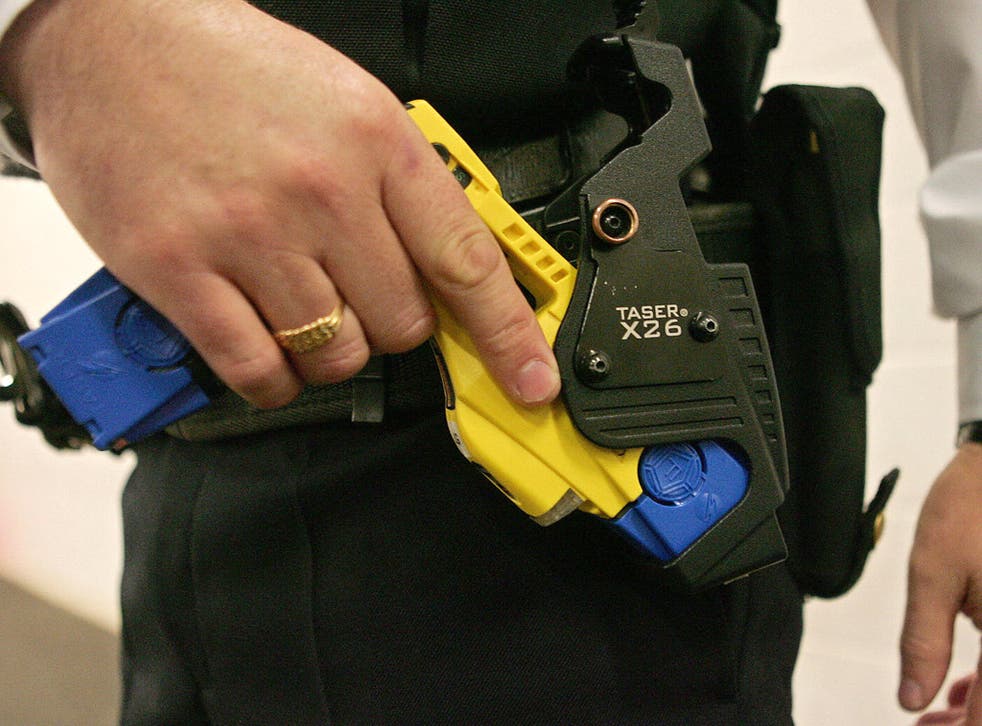 Two police officers have been sacked after they wrongly arrested a man and Tasered him five times.
The pair were only dismissed after a drawn-out legal battle which saw them twice cleared by their own force and after the Independent Police Complaints Commission (IPCC) upheld two complaint appeals.
Kyle McArdle, 26, was detained by officers from Merseyside Police in December 2009 when he was spotted urinating in an alley off Elliot Street in Liverpool city centre.
He was put into the back of a police van and hit with five Taser rounds, including three times in drive-stun mode - where the weapon was pressed against his chest, leg and upper abdomen.
The arresting officers said he was violent and the Taser was needed to restrain him.
Taser barbs were also removed from Mr McArdle's chest in contravention of Association of Chief Police Officers (Acpo) guidelines which say they should only be removed by a medical professional unless there is an "operational necessity". The officer who took them out said he feared Mr McArdle would remove them himself and use them as weapons.
Mr McArdle, 26, was charged with assaulting two of the officers but was found not guilty at a Magistrates' Court hearing.
He said: "After three Merseyside Professional Standards Department investigations and nearly four years since the original complaint, I'm very happy that it went to a misconduct hearing. I would like to sincerely thank the IPCC for upholding my appeals. I feel that justice has now been done and I can get on with my life."
After he was cleared by magistrates, Mr McArdle made a number of complaints, including that multiple use of the Taser in the confined space of a police van was disproportionate.
But Merseyside Police recommended the officers receive only "management advice" about their lawful use of powers.
Unhappy that the force had not properly addressed his complaint about the extent of force used against him, Mr McArdle appealed to the IPCC.
The appeal was upheld and the IPCC recommended Merseyside Police re-investigate, this time considering if the use of the Taser would be justified had the victim been lawfully arrested.
Merseyside Police then asked its lead Taser instructor to examine the case.
The officer concluded that the force used was "necessary, proportionate, reasonable and in line with the officers' training and Acpo guidance".
A second appeal, which was also upheld, was lodged with the IPCC, which found that the officers should have been served with notices for gross misconduct and interviewed under caution.
The IPCC also said that insufficient weight was given to Mr McArdle's version of events and the evidence that supported his account.
That evidence included CCTV footage which did not support the officers' claims that Mr McArdle had been violent and needed to be restrained.
The IPCC also said it was concerned that Merseyside Police's lead Taser instructor was uncritical of the officers' use of the weapon and relied solely on their version of events.
Following the second upheld appeal, Merseyside Police held a misconduct hearing for two of the officers, which began on September 30. It ended with the dismissal of Pcs Simon Jones and Joanne Kelly after gross misconduct was proven.
A third officer, a sergeant, had already been dismissed from the force for an unrelated matter.
IPCC Commissioner James Dipple-Johnstone said: "To enjoy public confidence it is important police officers only use force, including Taser, as a last resort; and then only at the minimum level necessary for the threat they actually face.
"The IPCC recognises that there is public concern over the considerable increase in Taser use - not only in the number of officers using it but also in circumstances where it would not have been used previously - and the significant rise in complaints that has accompanied that.
"Incidents such as this do nothing to alleviate that public concern.
"While we welcome the robust action eventually taken by the force in response to our appeal findings, it is a concern that Merseyside Police's lead Taser instructor lacked objectivity and presented as fact the officers' version of events without challenge.
"It is important that, when things do go wrong, complaints are addressed thoroughly and responded to robustly. We hope the force will take on board learning from these events for the future."
PA
Update: In July 2014, following an appeal the Police (Discipline) Appeals Tribunal determined that the two officers should be reinstated.
Register for free to continue reading
Registration is a free and easy way to support our truly independent journalism
By registering, you will also enjoy limited access to Premium articles, exclusive newsletters, commenting, and virtual events with our leading journalists
Already have an account? sign in